This Christmas season, I aim to sterilize 350 dogs and cats in our local communities of Puerto Angel and Pochutla.
This is a Christmas gift to these animals who will be given the opportunity to live longer, healthier lives. It's a gift to their owners who don't have the resources to keep feeding litters of puppies and kittens. And it's a gift to the thousands upon thousands of animals that won't be born into a life of suffering on the streets of Mexico.
The vets charge me 300 pesos / 15 USD to sterilize one animal in a large campaign. This covers the cost of their labor and surgical materials.
As an English teacher earning a humble Mexican salary, I can't make this Christmas wish come true without your help.
Please sponsor an animal (or two) so that we can make a positive impact in our community this Christmas.
Thank you for your love and support for the beautiful Cats and Dogs of Puerto Angel.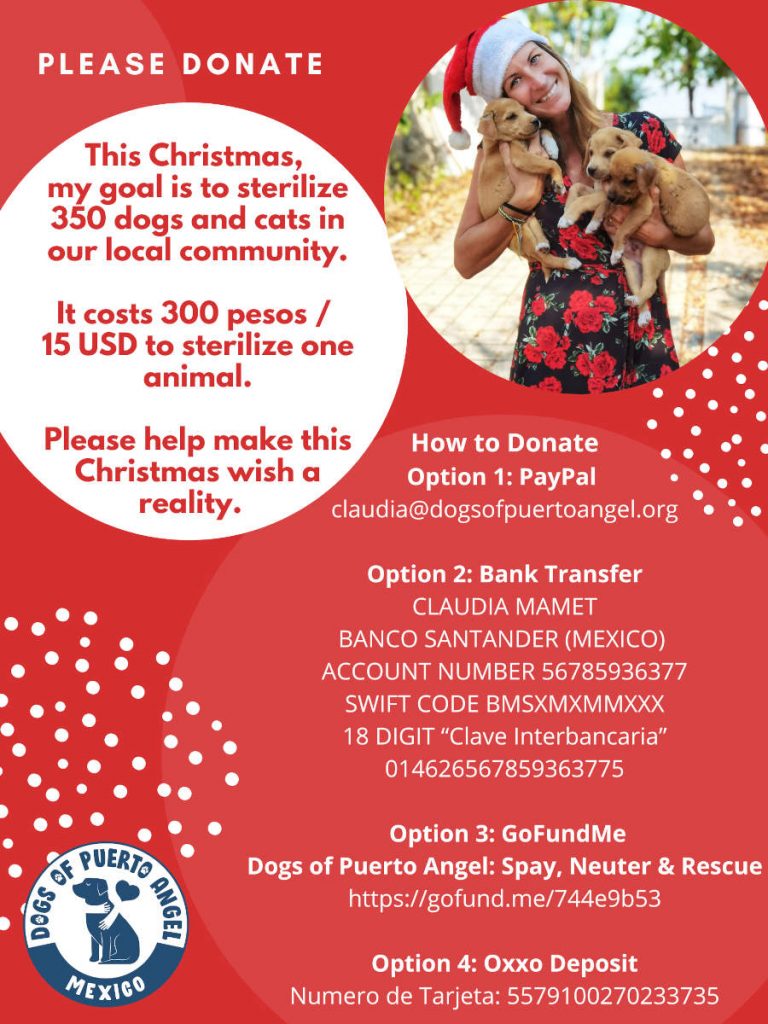 Please spread the word to friends and family who might like to help us combat the overpopulation and suffering of stray animals here.
Thank you from me and the Cats and Dogs of Puerto Angel
How to donate ?
Wise Bank transfer
More info

Wise (ex Transferwise)
This has the lowest charges for online transfer service. The website for Transferwise is https://wise.com
My Mexican bank details for Transferwise are:
CLAUDIA MAMET
BANCO SANTANDER (MEXICO)
ACCOUNT NUMBER 56785936377
SWIFT CODE BMSXMXMMXXX
SPECIAL 18 DIGIT CODE 014626567859363775


If you have any problem please contact-me.
Deposit OXXO
More info

Card number for Oxxo: 5579100270233735
Cash
More info


I can meet you in Puerto Ángel or Zipolite or pick up your donation from the vet
in Zipolite (Christian and Tin Tin)