Here are just a few of the many special animals we have helped along the way.
---
Frida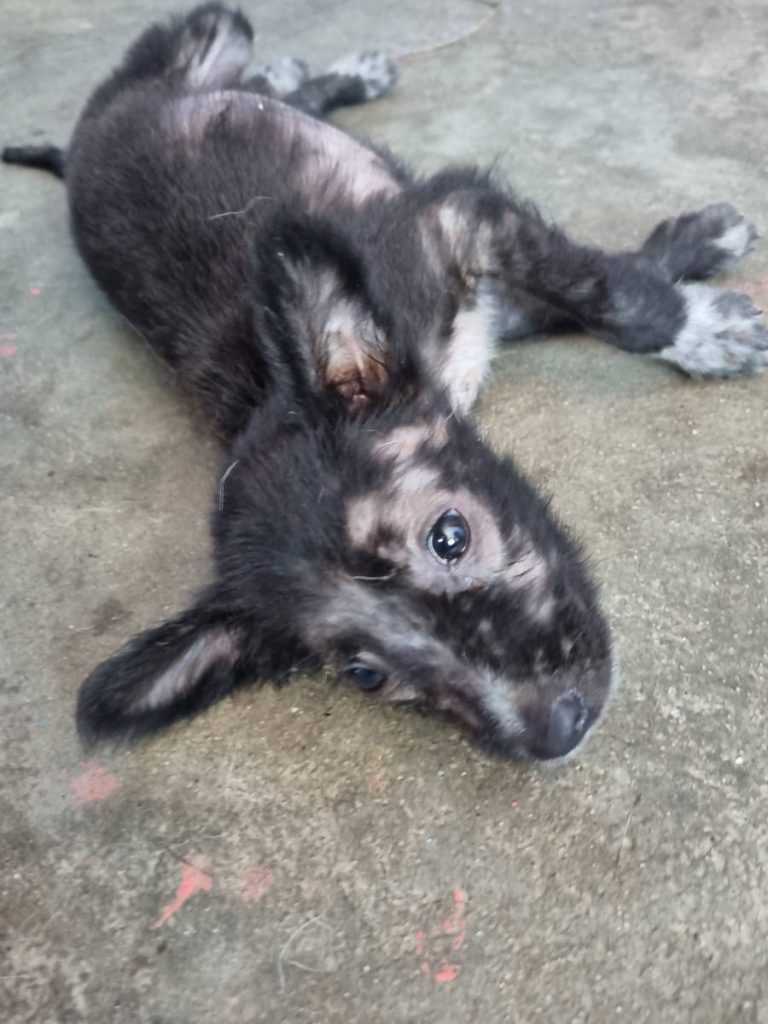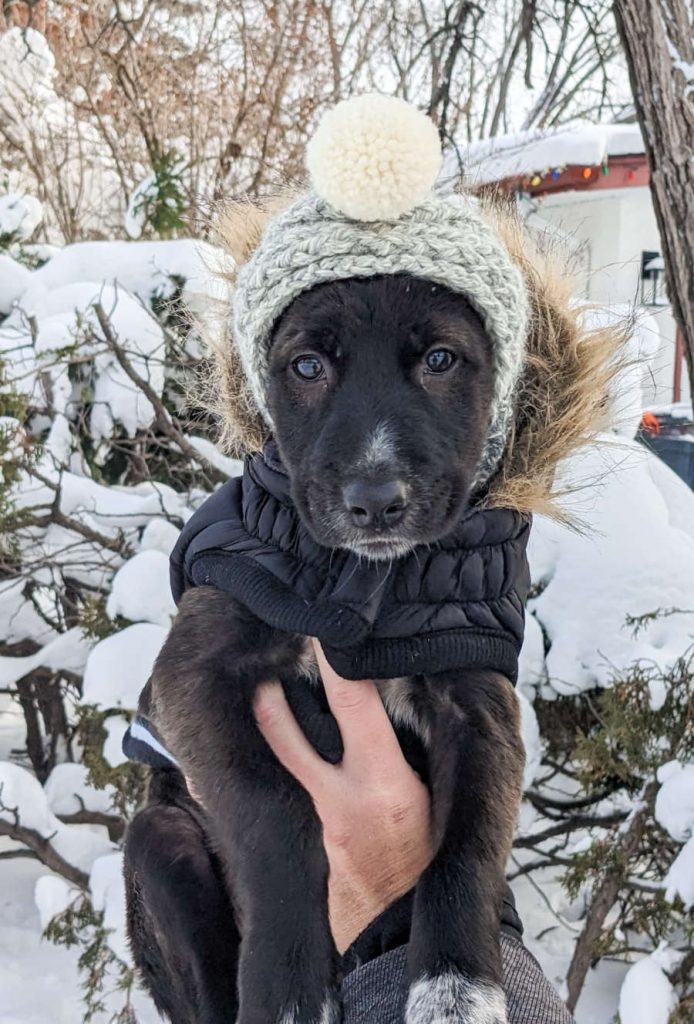 I found Frida dumped on the side of the road in Zipolite. She was skinny, full of internal parasites, and suffering from severe mange. Frida cried as she frantically scratched herself non-stop. After lots of medical treatment and special medicated baths, Frida slowly became stronger. When she was old enough, I had her sterilized and vaccinated. Frida was one of the very few lucky ones because a wonderful woman from Canada decided to adopt her and take her back to Winnipeg. Frida is now living her best life!
---
Ping Pong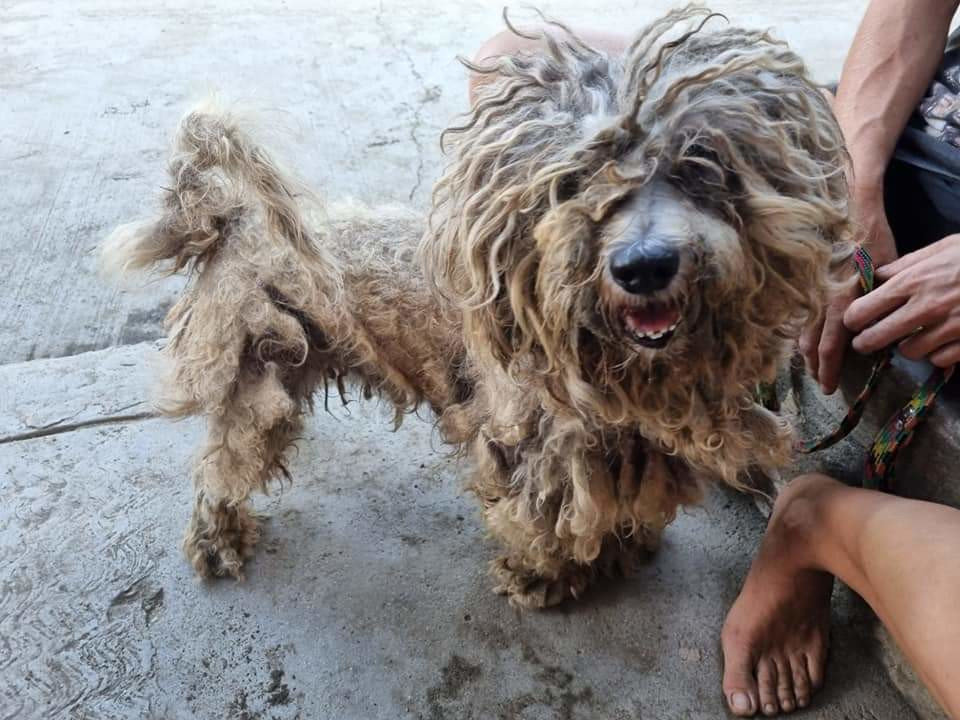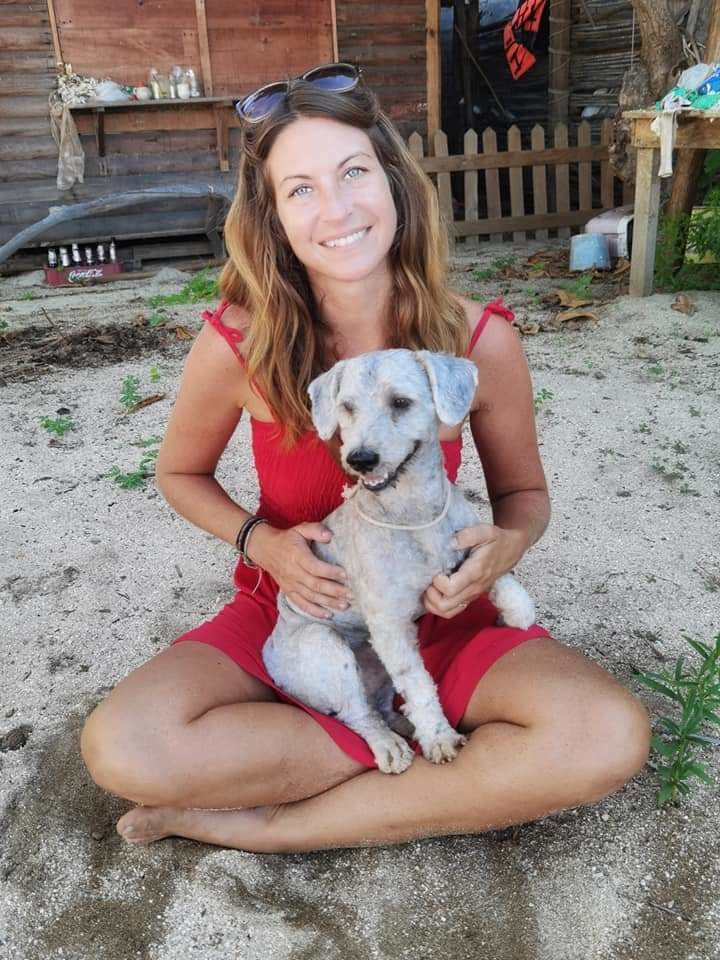 I got a call from a concerned expat to alert me about Ping Pong's badly matted hair. When I went to search for him, it turned out that Ping Pong is well known among the fishing community of Puerto Angel. Everyone knew him for his cool rasta hairstyle. 
Unfortunately, no one considered the fact that Ping Pong's hair was a jail cell locking him into an intense heat that caused a nasty skin infection. Ping Pong had been suffering for longer than anyone realized. 
I dedicated a Saturday morning to cut Ping Pong's hair. He was so well behaved, but the mats were too thick to cut through so after three hours, I had to give up. Instead, I decided to take Ping Pong to a groomer. Look how handsome he was after that!
---
Cafecito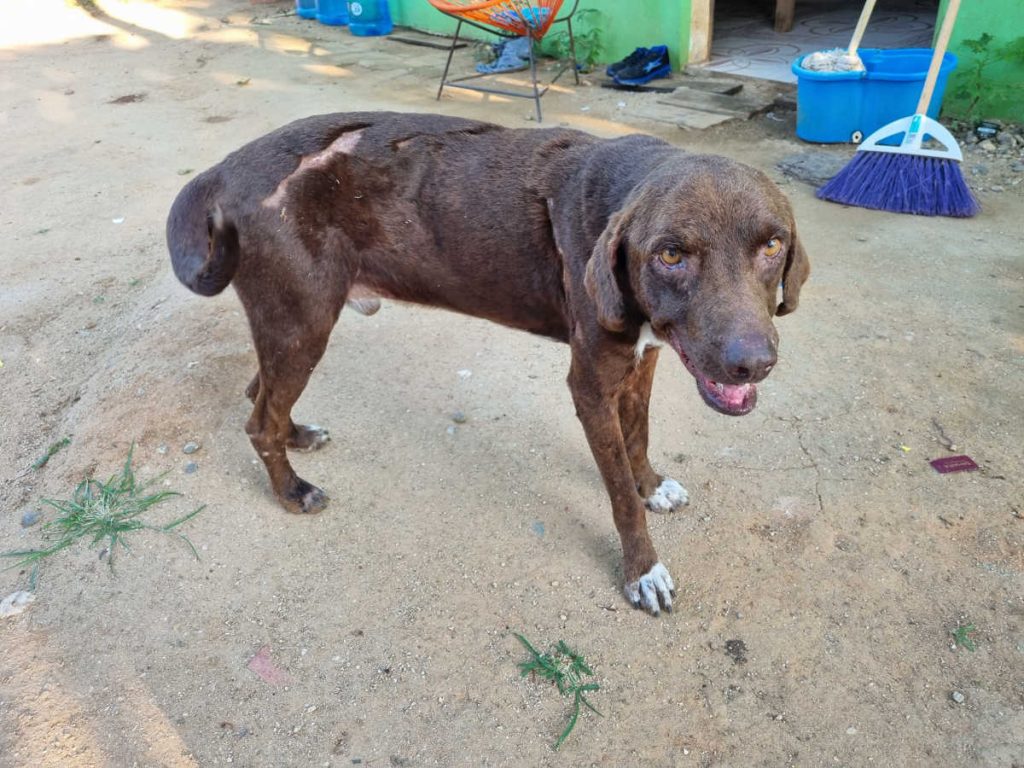 I met Cafecito just before Hurricane Agatha hit us. He was an old dog hanging around some houses in Pochutla looking for food. But the neighbors told me that they didn't want him around because he was "sick". 
I wanted to rescue Cafecito, but my house was overflowing with animals, and I knew my landlord would kick me out if I brought in yet another street dog. So instead, I gave him a strong dose of mange medication and a dewormer and hoped for the best. 
After the hurricane, I couldn't get Cafectio out of my mind. Had he survived the hurricane? Was there something more I could do for him? 
Six weeks passed before I was able to look for him again. And when I finally went back to find him, I found another dog there. Well, that's what I thought at first. But after noticing his unique teeth, I suddenly realized I had found Cafecito! What a transformation in just 6 weeks!
In speaking with the neighbors, I discovered that one of them had adopted Cafecito because his mange had disappeared, and he didn't look "sick" anymore. Cafecito finally got the second chance he so deserved. 
---
Shira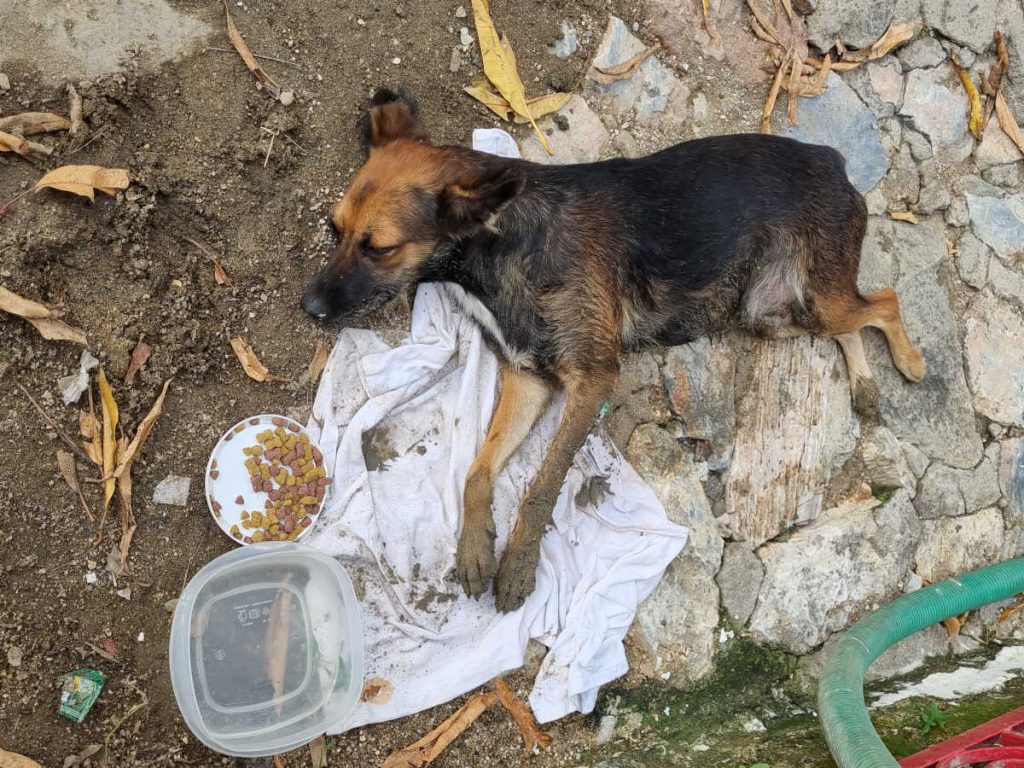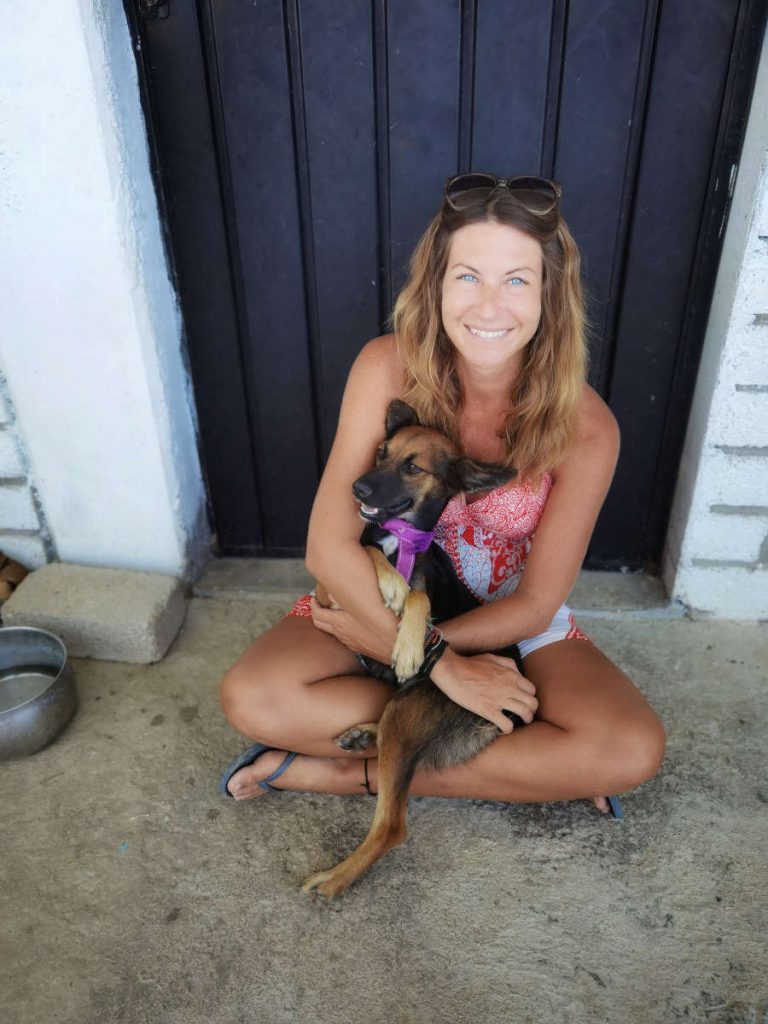 I found Shira howling on the side of the road in Puerto Angel. She was paralyzed and looked scared. According to the people who live in that area, Shira was hit by a passing car. I picked her up without a second thought and took her home. 
I soon realized Shira was pregnant, but I wasn't sure if her puppies were still alive. Over the next two days, I did physical therapy with her regularly. It was a difficult time because she often howled in the middle of the night, and I'd have to change her position or lift her up so that she would be more comfortable. 
After two days, she suddenly gave birth in my house to one little puppy, but she wasn't interested in removing the placenta or encouraging the pup to keep breathing. I quickly googled how to keep a newborn puppy alive and started giving her CPR, but unfortunately I wasn't able to save the little pup's life. 
After a week of continued physical therapy, Shira slowly started to walk again with assistance. And after two weeks, she was finally able to walk on her own. 
During this time, I posted all over social media trying to find her owner. And I was eventually successful! Shira had a very worried owner who had been looking for her. 
Shira is now sterilized and can walk perfectly fine on her own. 
---
Azul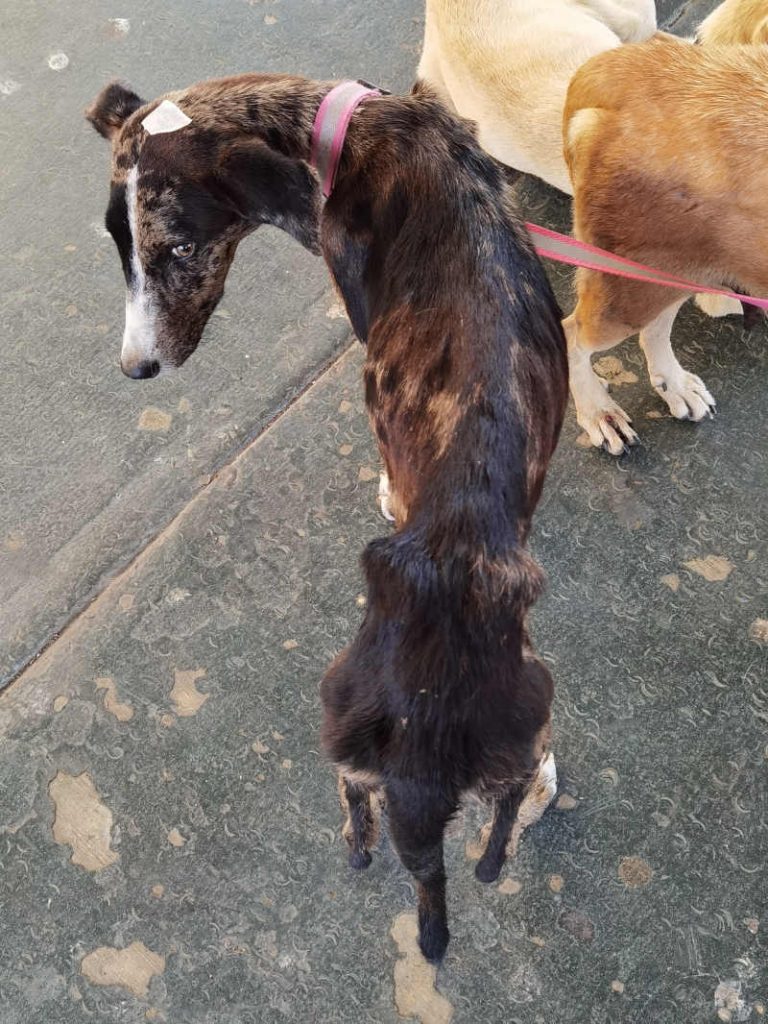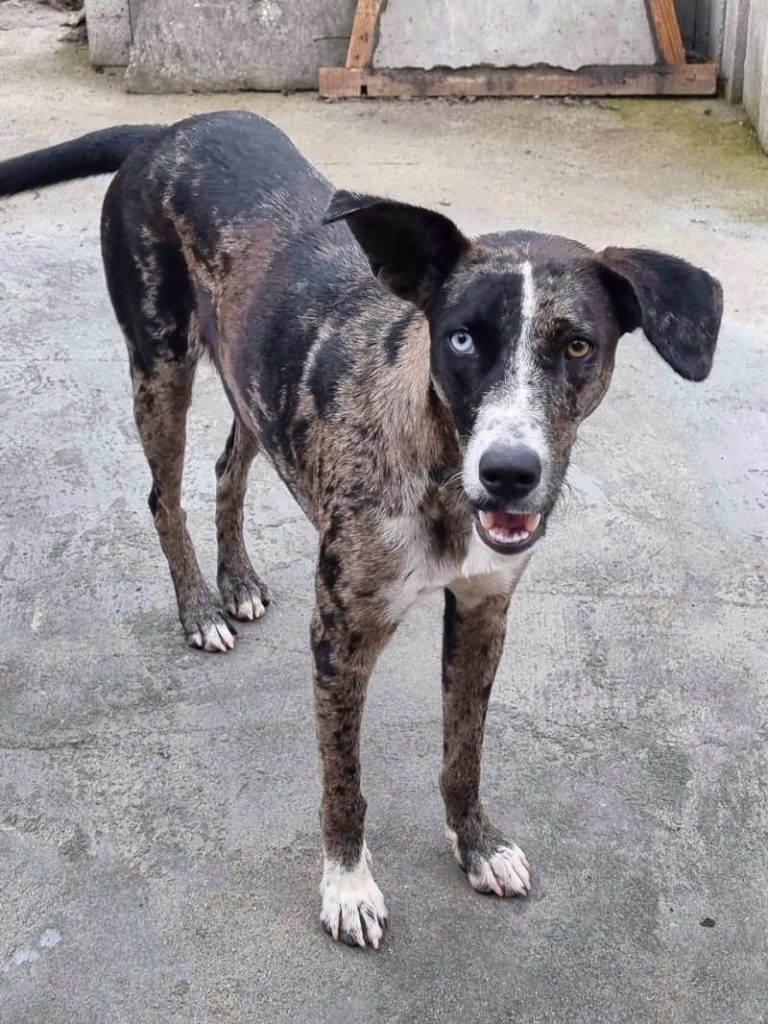 I met Azul for the first time in December 2021 during one of my sterilization campaigns. She had been severely neglected by her owner who let her starve and be eaten alive by ticks. From the moment I met her I made it my mission to get her healthy and into a good home.
She had ehrlichiosis, a fatal yet curable tick-borne disease. After treating her daily for one month, Azul was finally cured. Overall, I spent 7 months trying to find her a good home. And finally, thanks to pure determination and remaining hopeful, Azul has finally been adopted by an incredible woman. Azul's best friend is a kitty in her home who she plays with all day.
---
Luna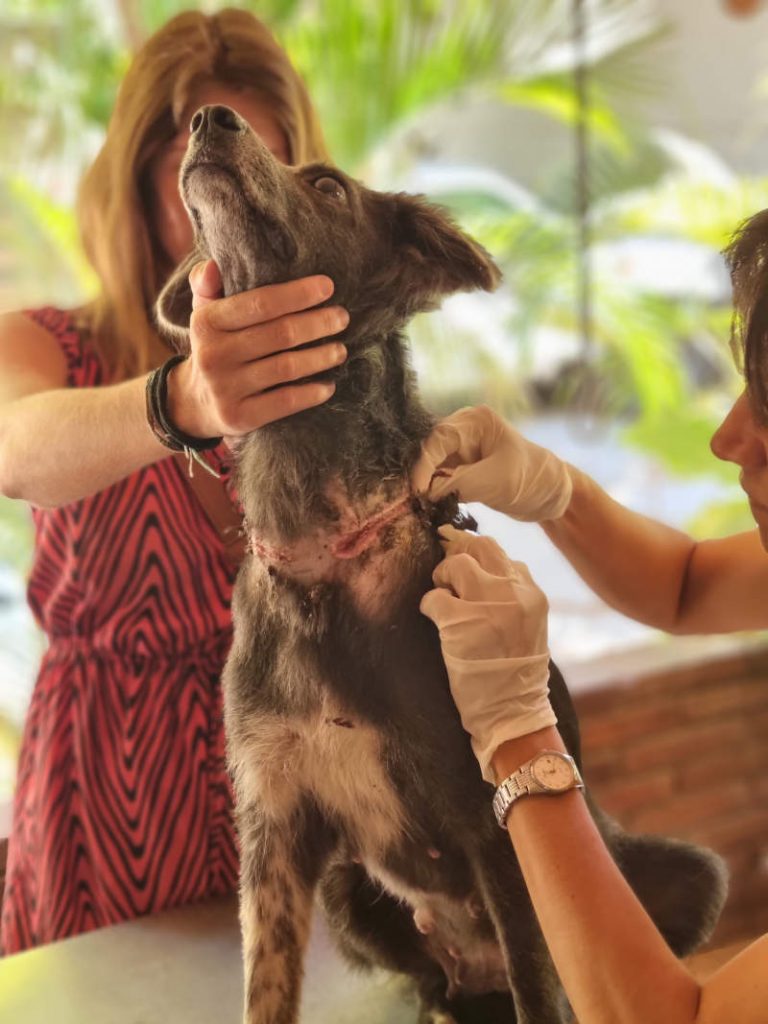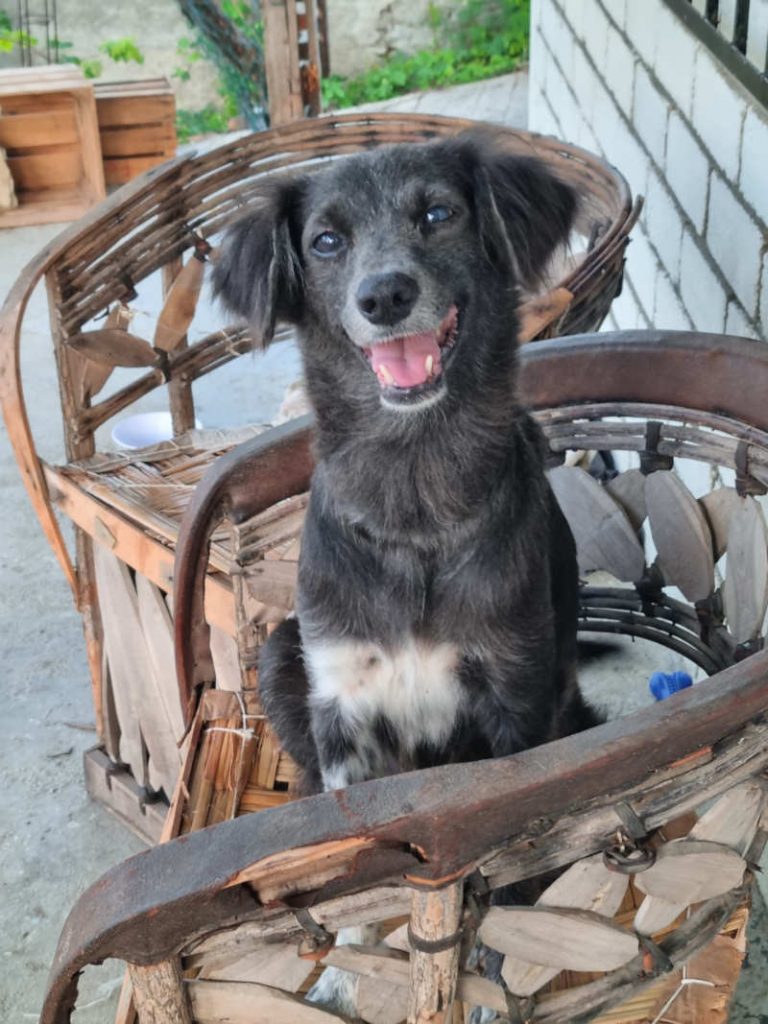 I received a call from a concerned university student of mine to say there was a wounded stray dog in her neighborhood. The dog was afraid of people and impossible to catch.
She had a deep cut around her neck that was badly infected and caused by being tied too tightly to a sharp piece of metal for way too long.
After setting up a dog trap in the area and coaxing her with food, I finally caught Luna and brought her home with me.
Today Luna loves cuddles and enjoys sneaking up onto my bed to take naps when I'm not looking.
---
Sandia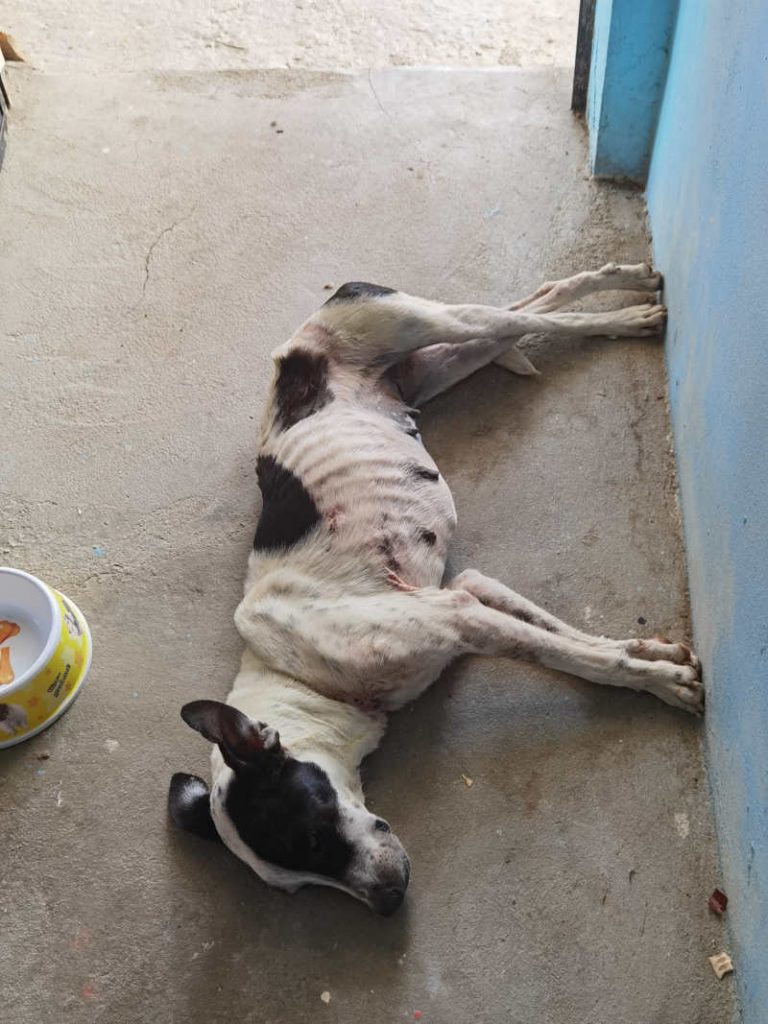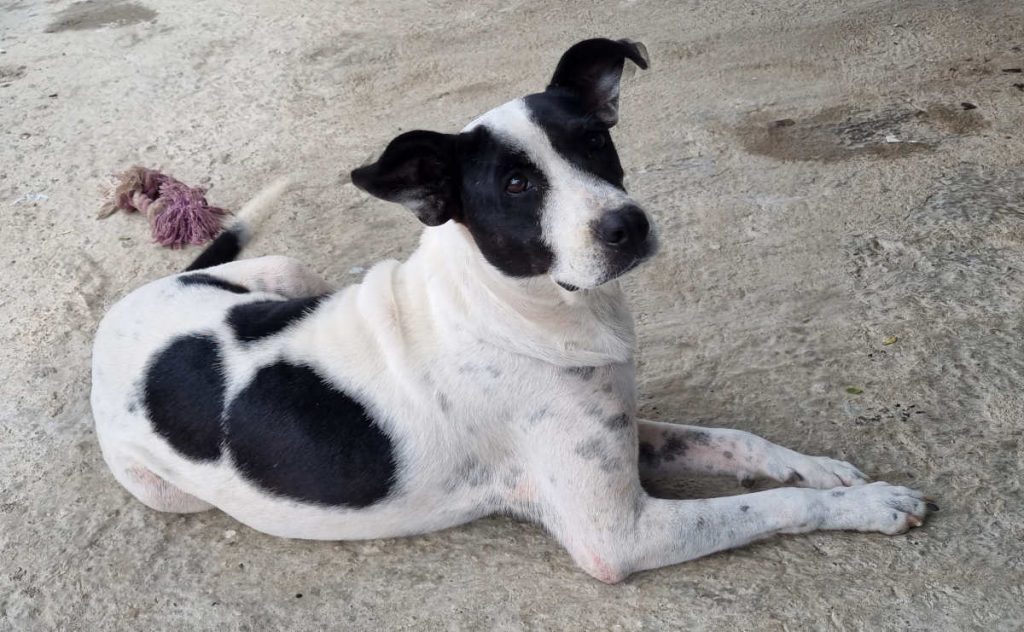 I saw a very skinny dog running through the streets of Pochutla terrified and with her tail between her legs. She had a deep scar around her neck from being tied too tight to a metal chain for several years.
I couldn't not help this scared and starving dog. I spent close to an hour following her through the alleyways of Pochutla until I finally managed to grab her, carry her to my car, and drive her home.
Within one month, Sandia had put on weight and had overcome her past traumas. And within two months, she was cured of both erlikhiosis (a fatal tick-borne disease) and TVT (a sexually transmitted cancerous tumor). She's now a happy, healthy dog ready for adoption.
---
Nube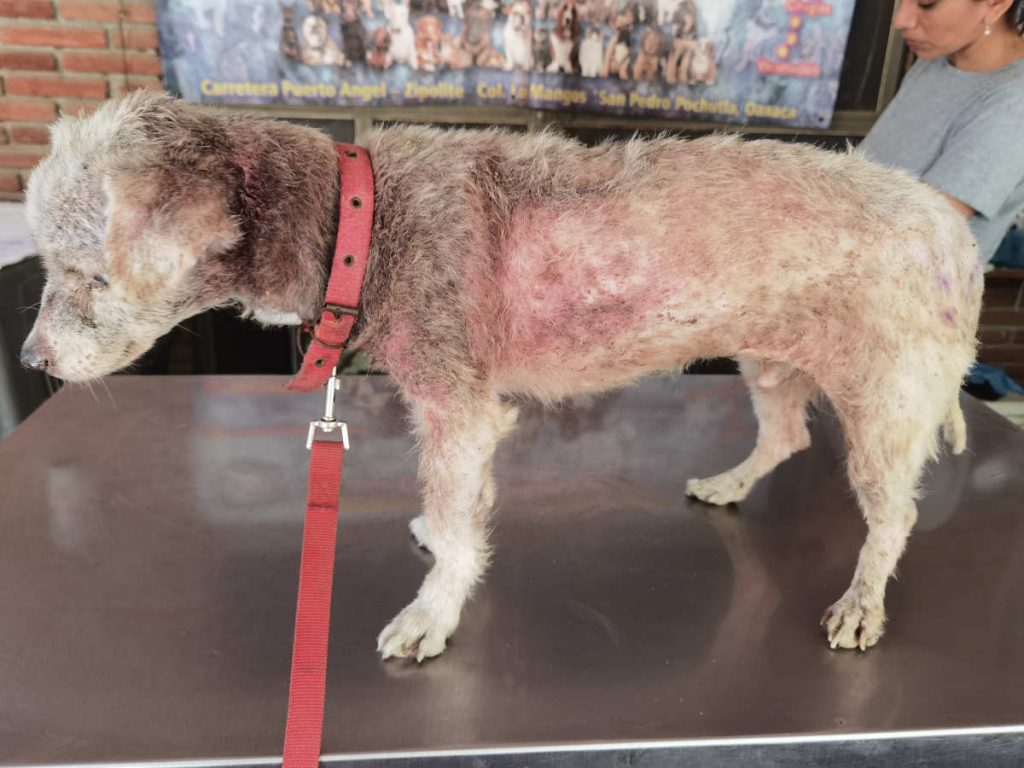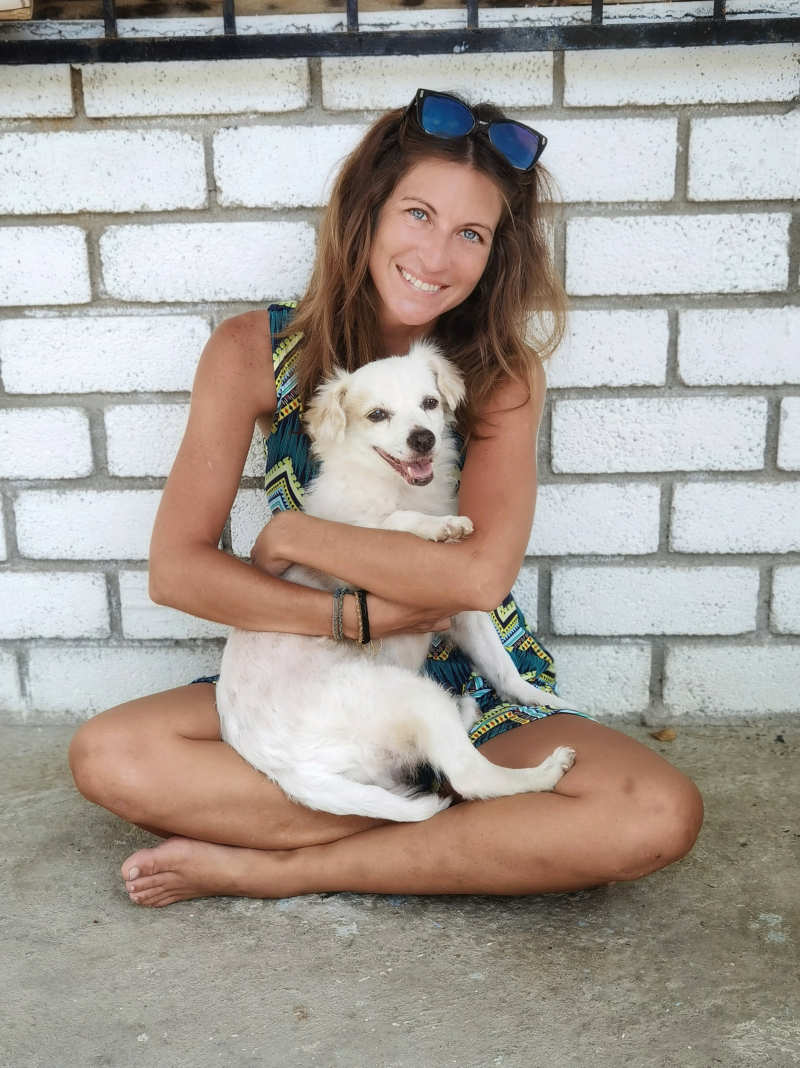 I heard from someone in Puerto Angel that a dog (who had an owner) had been severely neglected. Someone had attacked the dog with a machete, and the leg wound had gotten infected. The wound was so deep that I could see his bone sticking out the skin.
Nube was also suffering from mange, ticks, and fleas. He had ripped out his hair and skin and was full of open skin wounds.
When I met Nube, he wagged his tail and looked relieved when I put him in my car and drove away from his owner's house. After some antibiotics, skin treatment, and a one-month treatment for ehrlichiosis (a fatal tick-borne disease), Nube is 100% healthy and happy, and he has the softest fur!
---
Scrappy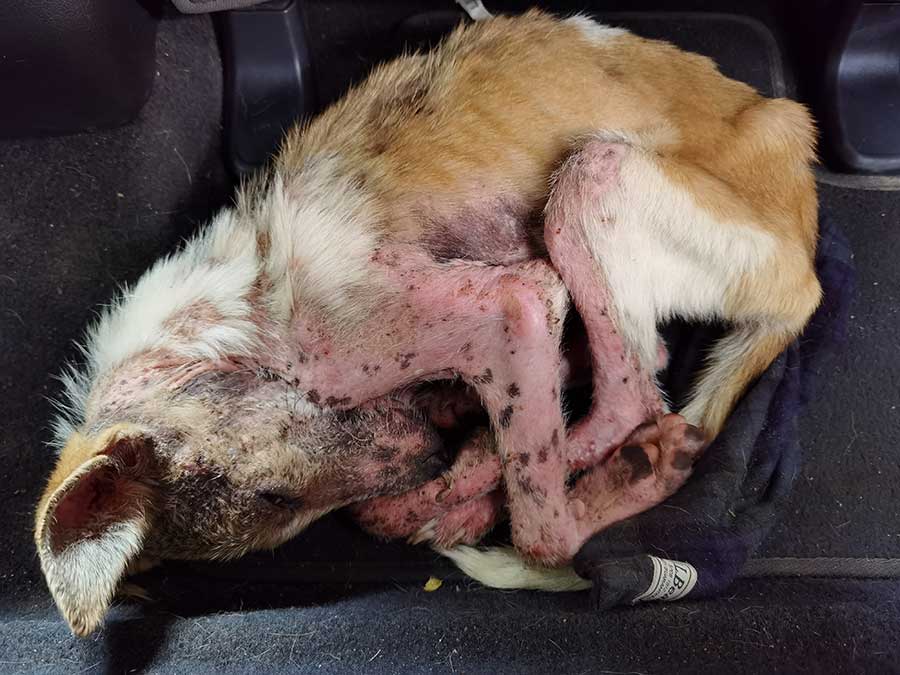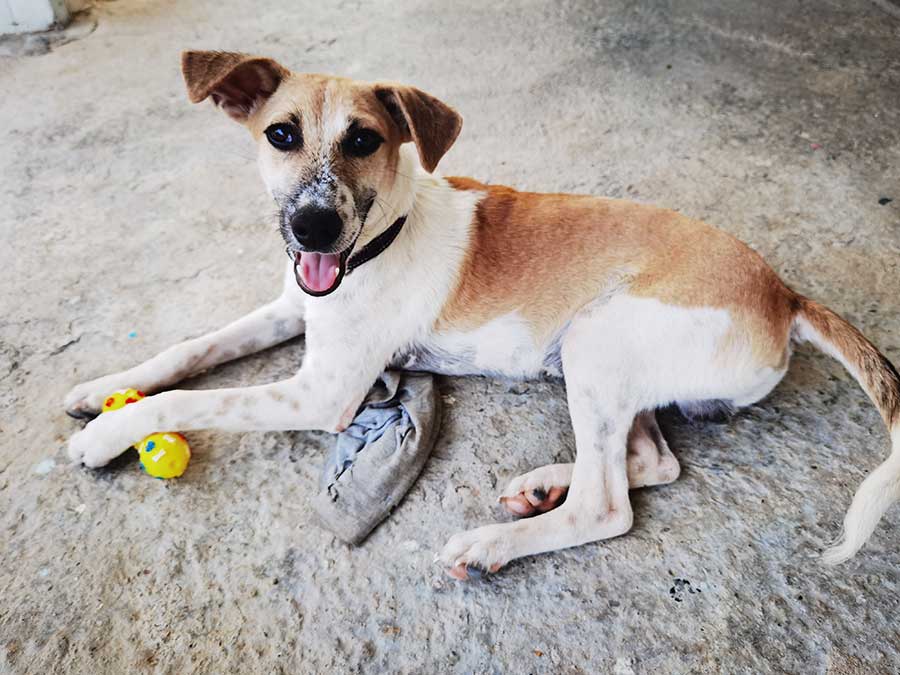 A tourist called me about a dog she found starved and dying on the side of the road between Pochutla and Puerto Angel. She needed my help to rescue him. So I did! Five-month old Scrappy was suffering from serious malnutrition and mange.
In just two months with me as my foster puppy, Scrappy was fully cured. He is still in my foster care, but there is someone in the USA who is planning to adopt him in October 2021. Yay!
---
Bowie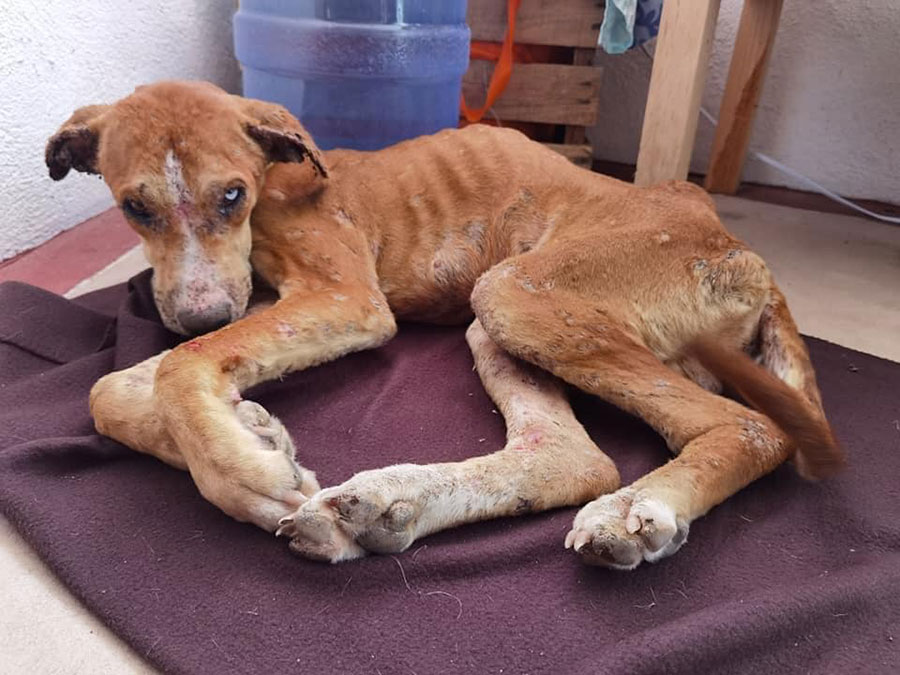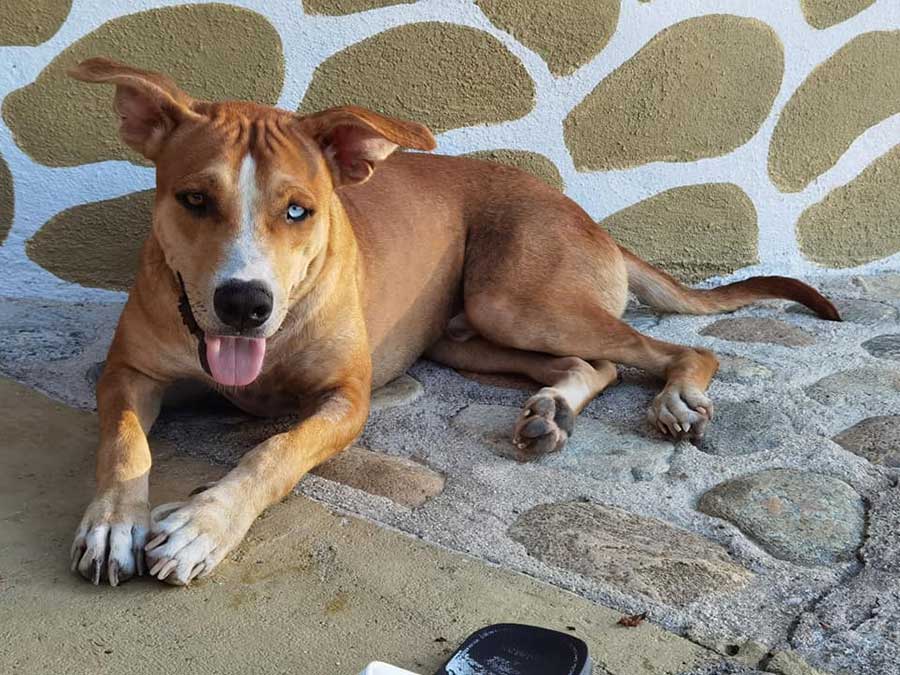 I knew Bowie as a street puppy in Puerto Angel who I used to feed daily. But one day Bowie was taken to work on a farm by a local farmer. He disappeared for two months, and no one could tell me where he was.
Two months later, while I was feeding the street dogs in my neighborhood, I saw Bowie starved and sick on the side of the road. He curled into a little ball at my feet and didn't have enough energy to even eat the food I tried to give him. Bowie became my foster dog and, with a lot of love and patience, today he is healthy, happy, and ready to be adopted!
---
Jack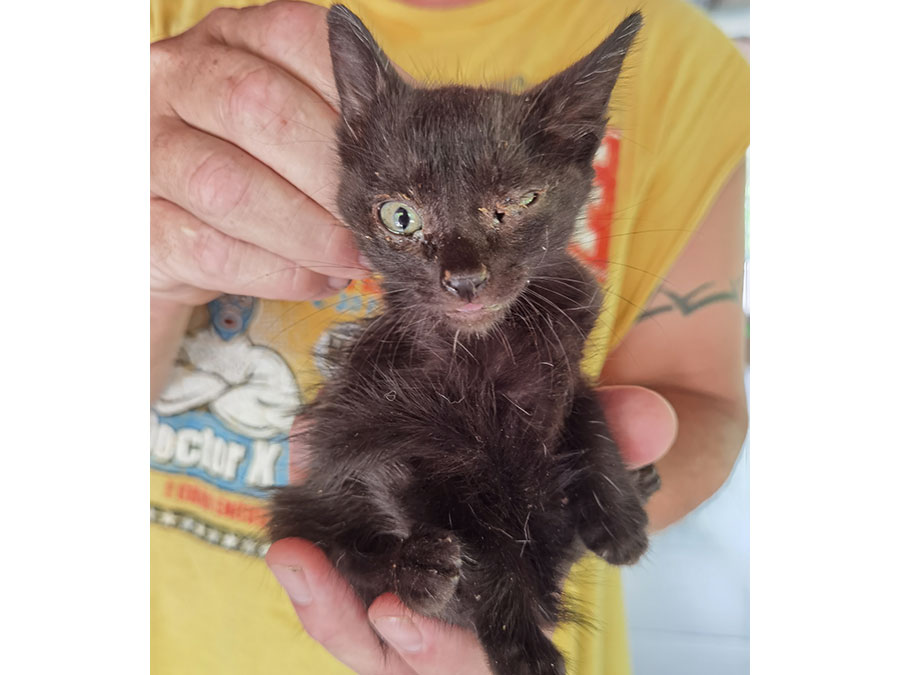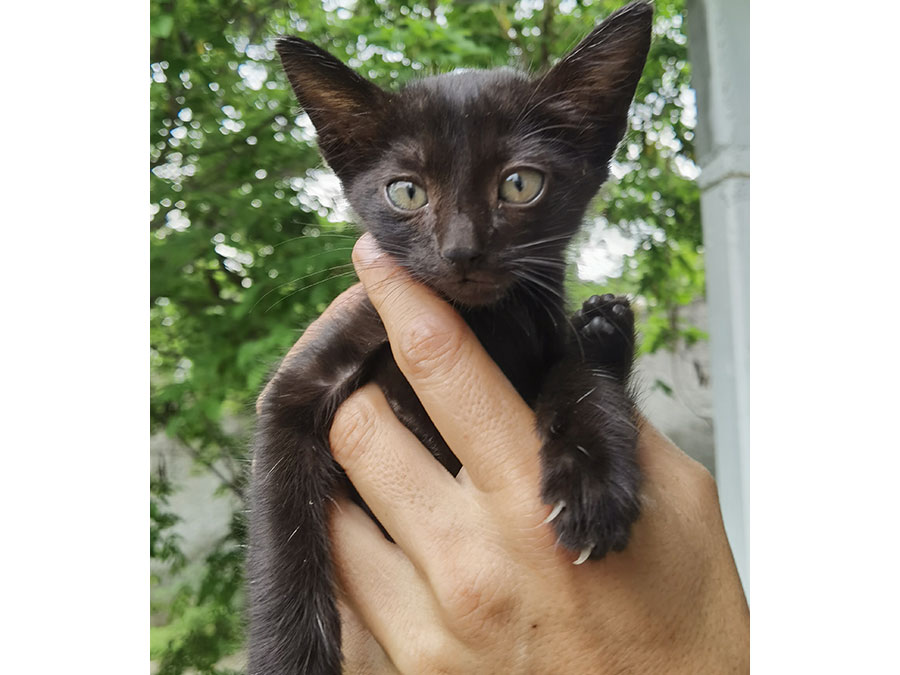 I received a call from a woman in Mazunte to say that she found three one-month-old kittens crying in her garden during a heavy rainstorm. They had fallen down a hill during a mini-mud slide. The mother cat was nowhere in sight, so she put the kittens in a box in her house for the night. However, she wasn't able to keep them and called me for help.
All three kittens had severe eye infections and were full of fleas. I took them in and fostered them for several weeks until they were healthy, sterilized, and ready for adoption. Here is Jack, one of the three cats on the day I found him and again three weeks later. Today Jack has been adopted by a wonderful family who treat him like a little prince.
---
May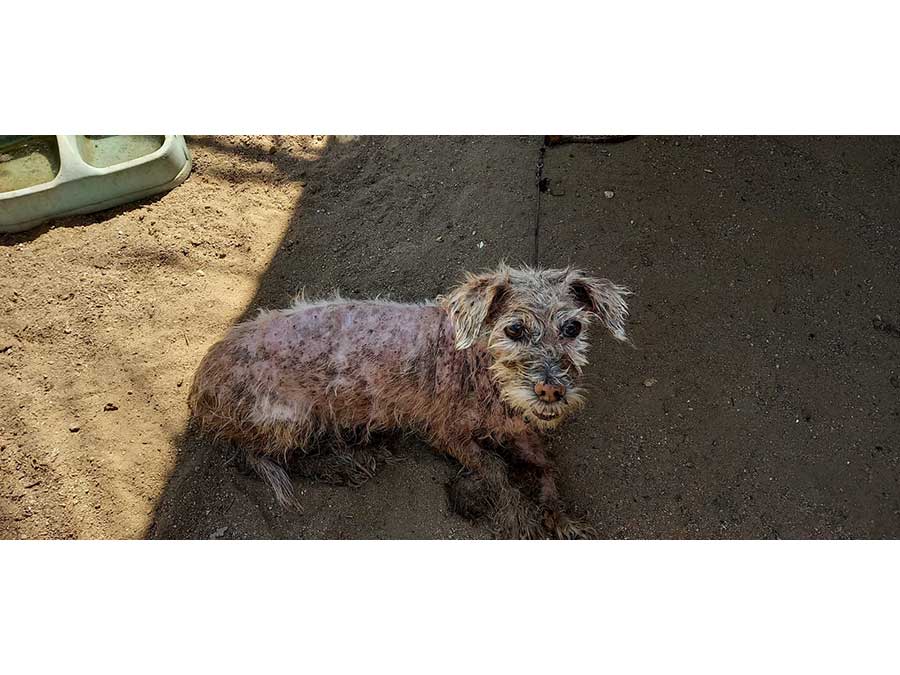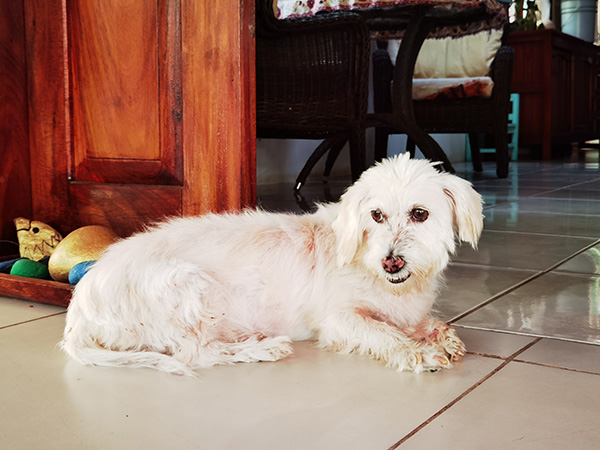 I received an anonymous call about a neglected dog in Mazunte, a beach village just outside of Puerto Angel.
Although she had an owner, the owner had completely neglected her. I found her tied up with a wire. She was so full of ticks and mange that most of her hair had fallen out and her nails had grown so long that they grew into her skin causing a painful foot infection. May could barely walk from the pain. I am currently fostering May and am looking for a perfect forever home for her.
---
Scruffy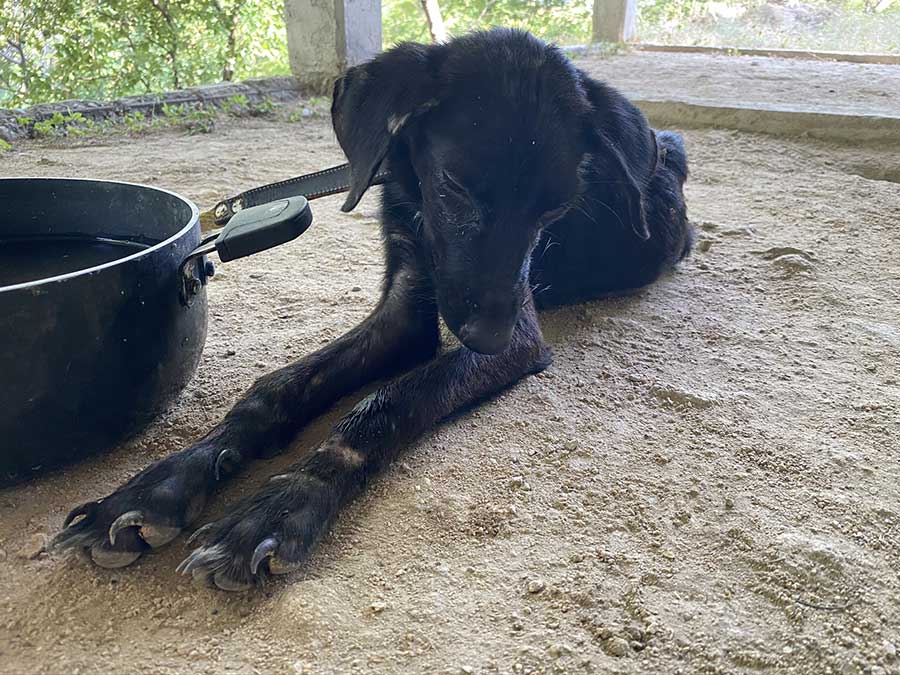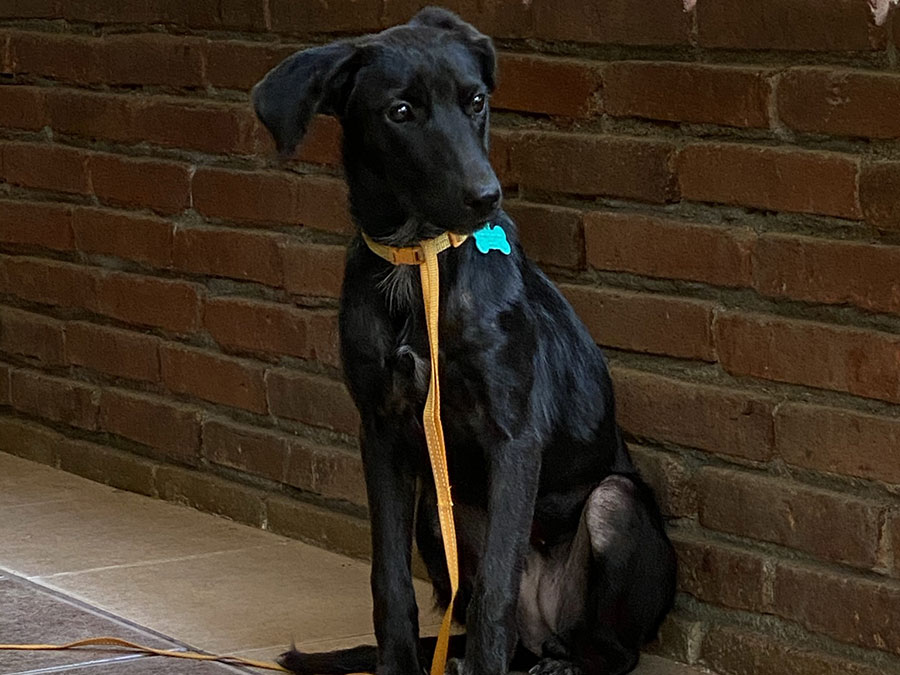 I found six-month-old Scruffy starving on the side of the road in Puerto Angel. Her nails were so long that some had started to grow into her skin. She was full of ticks. People in the local community said she and her two siblings had been abandoned when their owner had moved house. Her siblings had already died when I found her.
Scruffy came to live with me until she was healthy enough to be sterilized and vaccinated. She is now living happily in her forever home.
---
Black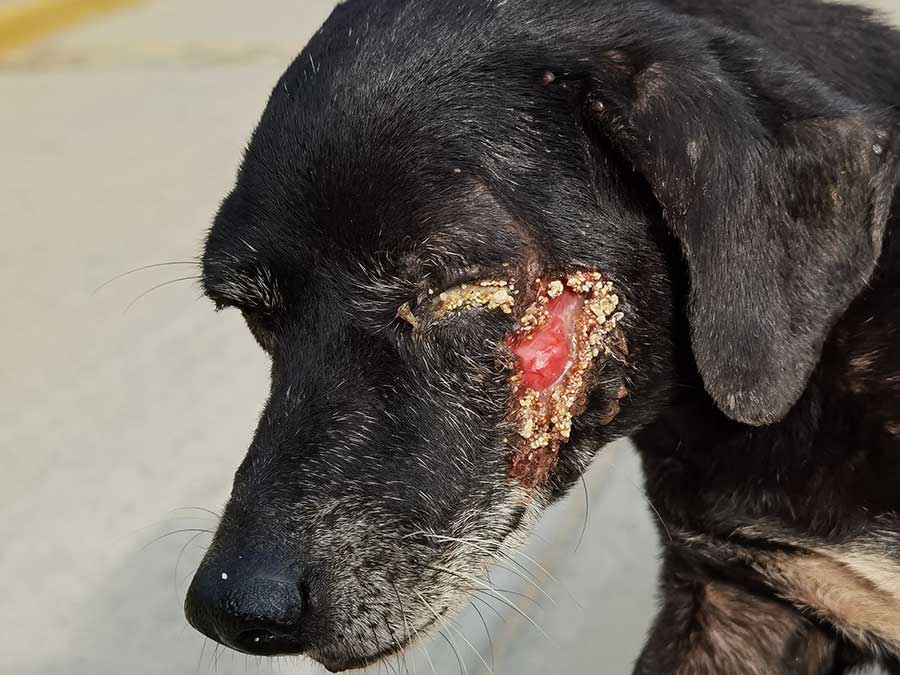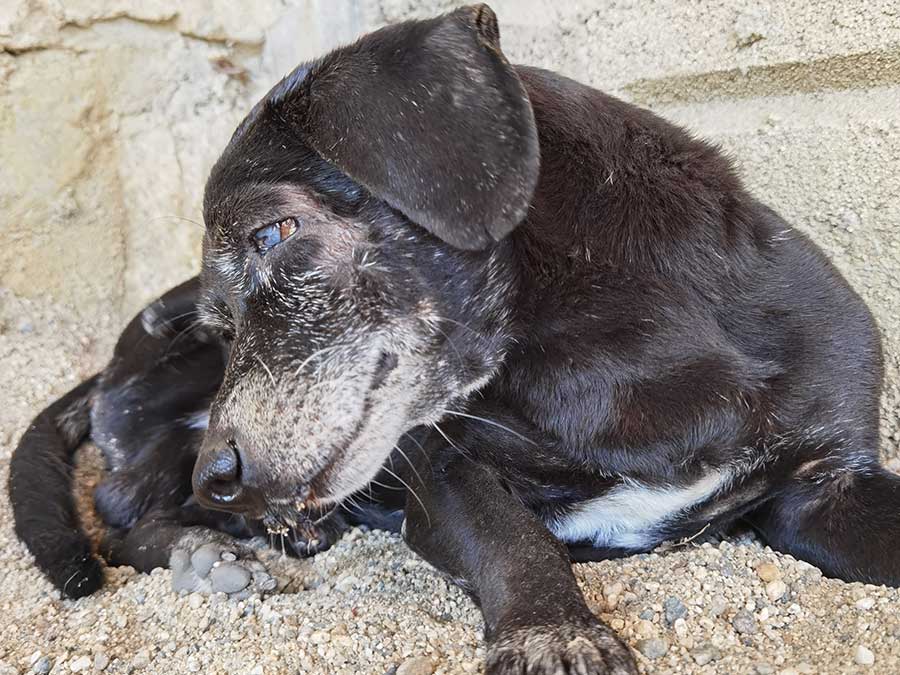 Black's owner approached me in Puerto Angel to say his dog had been hit by a motorcycle three weeks before but that he had done nothing to treat the injury. He asked if I could help his dog because he didn't have the resources to do so. As soon as I saw Black, I took him straight to the local vet. After his wounds were cleaned, I visited Black every day for a month to give him his eye drops and other medication.
Today, Black's wound has completely healed and he can see again.
---
Osso and Lulu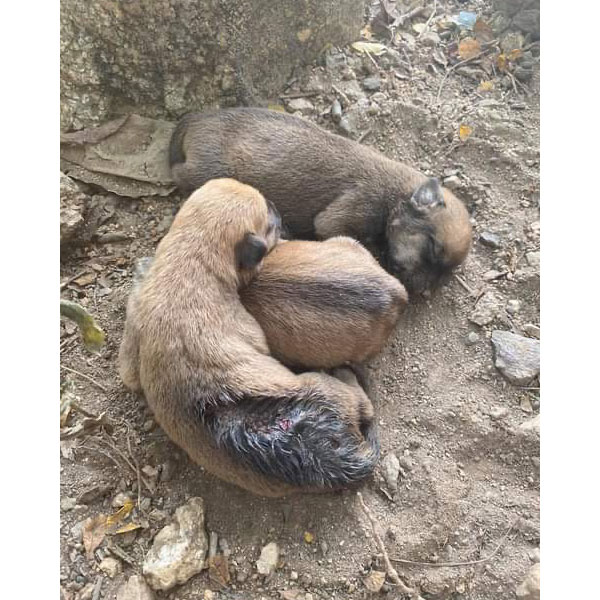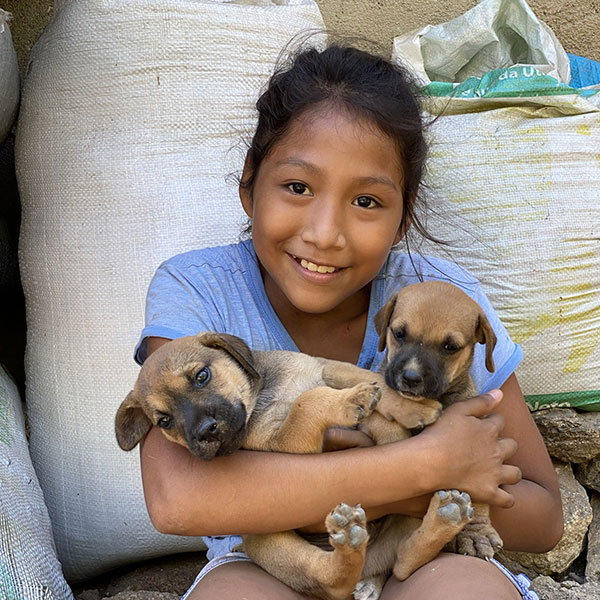 Their mother lived her life tied up on a chain. When I found Osso and Lulu, their siblings had already died. They were covered in sores from flies eating off their skin. Although I wasn't able to take them into my foster care at the time – I had too many foster animals already – I visited them daily and fed their mother healthy meals so that she would be stronger and healthier to be able to take better care of them.
As soon as they were old enough, I had Osso and Lulu sterilized and vaccinated, and I found them a loving forever home together. I also sterilized and vaccinated their mom of course!..
---
Ani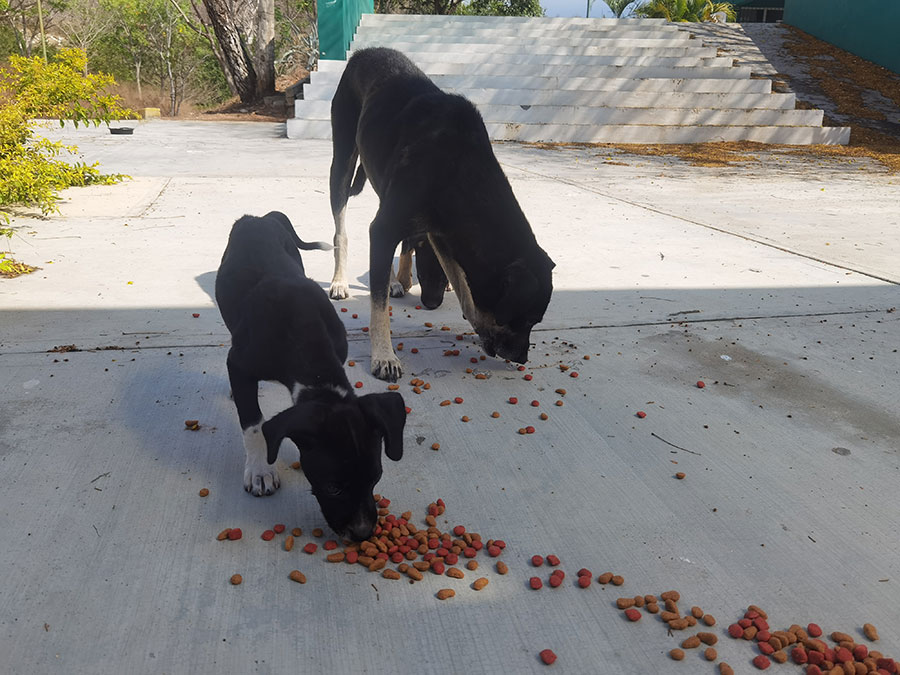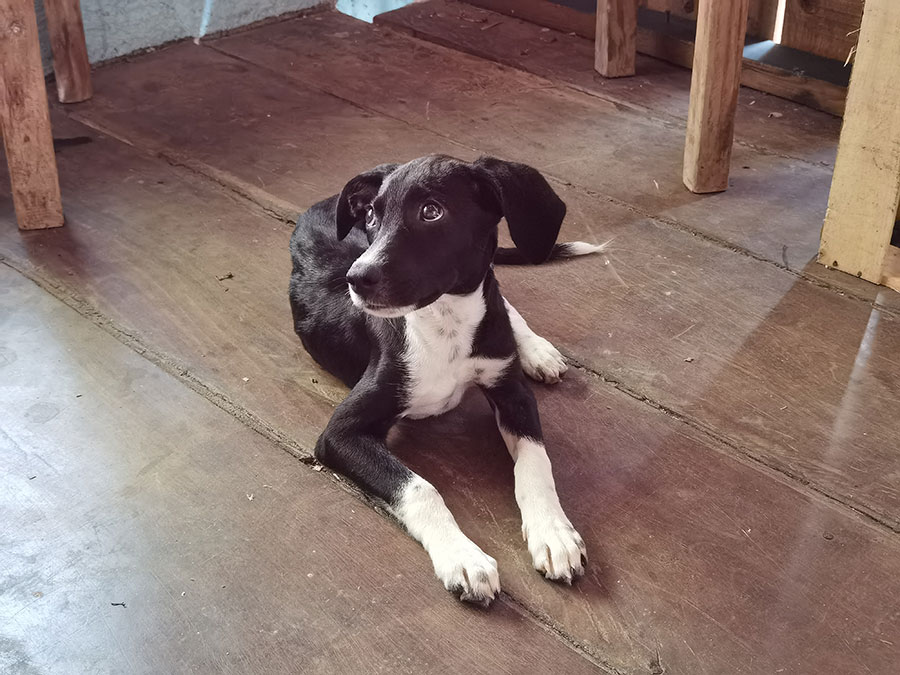 One day I stumbled on Ani, her brother, and her mother hiding out in an abandoned school in Puerto Angel. They were all terrified of people and I could never get close enough to touch them. But for three months I would visit them every day to feed them and get them comfortable with me.
Ani was the bravest and would sometimes come right up to me. One day I managed to quickly grab her and take her with me. I found her a wonderful foster who eventually adopted her, and we had her sterilized and vaccinated. Unfortunately, I have never been able to catch her mother or brother, but I still continue to feed them regularly and hope to one day have them sterilized and vaccinated too.