Here are just a few of the many special animals we have helped along the way.
---
Hercules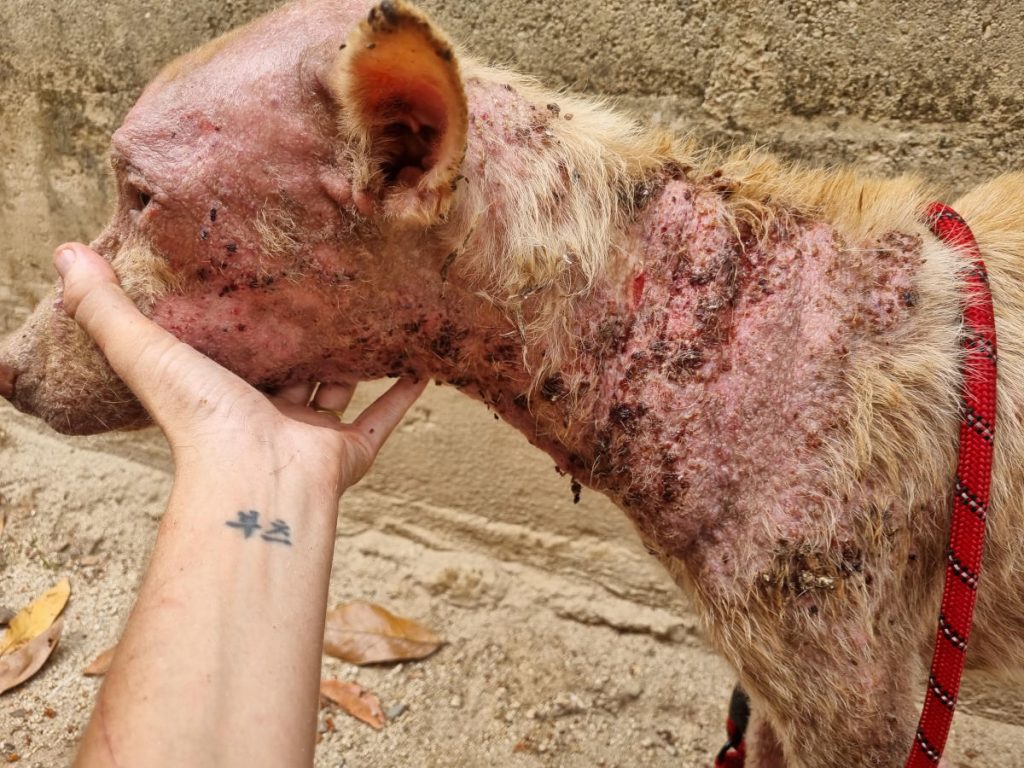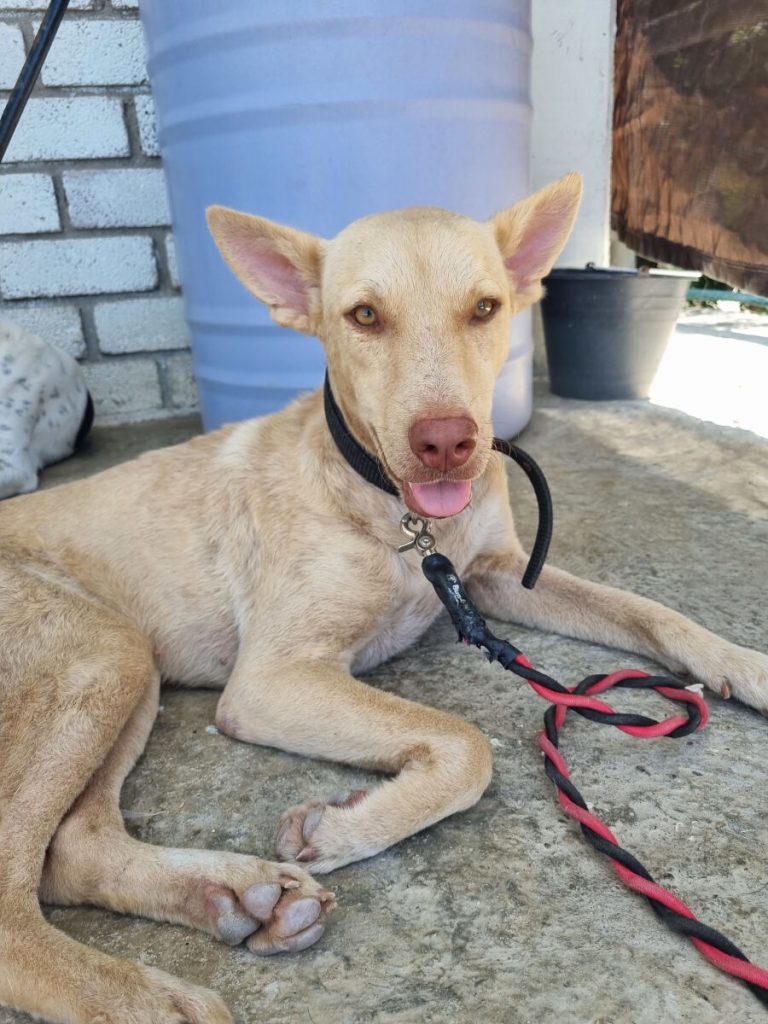 Someone from the nearby town of Pochutla tagged me in a Facebook post about this dog that was full of mange and desperately scavenging for food in the streets. I immediately posted about this dog on numerous groups with the goal of finding and helping him.
I recevied an anonymous call saying that the dog actually had a home. The person sent me the address, and I went searching for him.
When I found Hercules curled in a ball in his owner's yard, I could see that he had lost the will to live. He looked at me blankly when I approached him, and lay his head back down on the ground.
I came armed that day with medicated shampoo, mange treatment, deparasite pills, ear cleaner, etc. With the owner's permission, I gave Hercules a bath and treated him as best I could.
I learned that day that Hercules' owner was treating his mange by throwing boiling water and diesel over him. He would also tie him up with a sharp piece of wire that cut into his neck, and it was clear that he wasn't feeding Hercules.
After a long discussion with the owner, he agreed to surrender Hercules to me. I was so relieved. I carried Hercules in my arms to my car, laid him down comfortably, drove off, and never looked back!
Today, Hercules is a happy, healthy dog with a BIG personality. My goal is to find him a forever home in Canada where I can be sure he will get the love he so deserves.
---
Monday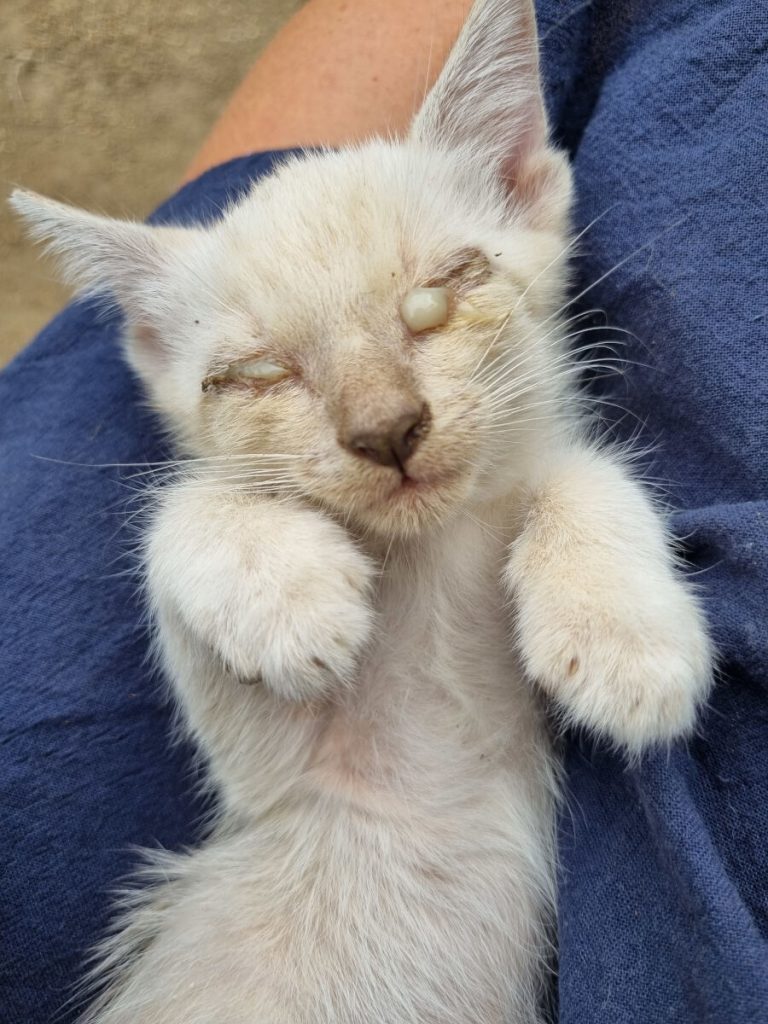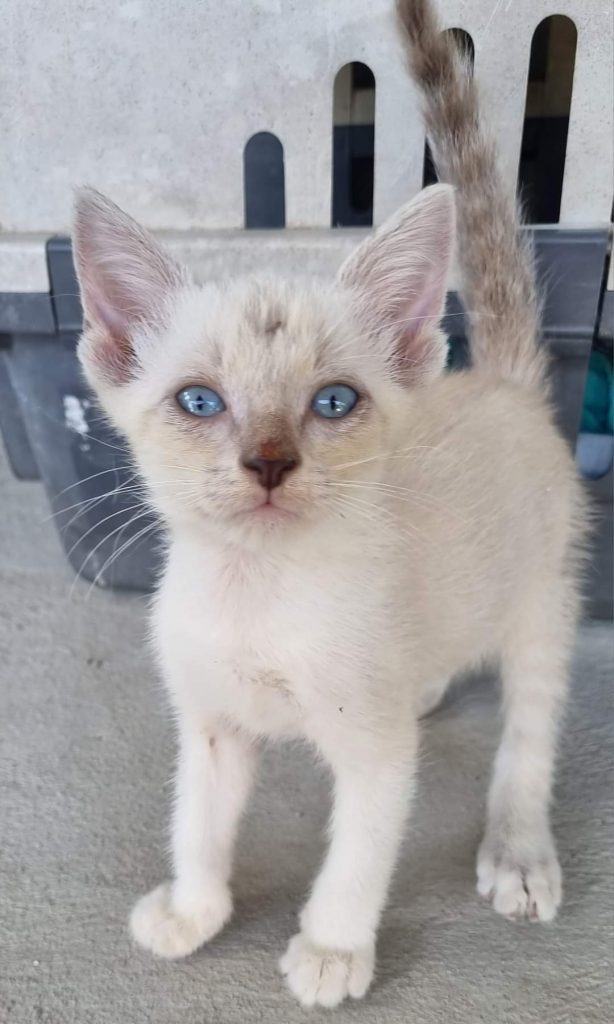 I met Monday when I was investigating a case of 30 unsterilized cats living in the house of an old couple in Puerto Angel. At the time, Monday had a mild eye infection, so I gave his owner some eye drops to give him.
In the meantime, my vets and I started trapping and sterilizing the 30 cats one by one.
A few weeks later I returned to the house to check on the cats and discovered that Monday's eye infection had worsened. His eyes were almost sealed shut, and he was on the verge of losing his eyesight.
Unfortunately, the old man had gotten ill and hadn't given Monday the eye drops I had left for him.
Without a second thought, I whisked Monday back to my home where I could treat him properly. It took him a few days to see again, and after one week, we could see his blue sparkly eyes.
Monday has been adopted by a wonderful woman who has sterilized him and vaccinated him. He's in great hands now.
---
Bongo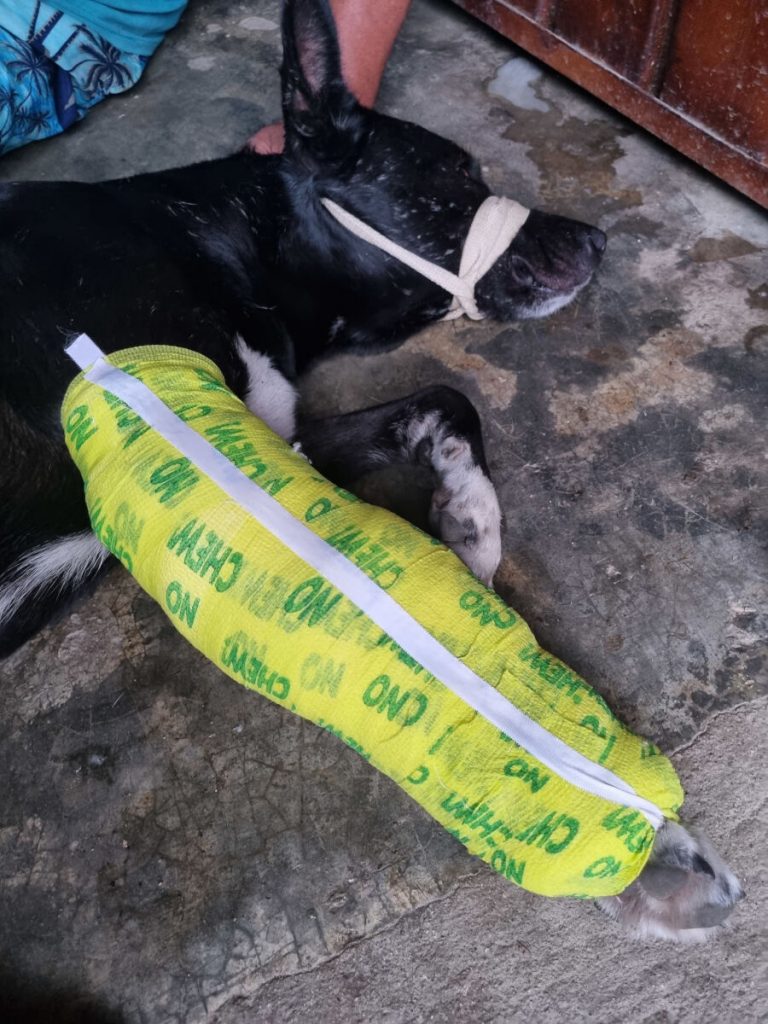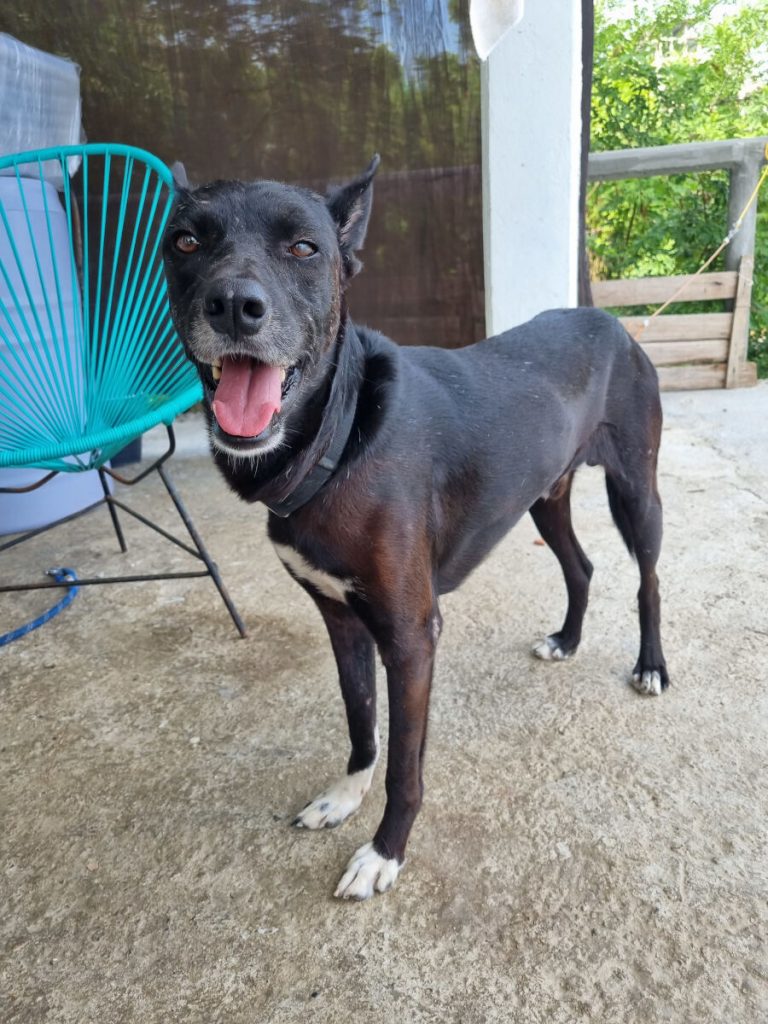 I received a message about a dog named Bongo that had been attacked by a Pitbull in Puerto Angel. The Pitbull had broken his leg, and he was in severe pain. His owner didn't have the financial resources to pay for Bongo's surgery and unfortunately left him to suffer for several days before I came to help.
Due to lack of funds, I was unable to pay for Bongo's surgery, but with the help of a local vet, I learned how to wrap Bongo's leg in such a way that the leg could at least heal with time. I wrapped and re-wrapped Bongo's leg daily and injected him with antibiotics and painkillers.
Despite my efforts, the bone had become infected from the dirty dog bite, and the only solution for him was surgery.
I published Bongo's story on social media and gratefully received enough funds to pay for the surgery.
Bongo stayed with me in recovery for six weeks after the surgery and finally began to use his leg again. Today Bongo walks normally and is living his best life.
---
Little Luna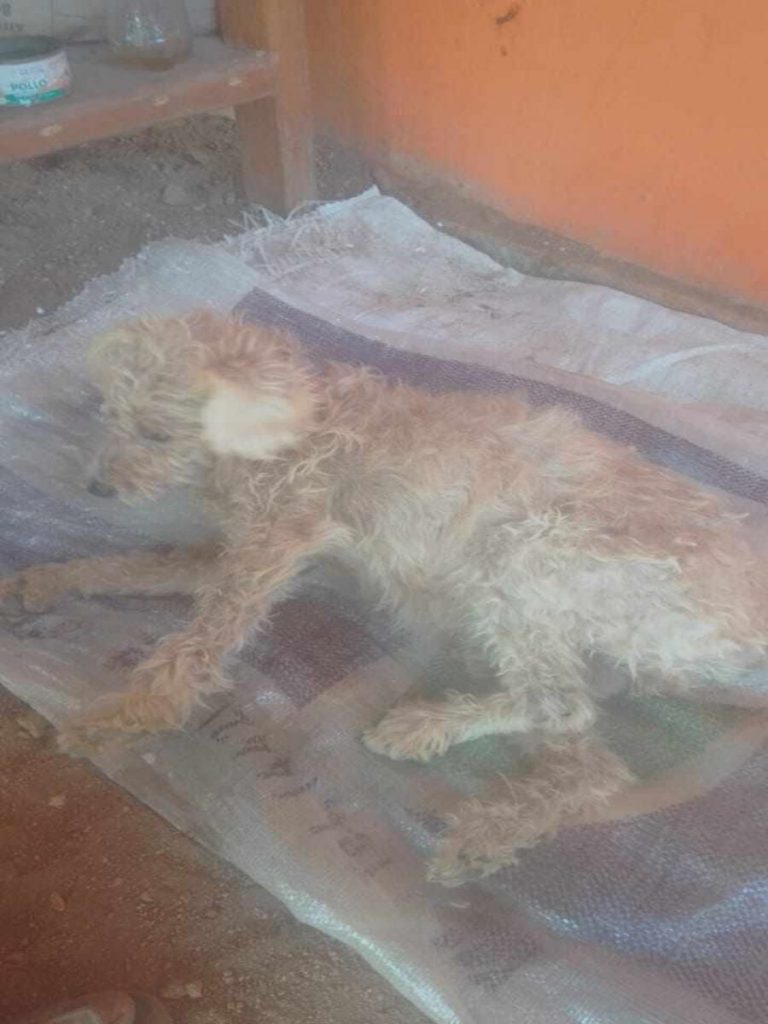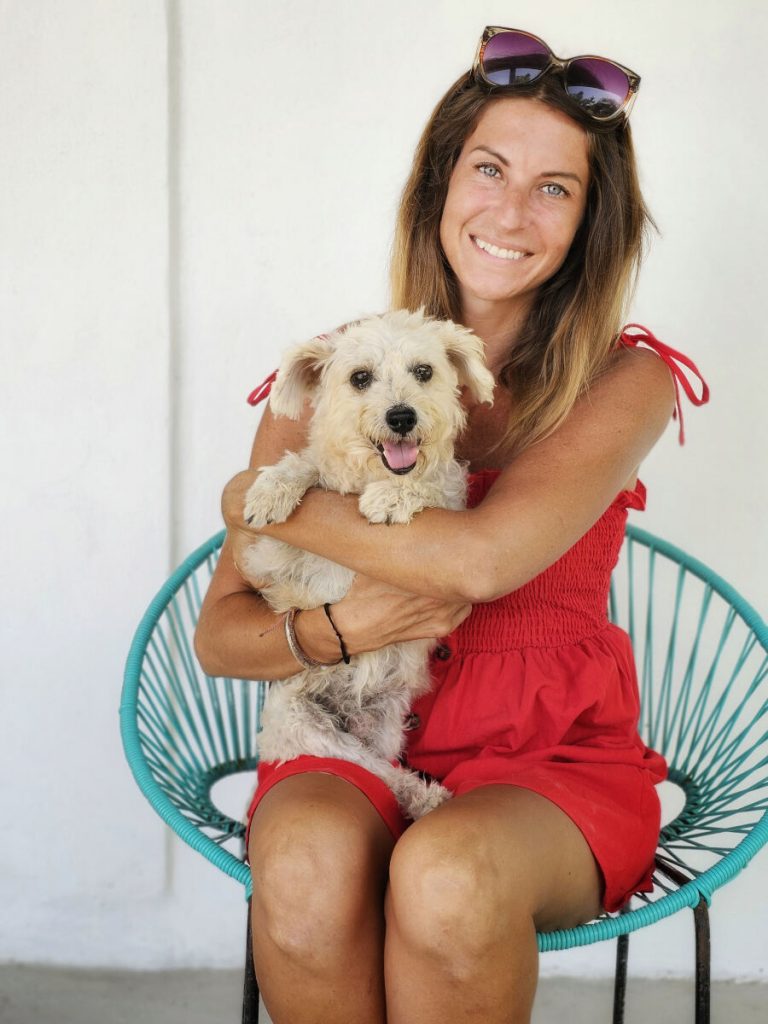 I received a call from Little Luna's owner saying that he had heard about my organization and needed some help. A car had reversed into their driveway and ridden over Luna's back. Her tail bone had been separated from her spine causing excruciating pain and paralysis.
The owner had gotten x-rays, and numerous vets had recommended euthanasia as her problem was severe. However, her owner refused to put Luna down without a fight.
I managed to find a vet in Oaxaca City experienced with the type of surgery Luna needed, and I helped Luna get to Oaxaca. Unfortunately, neither her owner nor I had sufficient funds to pay the vet, but the owner pushed on with the surgery asking people in his local community to lend him money to pay the bill.
Luna received her surgery which not only took away her pain but also enabled her to walk again. This was a huge surprise for us all! And when I posted her story on social media, we received enough donations to cover our debts.
Thank you to those who donate to this beautiful cause and help us make miracles happen.
---
Oreo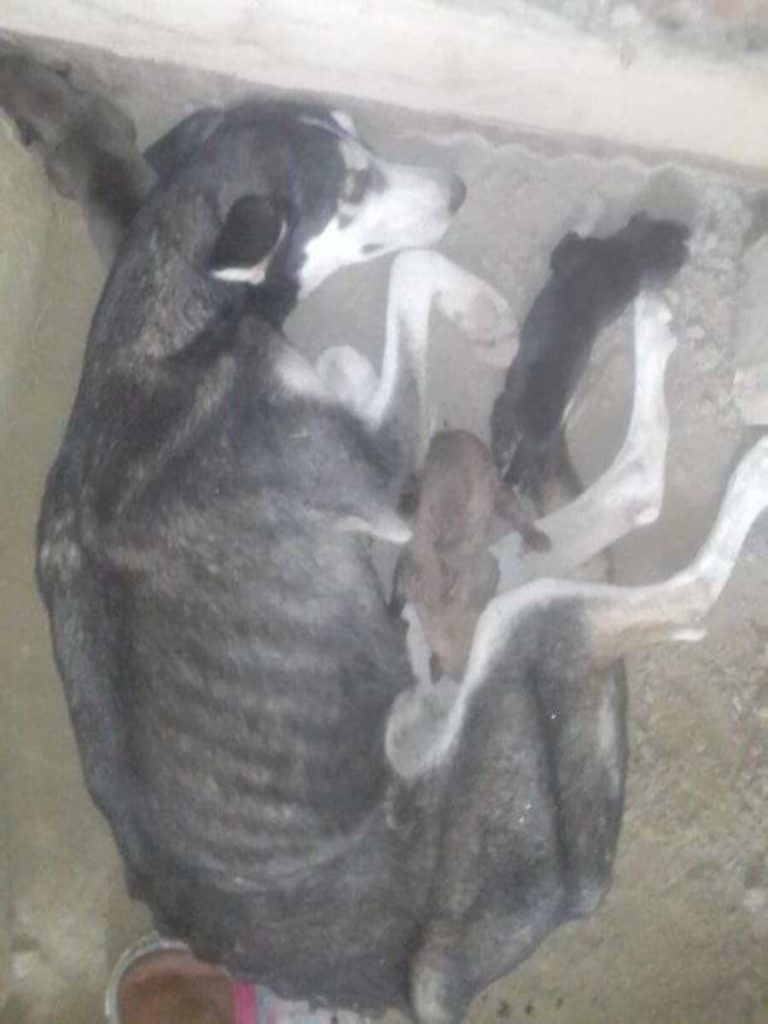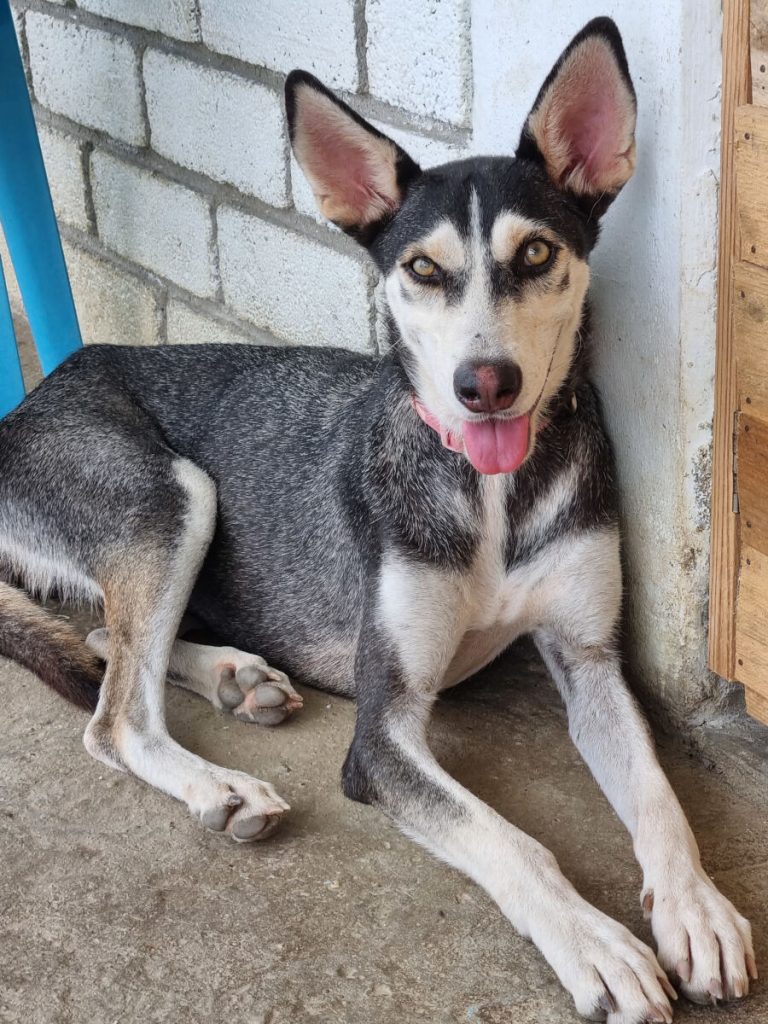 Oreo was abandoned by her owner in Huatulco when she was pregnant. She was left to starve, and when her puppies were born, she was so weak she couldn't produce any milk for them. With a lack of fosters available in Huatulco, I took Oreo and her four puppies home.
I had to bottle feed Oreo's new-born pups while Oreo recovered from starvation. Both the pups and her got increasingly stronger which was a beautiful transformation to see first-hand.
At first, Oreo would cower in the corner whenever I tried to pet her. She was convinced I would beat her. But with time, she learned that my hands only give love, not beatings.
Today, Oreo has gained a lot of confidence in humans, and she lives in Zipolite with her long-term foster mom who absolutely adores her and is waiting for the right person to come along to adopt her.
Oreo's pups were all sterilized, vaccinated, and went to lovely forever homes.
---
Coco and his Siblings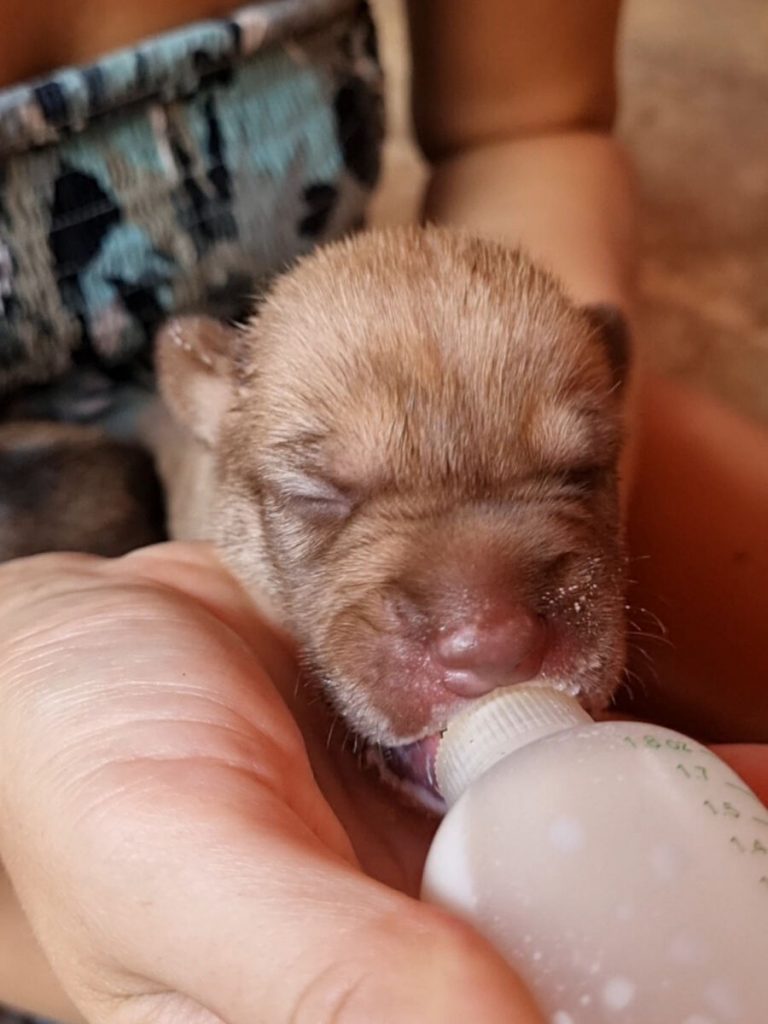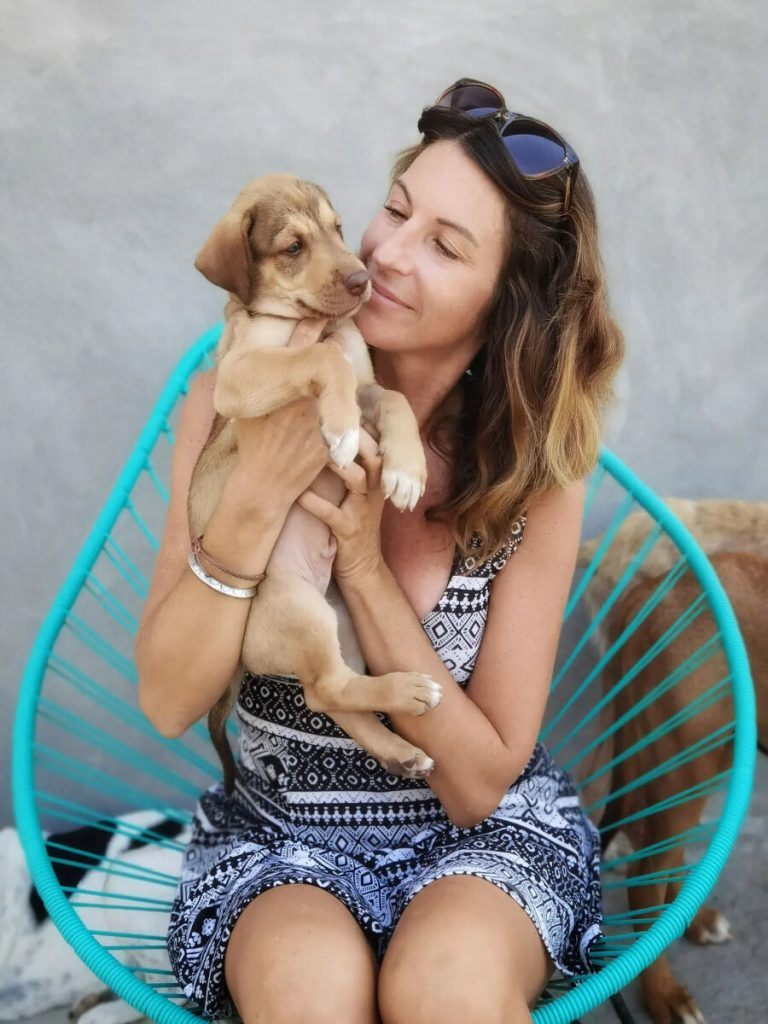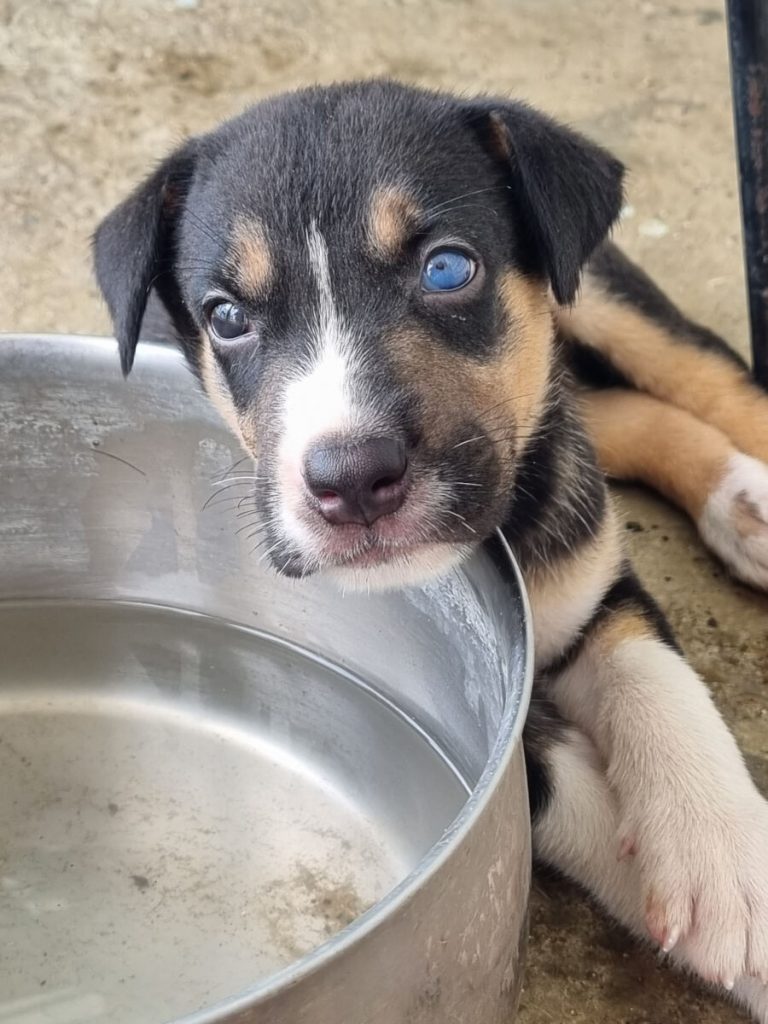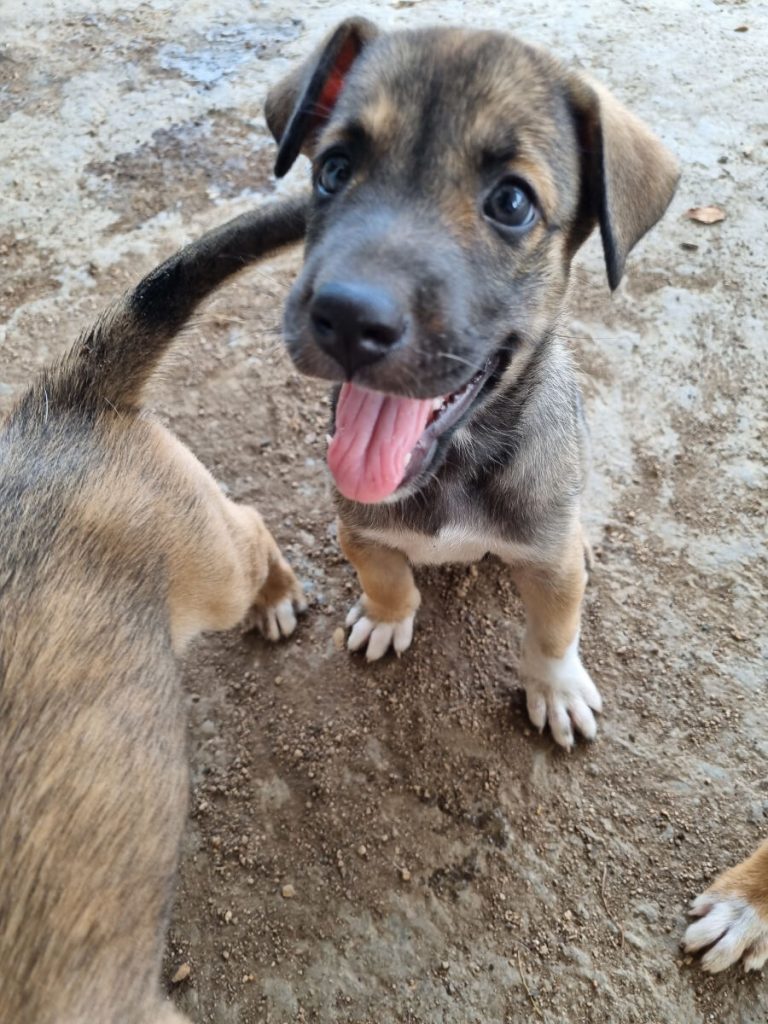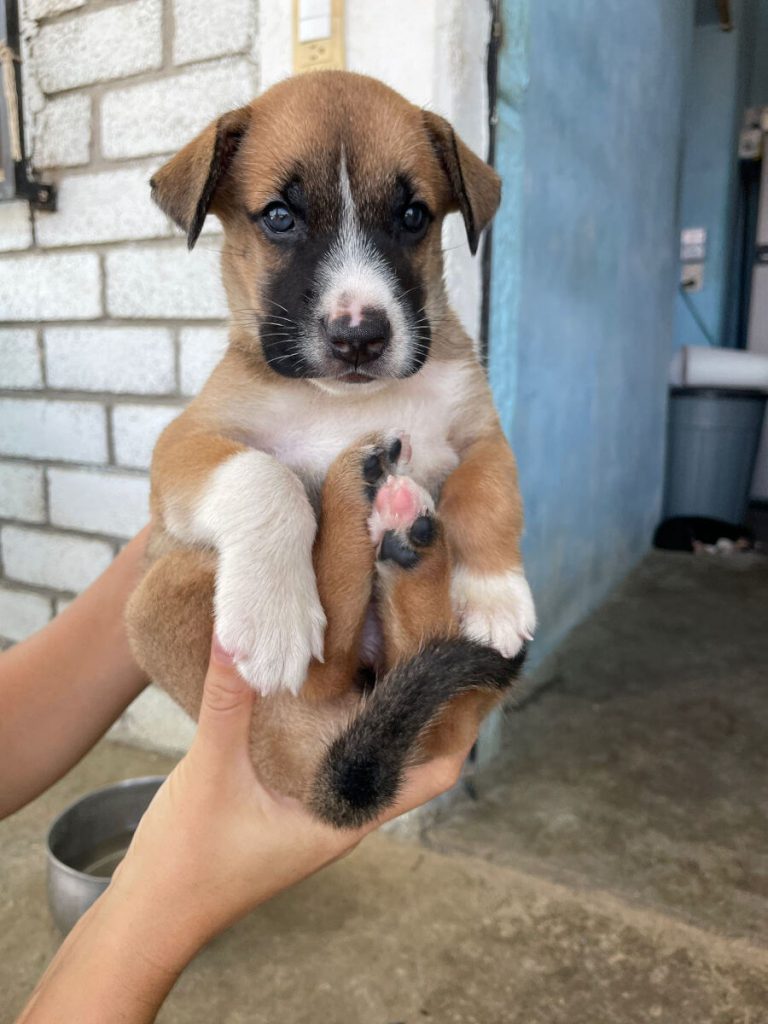 These four little dogs were Oreo's pups that would have starved to death had I not rescued them. I'm adding their photos here as a reminder of the beautiful miracles that happen through animal rescue.
When they came to me, they were starving and full of worms. I treated them and bottle fed them several times a day until they were old enough to eat on their own. For the first two weeks I barely slept. They were like human new-borns constantly crying throughout the night. I would go to work the next day and fall asleep at my desk because I was so incredibly sleep deprived.
But all the work I put into the pups paid off as you can see from these photos. They all became super strong, healthy, and happy, and it made all the sleepless nights worth it. Today, they have all been adopted into loving homes.
I've included a short video here too of the bedtime stories I'd tell them. As you can see, these stories put them to sleep quickly. Warning: Cuteness Overload!
---
Toby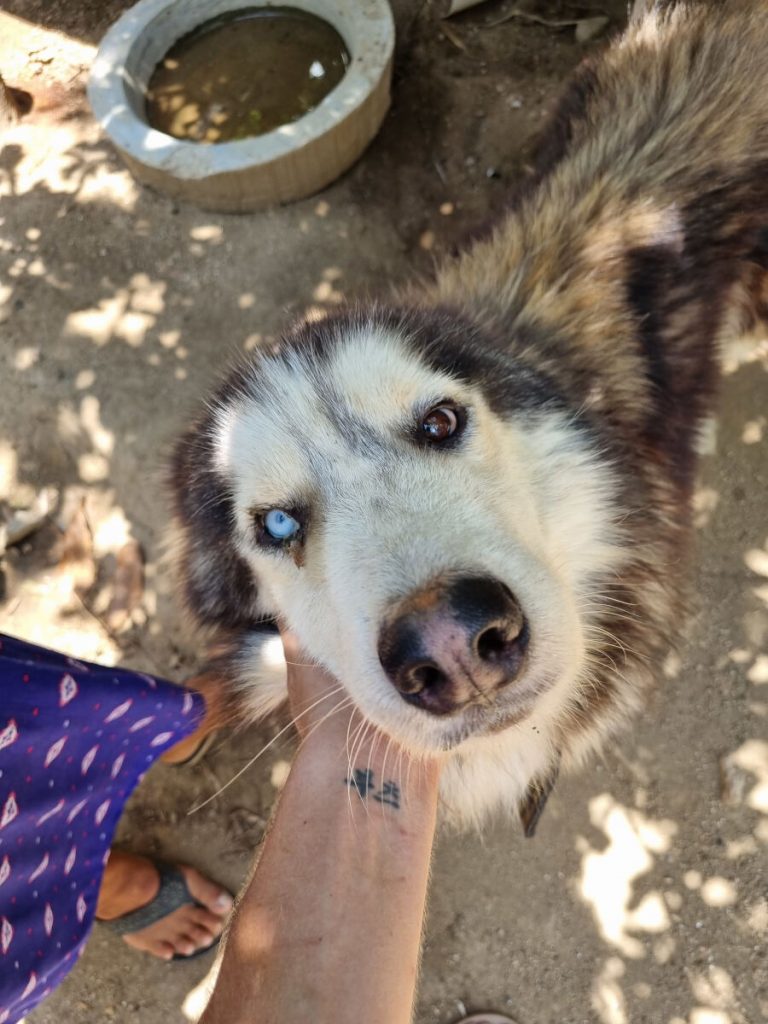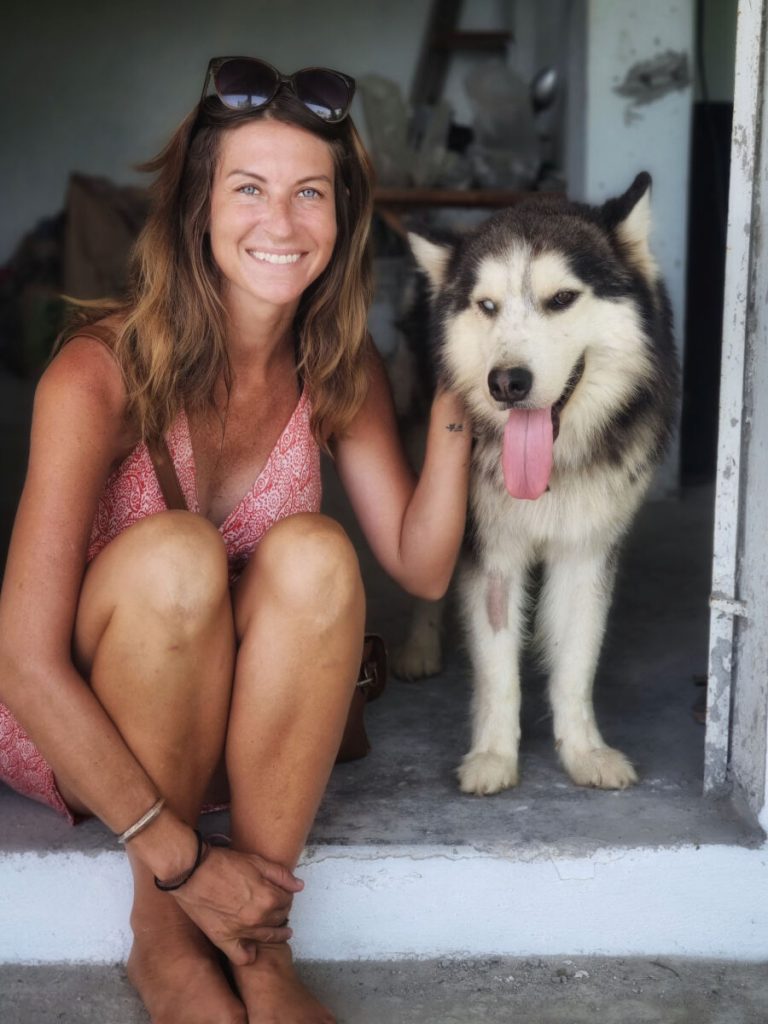 Someone contacted me about Toby, a Husky that had been left with family when his owner got a job in another town. The family, who was not keen on having a dog, left Toby tied up day in and day out for 8 months. Toby's hair had gotten badly matted, he had developed an eye infection, and he was struggling to defecate. In fact, he would spend hours crying while trying unsuccessfully to poop. He was a very depressing sight to witness.
I took Toby to my home, got him sterilized, cut out his mats, and treated his eye infection. I also tried various medications and foods to help Toby poop.
Luckily, I soon found a long-term foster in Puerto Escondido with a lot of free time and experience with Huskies. Since he's been there, he has become so much more relaxed and is having less difficulty going to the bathroom. He still has some bowel problems, but he's in a loving, patient home where he can slowly recover one day at a time.
---
Chocolate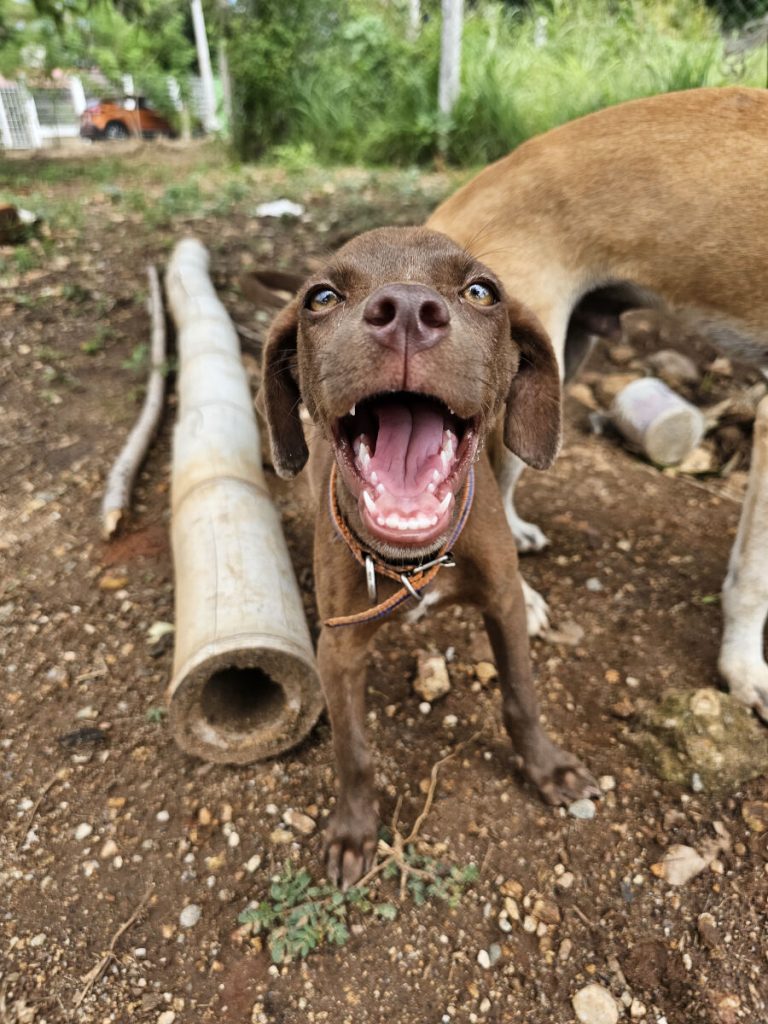 Chocolate was born in a very cruel home where the owner has 17 dogs that are all starving and breeding uncontrollably. When I heard about this, I went to investigate and offer free sterilizations for the owner's dogs.
A few days later, the owner called me to say that one of his very hungry dogs had attacked Chocolate and her brother very badly over a small morsel of food.
I went to fetch both dogs and brought them to my home. Sadly, Chocolate's brother didn't survive the attack, but Chocolate was lucky.
She was full of ticks, fleas, and internal parasites when I rescued her, and she had two deep bite wounds on her side. With treatment and lots of love, Chocolate started to shine.
She is such a gentle kind pup that gets along with everyone. I must say that I quickly fell in love with her, but I unfortunately can't keep them all.
Chocolate has now been adopted by a nice woman in Pochutla where she's thriving.
---
Matilda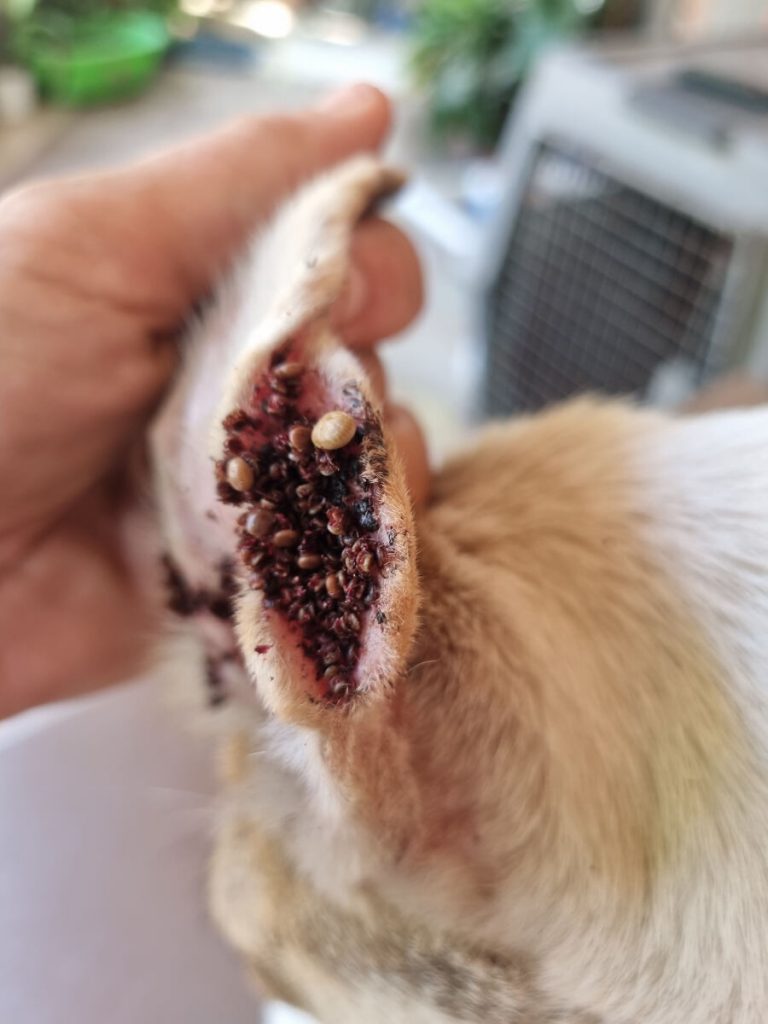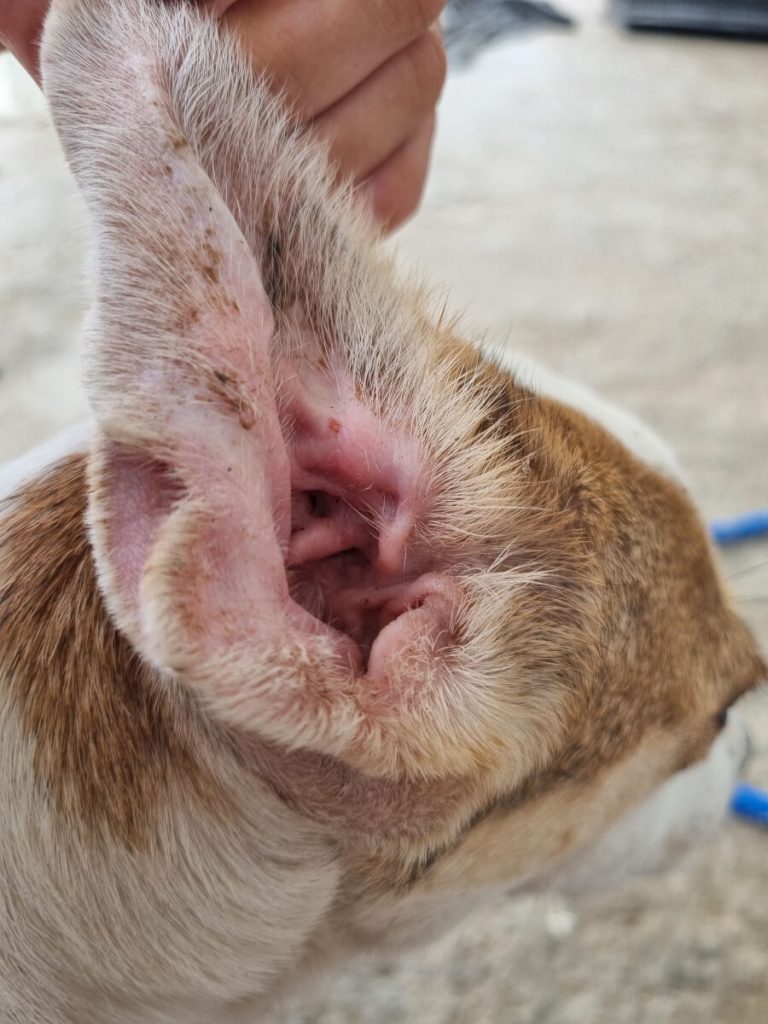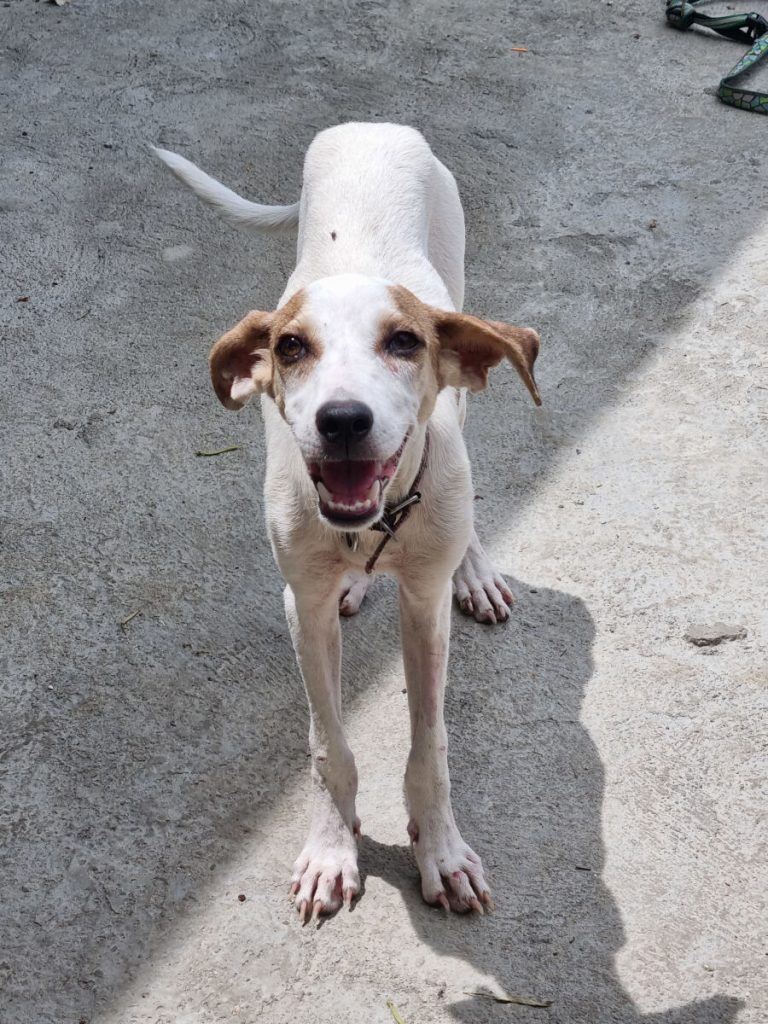 I received a call very late in the evening while I was just about to fall asleep. A dog had been hit by a motorbike and was bleeding out the nose. She apparently couldn't move.
I didn't hesitate to jump in my car in my pjs and head to the area where she was spotted just outside of Puerto Angel.
When I found Matilda, I was convinced that she had internal bleeding and wouldn't survive based on her terrible state. Our local vets helped the best they could, but without equipment to do x-rays or ultrasounds, we couldn't tell the severity of her injuries.
After three days of treatment with me, she slowly started to recover. The bleeding from her nose stopped, and the pain seemed to subside. However, Matilda was very afraid of me and my other dogs. Every time I tried to touch her, she would growl and try to bite me.
But with determination and patience, Matilda finally learned that I was there to help her, not harm her. And it turns out that she absolutely loves cuddles.
---
Negrito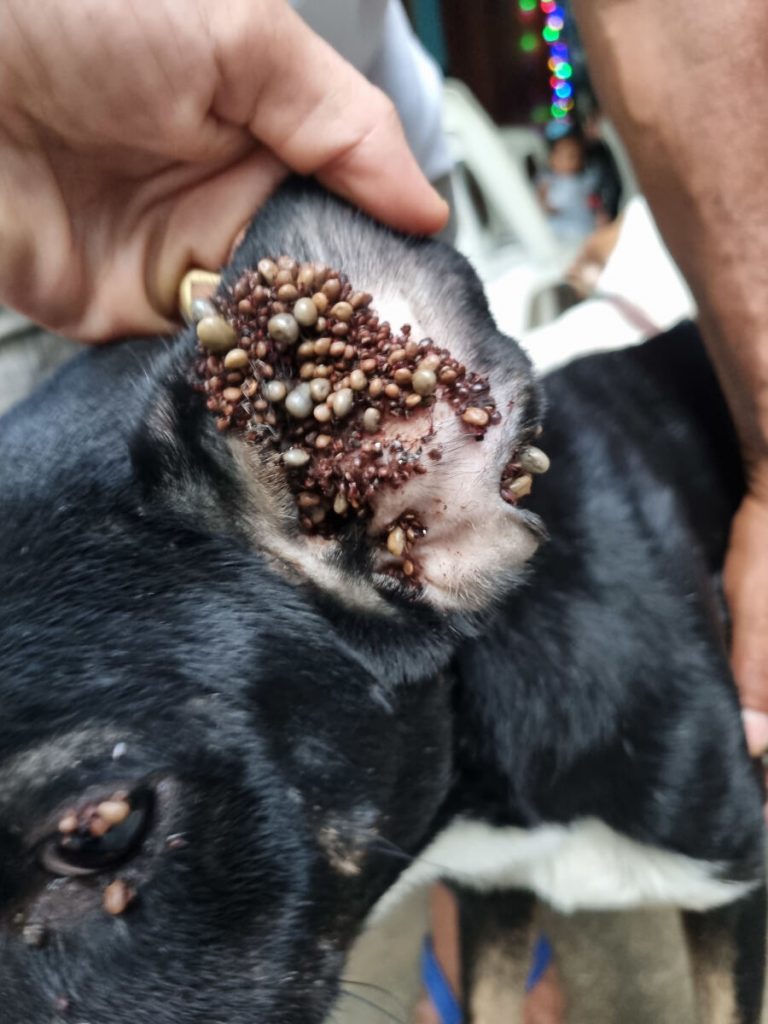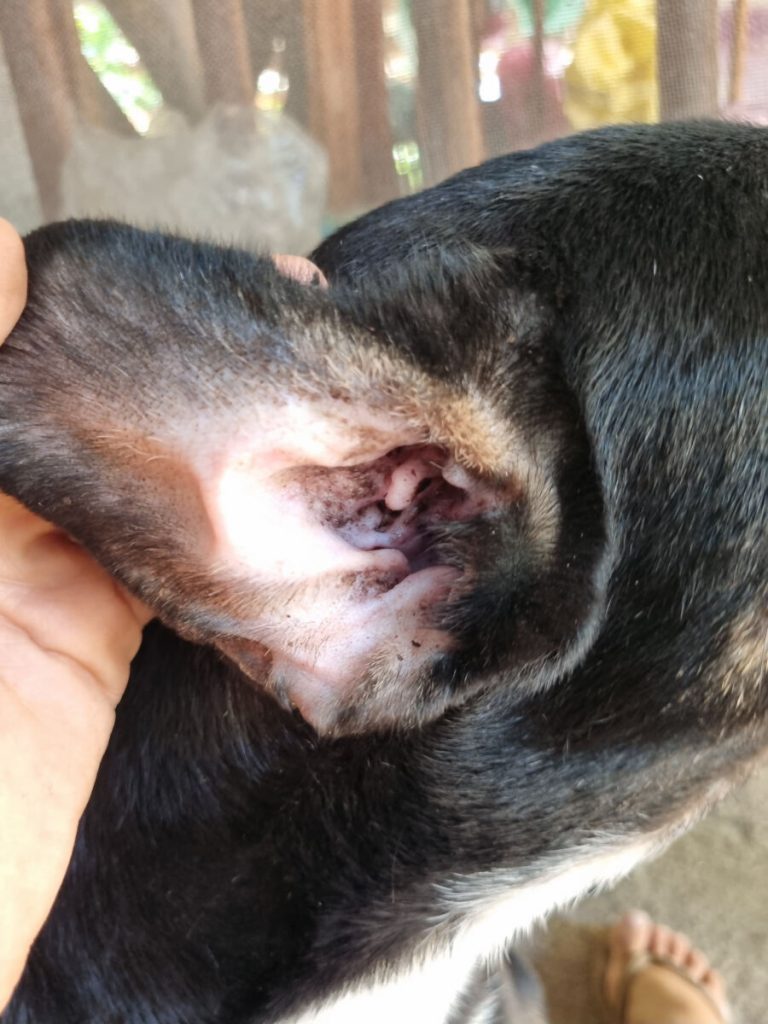 Negrito is just one example of the many dogs I try to help on a weekly basis. I found Negrito at his owner's house full of ticks and fleas. His ears and his eyes were infested. I can only imagine the pain and discomfort those parasites caused him and how they must have put pressure on his immune system.
With just one small pill of Nexguard Spectra and Endogard, all the internal and external parasites died within hours, and Negrito was given a new lease on life.
I use opportunities like these to educate dog owners about the importance of treating their dogs for parasites, and I show them visually the magic that just one small pill can do.
I visit Negrito regularly now to make sure that he's doing okay. His living situation isn't great, but it's very hard to re-home older dogs here. At least Negrito has a home; the majority of dogs in Mexico don't.
---
TikTok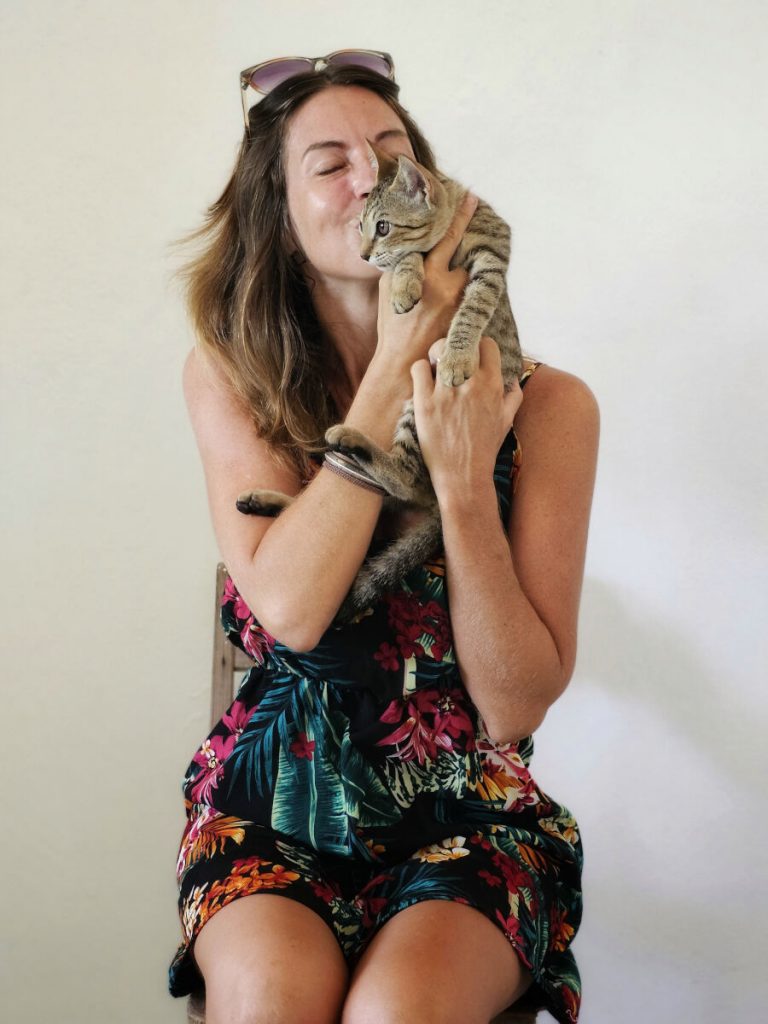 Although I don't have a "before" photo of TikTok, her miracle story is worth mentioning.
A tourist heard TikTok crying loudly in a box on the back of a pick-up truck in Pochutla. She asked the driver what was going on, and he casually mentioned that he was on his way to dump his unwanted cat somewhere. The tourist rescued TikTok from that situation. She opened the box and saw that TikTok's hands and feet were tied up. The kitten was terrified and shaking uncontrollably. The tourist, unable to take TikTok with her, dropped her off at my home.
I had TikTok sterilized immediately, and for the first few days she seemed like a feral cat that I would need to release into the wild. But after about one week in my care, something seemed to click in her. She finally realized that she was safe and that I wanted to help her. From that moment on, TikTok became a very loving cat that loved human cuddles
It was an absolute pleasure being Tik Tok's foster mom and showing her that not all humans were bad. Today, she is living a good life in her forever home.
---
Chiquito
Someone sent me a photo of Chiquito, a cat in Santa Maria Tonameca that was suffering from a severe infection in his tail. He was a street cat, but he was fed occasionally by the owner of a nearby restaurant. With no one willing to take responsibility for Chiquito, he was left for months with the painful wound on his tail.
When I received Chiquito's photo, I was determined to help him. I brought him to my local vet, and upon inspection, it was clear that his tail had to be amputated. We amputated his tail and sterilized him at the same time.
Chiquito stayed with me for two weeks while his tail healed. And thereafter, he was adopted by a kind woman who wanted to give Chiquito a second chance at a good life. Chiquito is doing very well!
---
Maya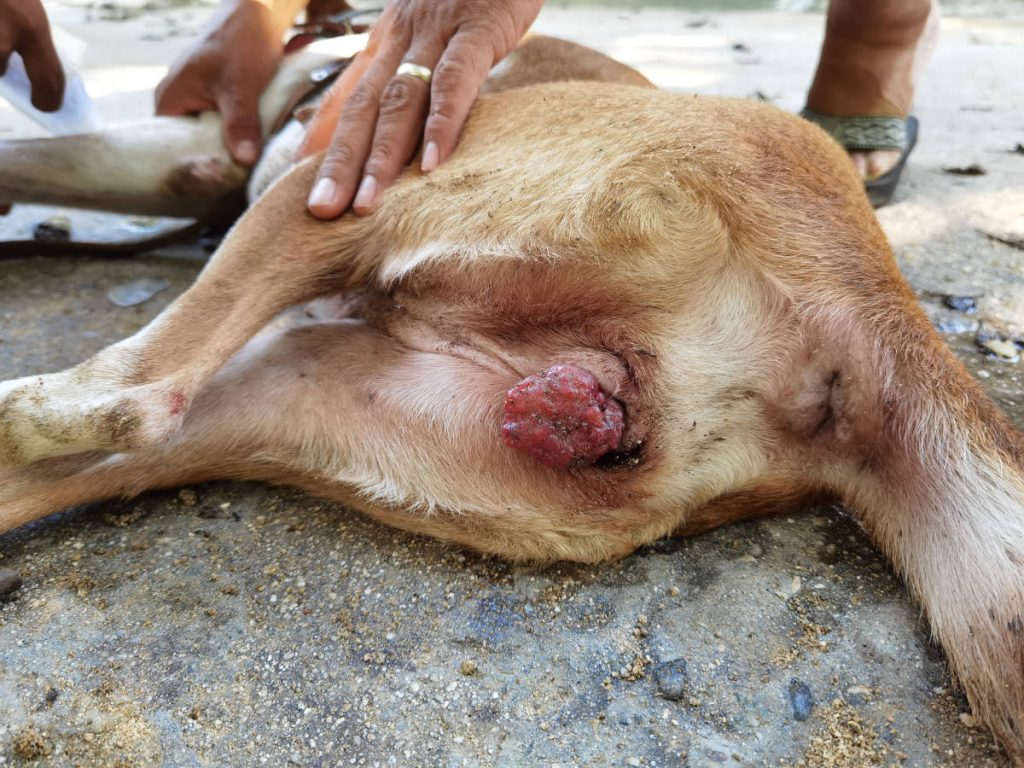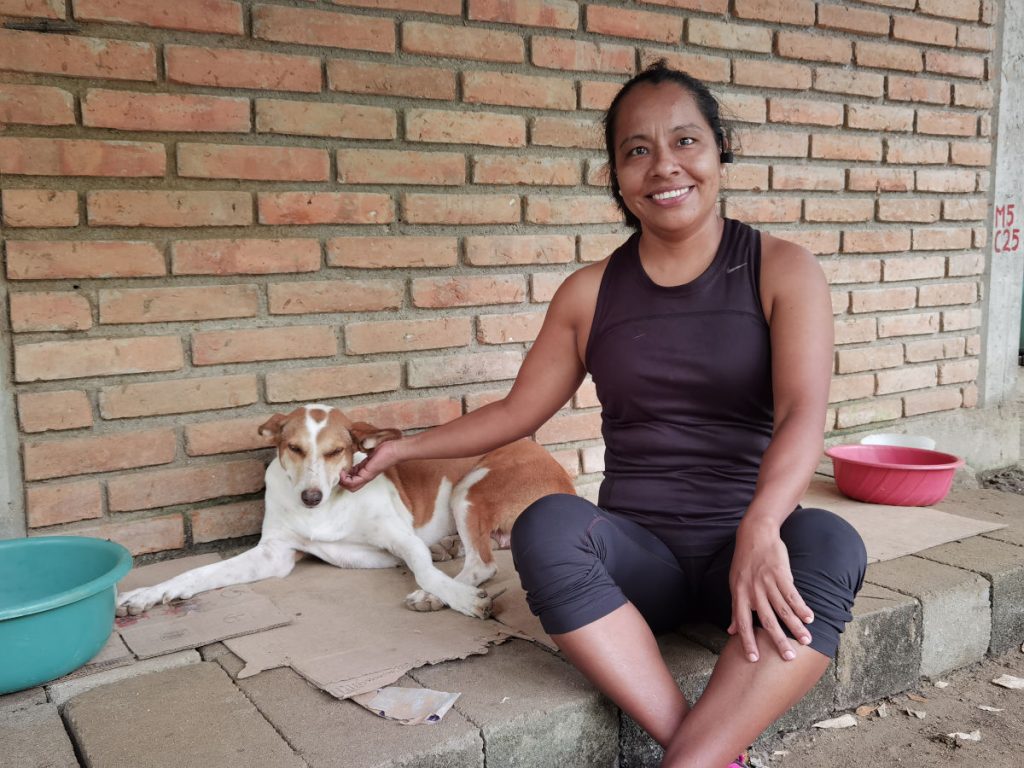 A very kind woman, Alma, called me about a street dog in Pochutla that had TVT, a cancerous, sexually transmitted tumor which is very common in the region. She really wanted to help this dog, but she didn't have the funds to do so.
Normally, I would recommend euthanizing a street dog with TVT as its highly contagious and would, therefore, put other dogs at risk. Treatment is also expensive and would require the dog to at least have a long-term foster that could take the dog to the vet regularly.
Luckily, Alma offered to foster Maya, so I raised the necessary funds for her chemotherapy and sterilization. Within 6 weeks, Maya was cured of the deadly TVT, and Alma decided to adopt her. Maya is now off the streets and living the good life.
---
Gerry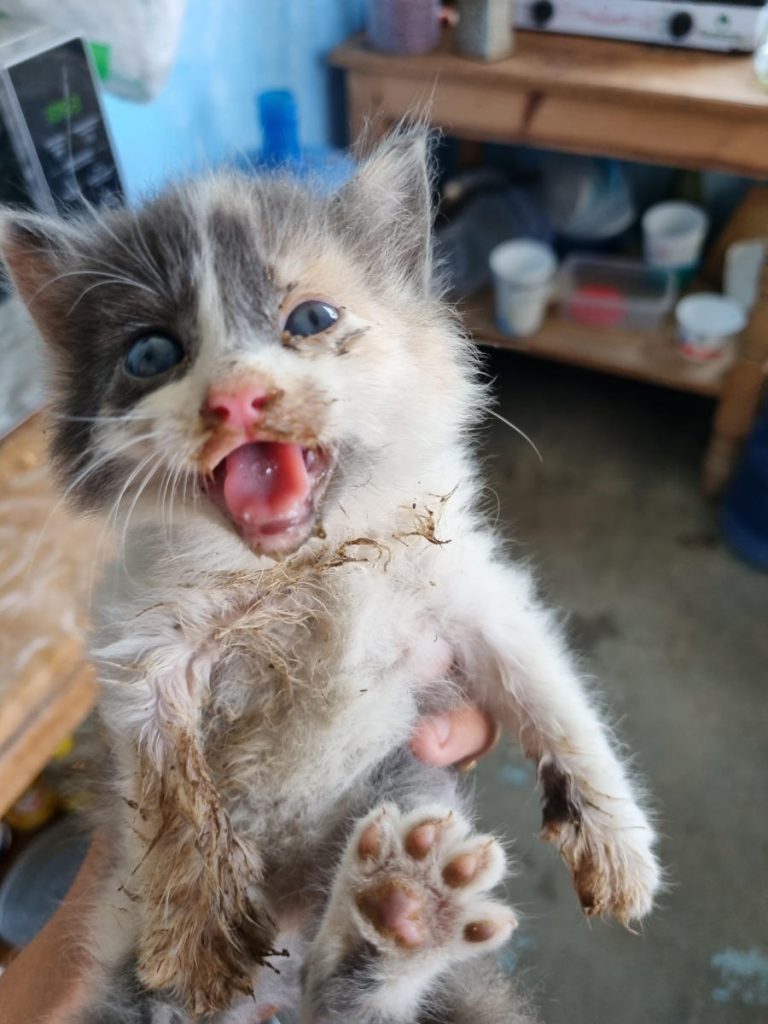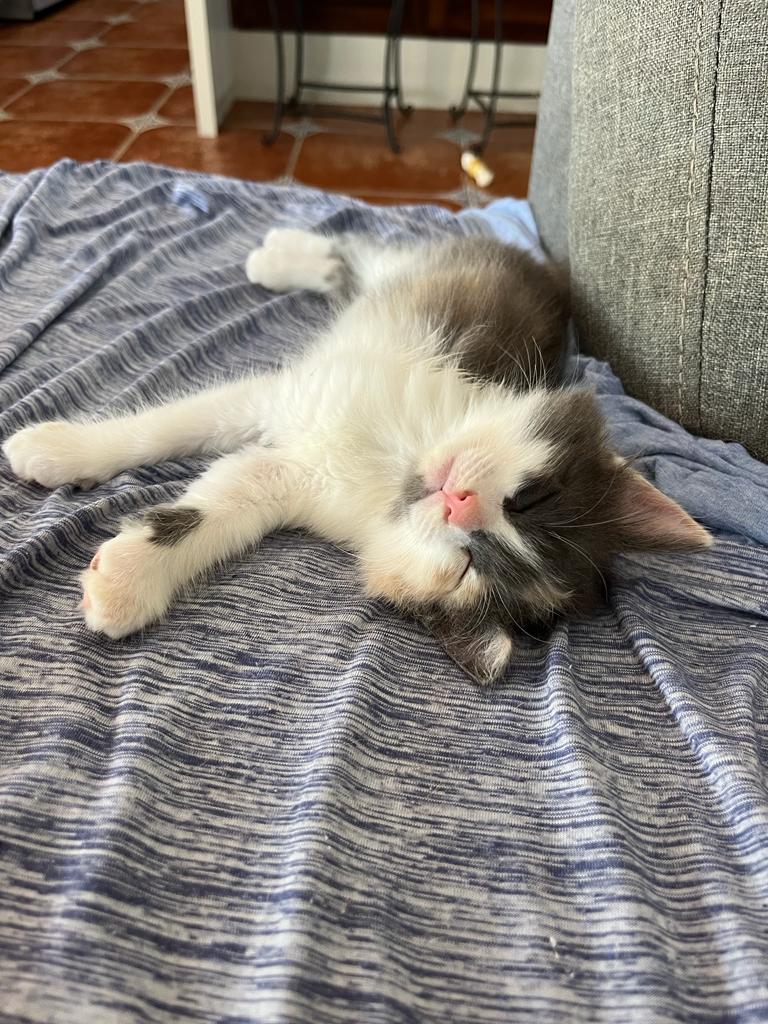 A construction worker that was working close to where I live and who knows about my rescue organization came running to my house with Gerry in his hands. He said that while he was walking home, he heard a kitten crying from a cliff. Gerry was hanging on the side of the cliff completely terrified. We suspect that he was dumped there by his owner.
I was sure that Gerry was going to die. He was shaking uncontrollably and very dehydrated. But to my surprise, he survived! And he became one of the most loving, funny, and adorable kittens I've ever met.
Thanks to my dear friend and supporter, Debbie Lachance, Gerry found a forever home in Canada where he's living the best life ever with his wonderful family.
---
Sailor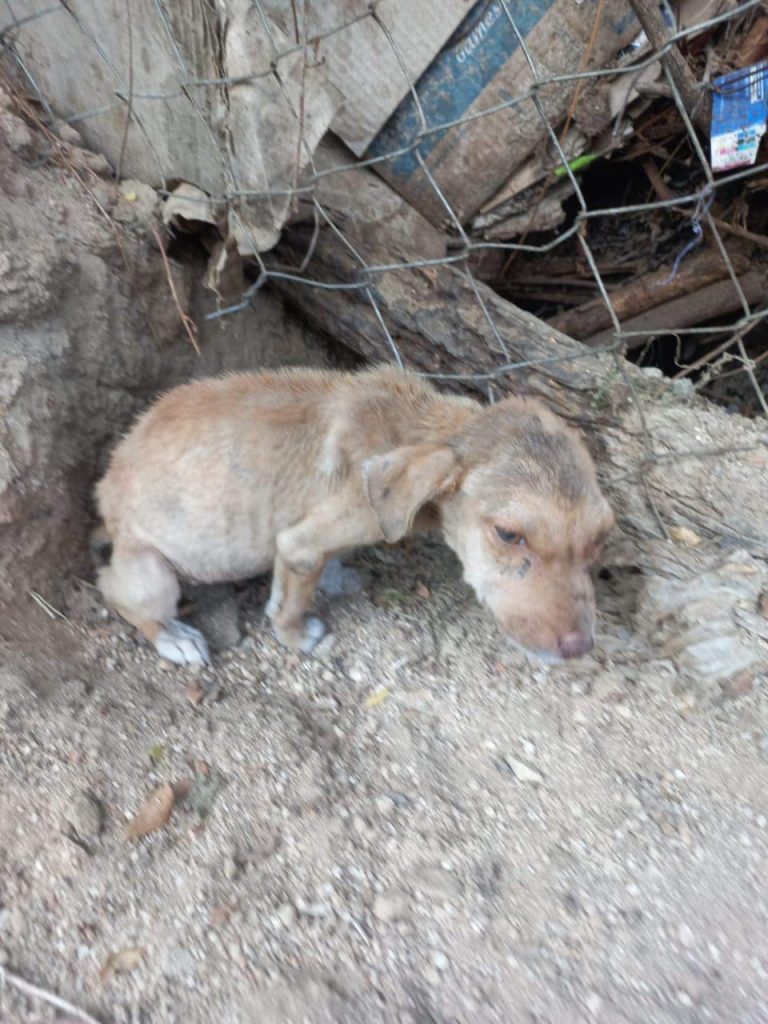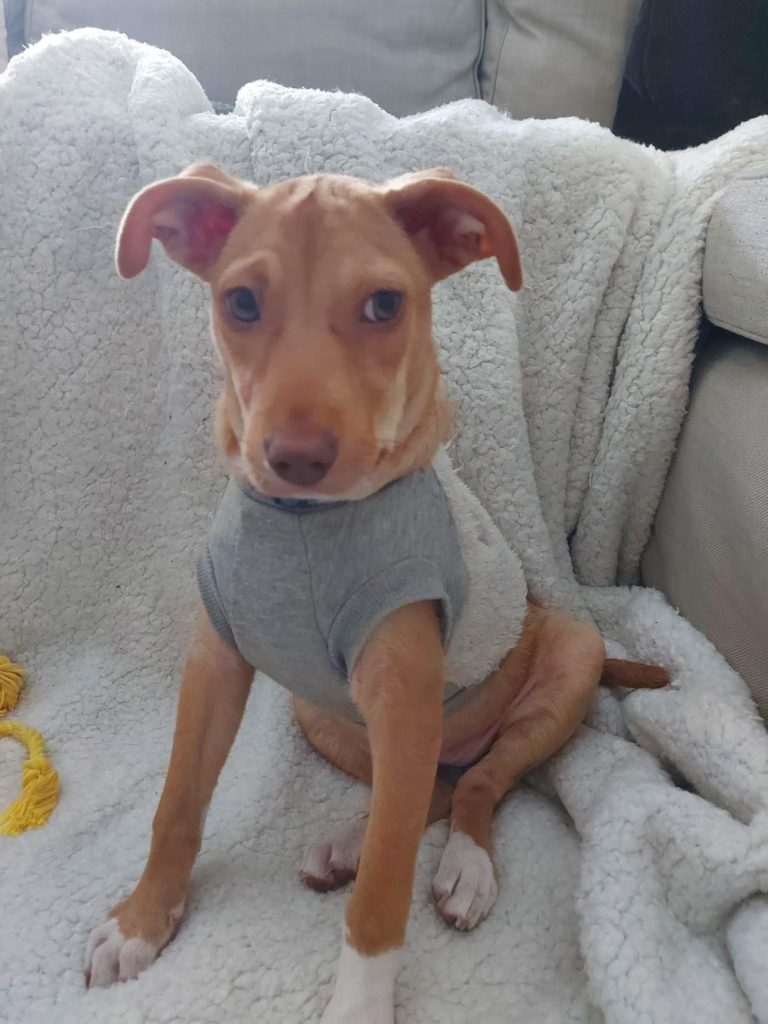 I received this before photo from someone in Santa Maria Tonameca. Someone had dumped this puppy on the roadside without access to food or water. Her belly was swollen from being full of internal parasites, and she was full of ticks and fleas. I couldn't leave her to die there, so I rescued her with the help of my friend and fellow rescue volunteer, Gaby Tudor, who fostered her temporarily until we could find her a forever home.
With a lot of luck, we managed to find Sailor a wonderful forever home in Canada where she's living her best life.
---
Wuerita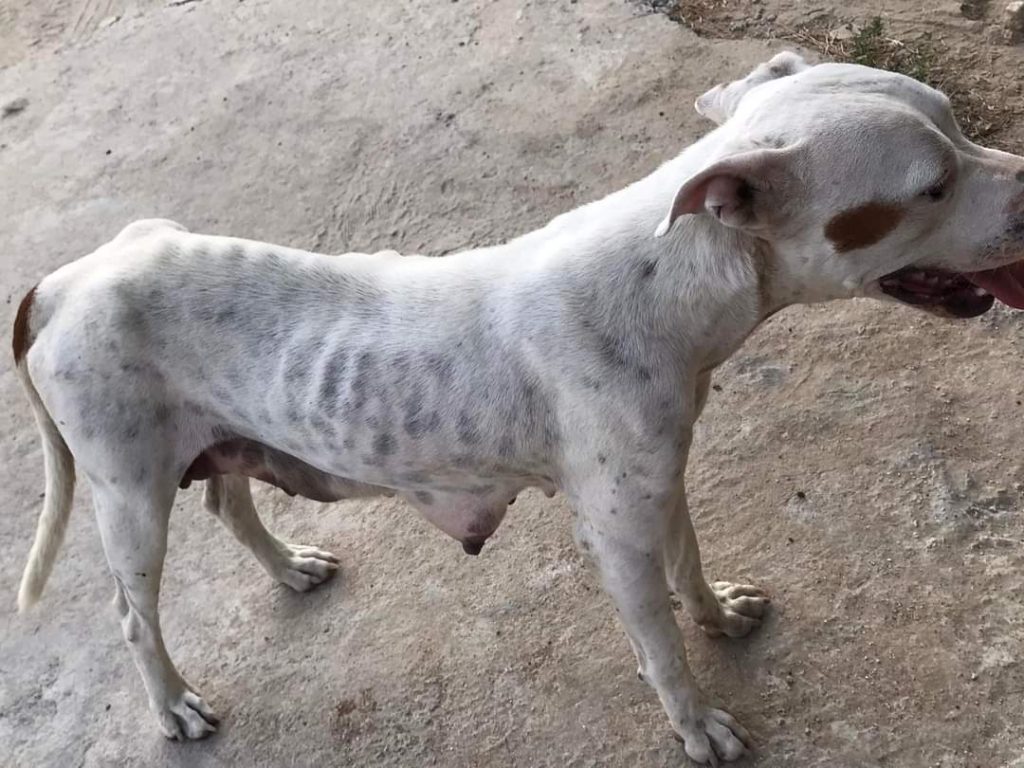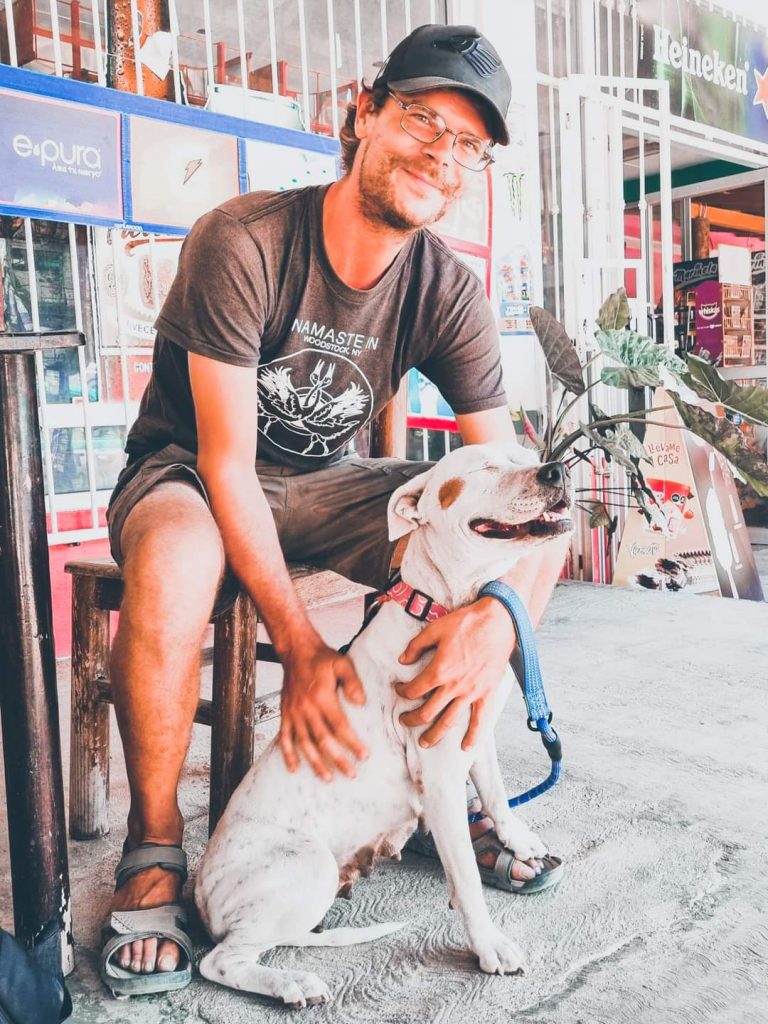 Wuerita showed up outside someone's house in Puerto Angel. She had clearly given birth recently, but there was no sign of her puppies anywhere. The person contacted me for help. I had too many dogs in my home and couldn't take her in, but I convinced the person to keep Wuerita temporarily while I had her sterilized, vaccinated, and ready to find her forever home.
Despite our efforts to find Wuerita's owner, no one ever came forward. We believe she was abandoned, and her Pitbull puppies sold.
Luckily, we managed to find Wuerita an amazing forever home with her new dad that loves her unconditionally.
---
Bon Bon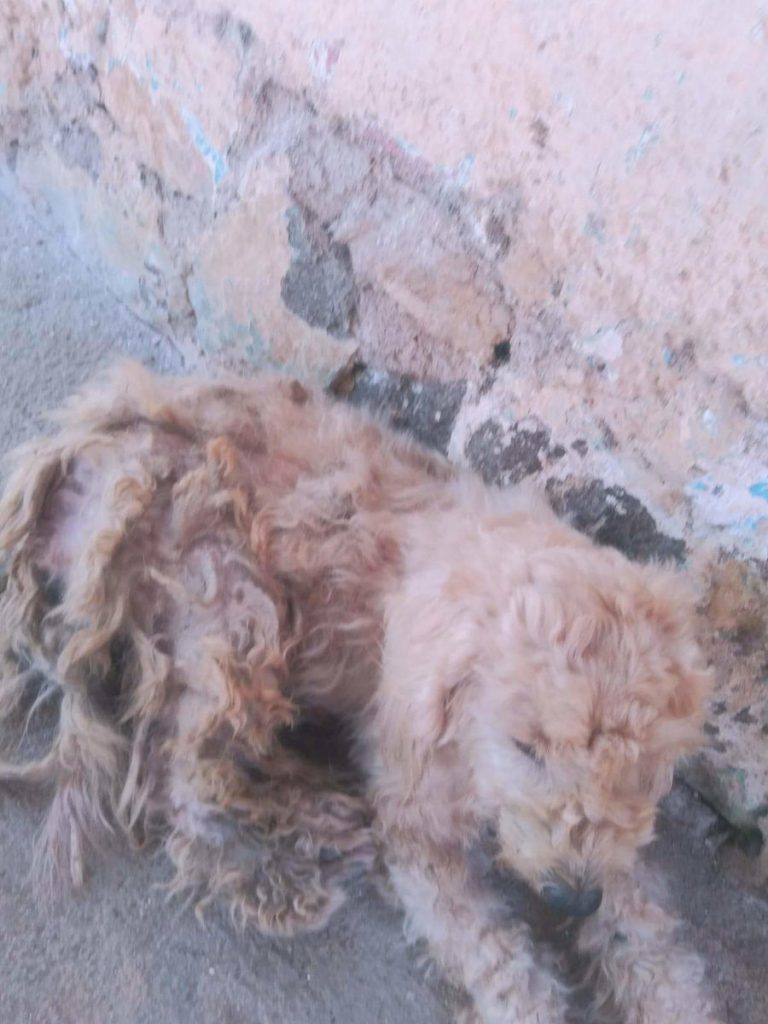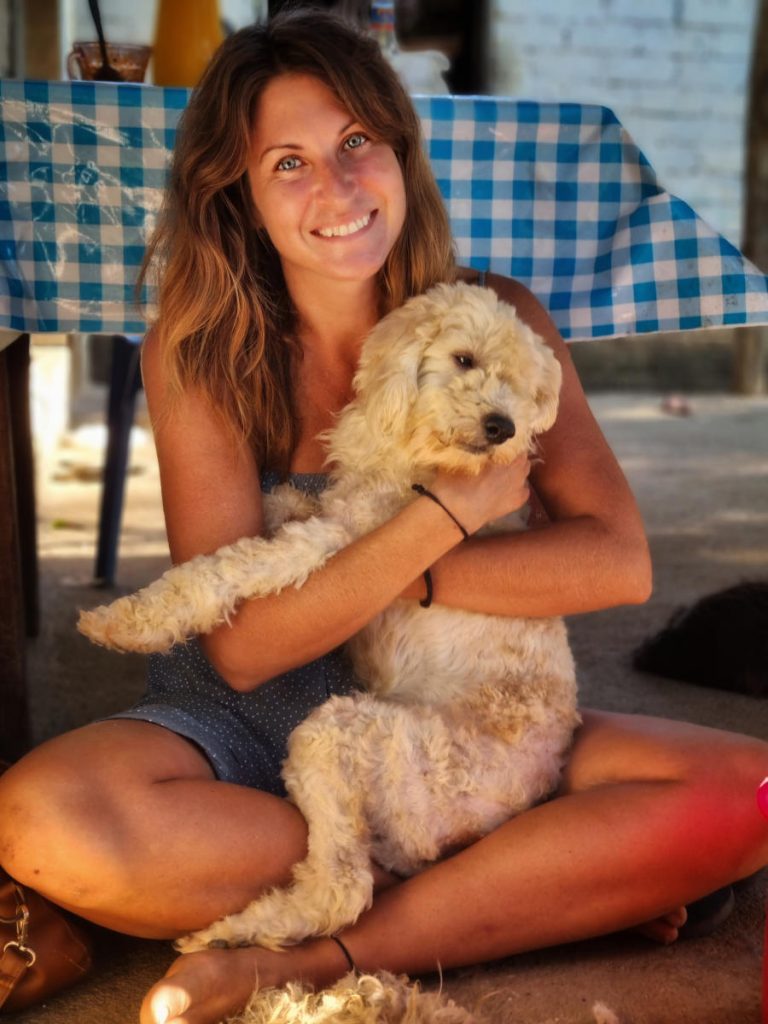 I received a photo from a concerned woman in Puerto Angel of a dog with very matted hair. Her neighbor had recently died and his dog, Bon Bon, had been left neglected in his empty house. Bon Bon would scrounge for food at neighbors' homes, but no one cared to take Bon Bon in.
So I went to visit Bon Bon, bathed him, cut his hair, and treated him for ticks and fleas. I then spoke to neighbors and family friends of the deceased man, and I finally found a relative who was very willing to take care of Bon Bon long-term. Bon Bon is doing well!
---
Café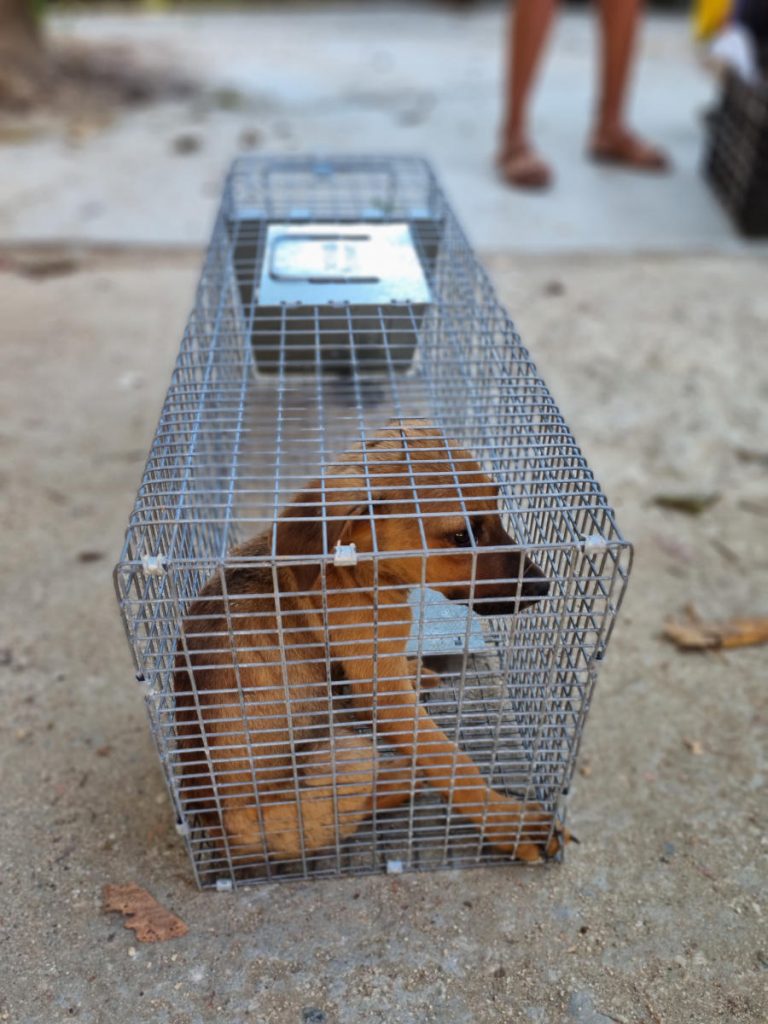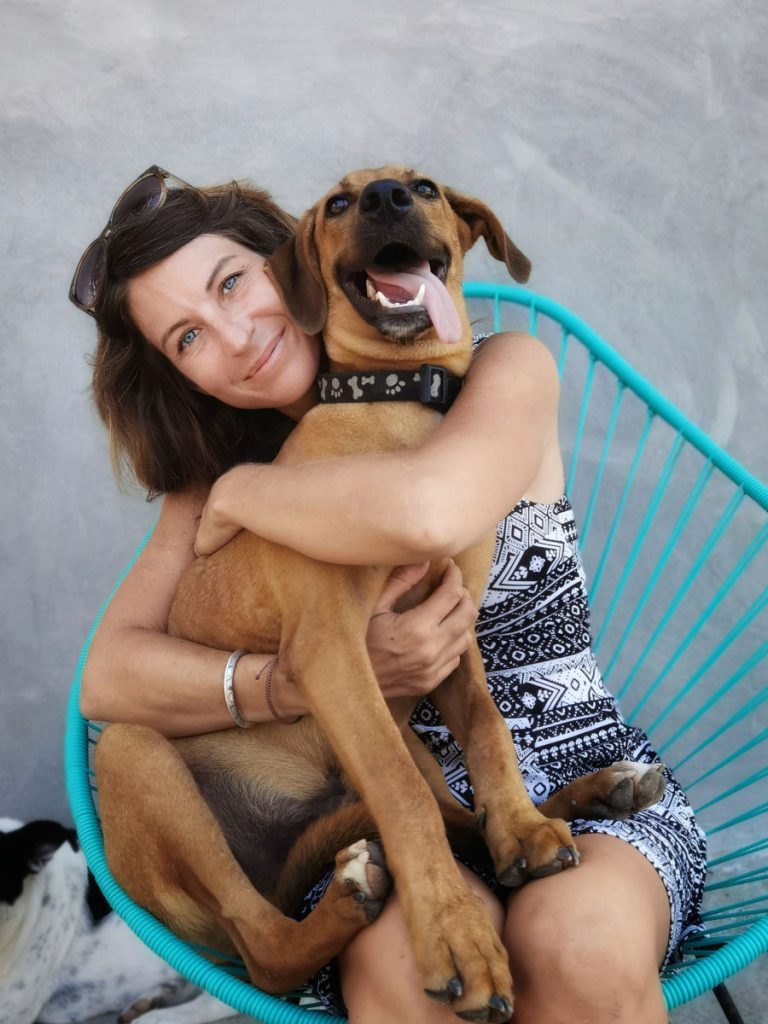 Someone sent me a photo of a little puppy, Café, living in the bushes in Mazunte with no access to food. His mom was likely killed, and he had no other living siblings.
A few people had tried to catch him with no luck. So I gave them my cat trap in the hopes that he was small enough to fit. And he was! Within a couple of hours, Café entered the trap and was brought to our local vet in Zipolite to be sterilized, vaccinated, and treated for ticks and fleas.
The first three weeks with Café in my home were difficult due to his feral background. He was scared of my other dogs and didn't like me getting too close to him.
But after three weeks, Café suddenly made a 180-degree turn! He became a happy, playful puppy that gets so excited to see me when I wake up in the morning or come home from work. He also loves to play with my dog pack.
This socialized, cheerful puppy is looking for his forever home now.
---
Daisy and Ivana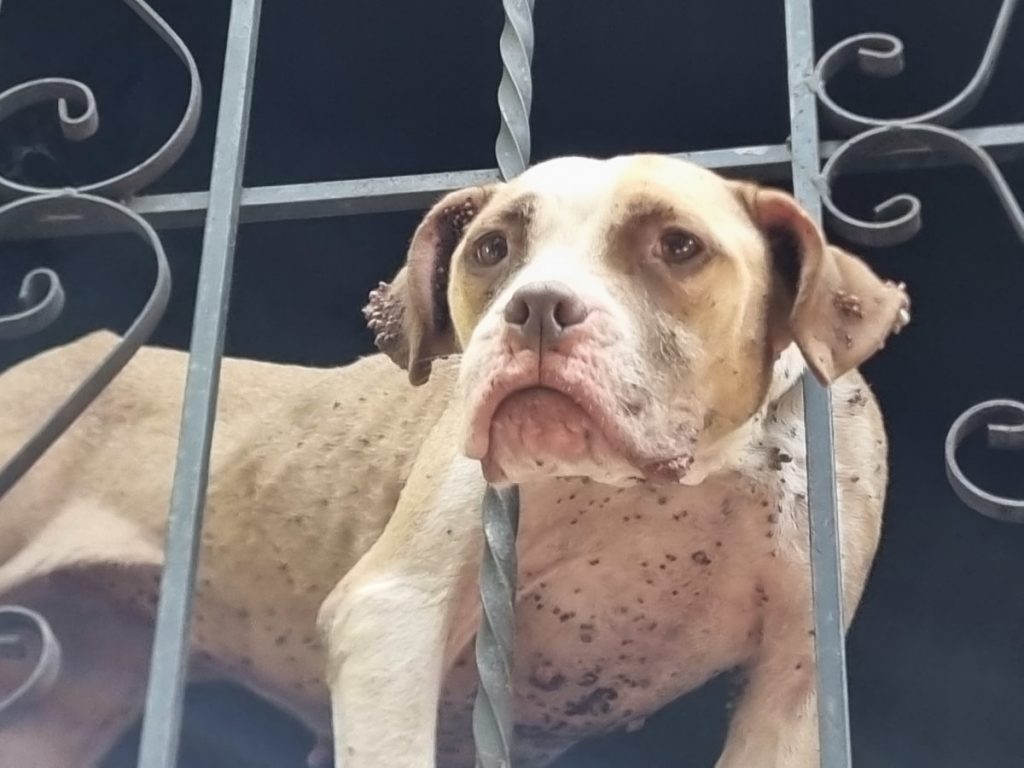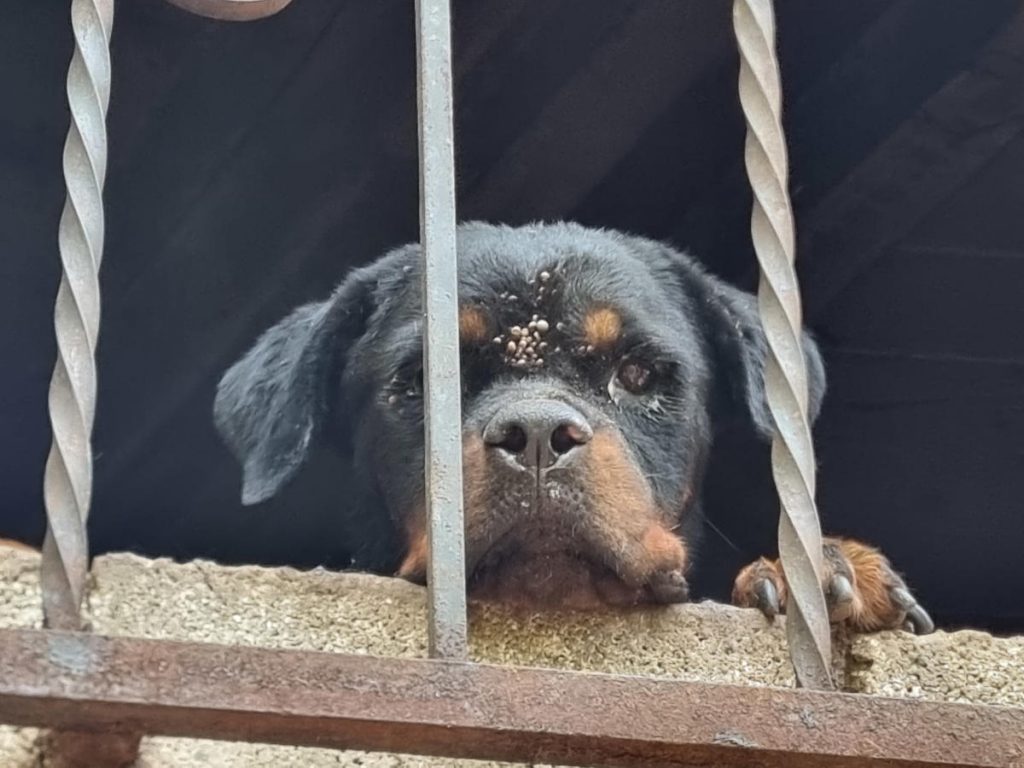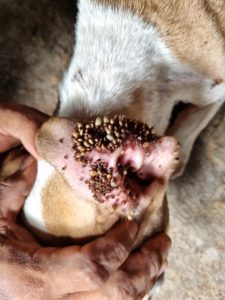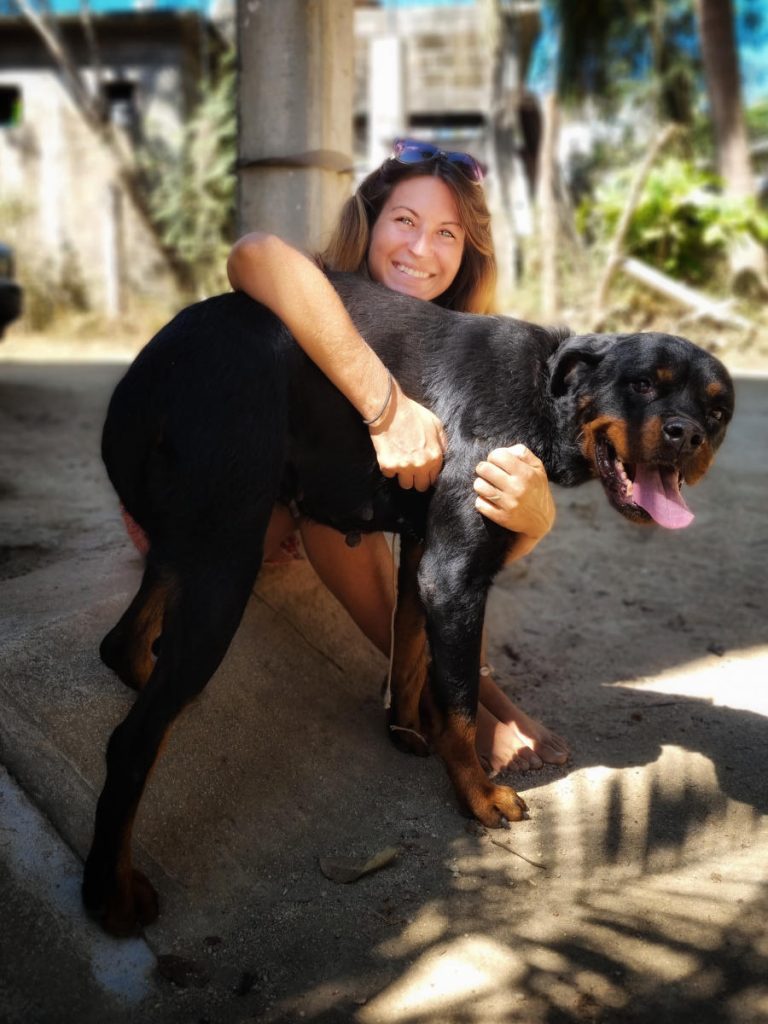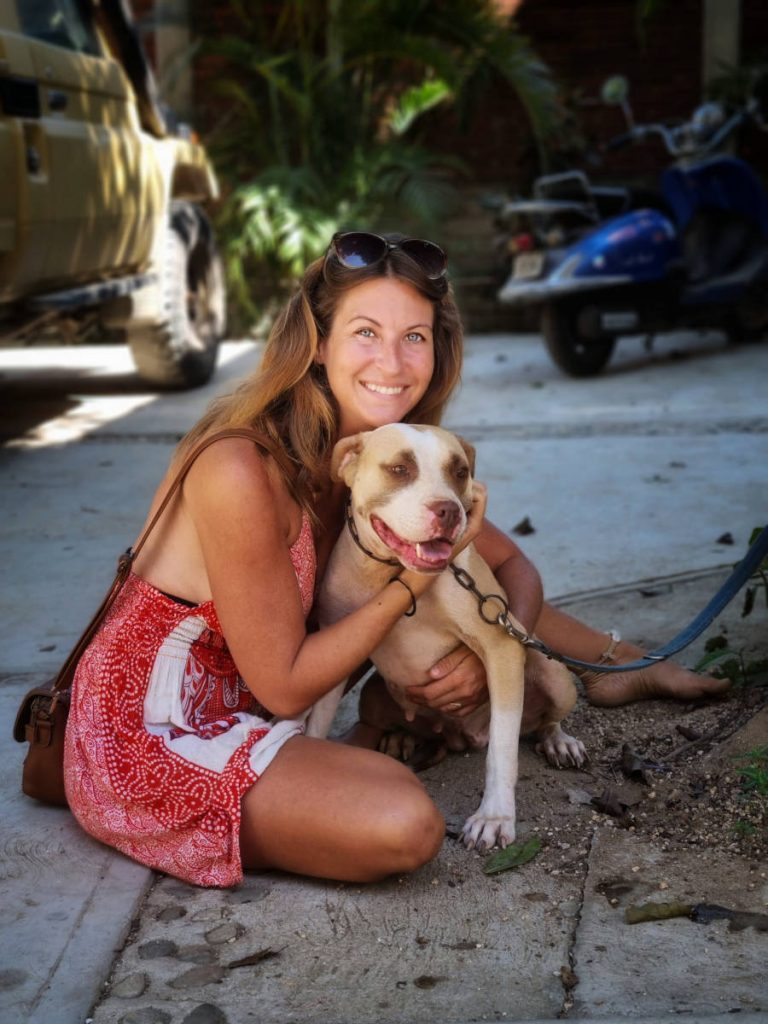 I received an anonymous tip about a Pitbull (Diasy) and Rottweiler (Ivana) in San Pedro Pochutla that were stuck in a filthy, dark room 24 hours a day. They were deprived of human affection, food, and water, and they were used to breed puppies for sale.
I was shocked when I first saw them. They were full of ticks; it was the worst tick infestation I'd ever seen. I treated them for the ticks and within 24 hours all the ticks had fallen off them and died.
For four months, I visited them regularly and brought them food and water.
At first, I tried to convince the owner to move them to an outside area and to let me sterilize them, but he refused.
So every time I visited them, I'd take photo and video footage of their living and health condition which I used to legally prosecute the owner and have the dogs removed from their prison cell.
I had Daisy and Ivana sterilized, and now they live with a lovely lady in an enclosed garden where they can walk around freely within a clean space.
---
Mama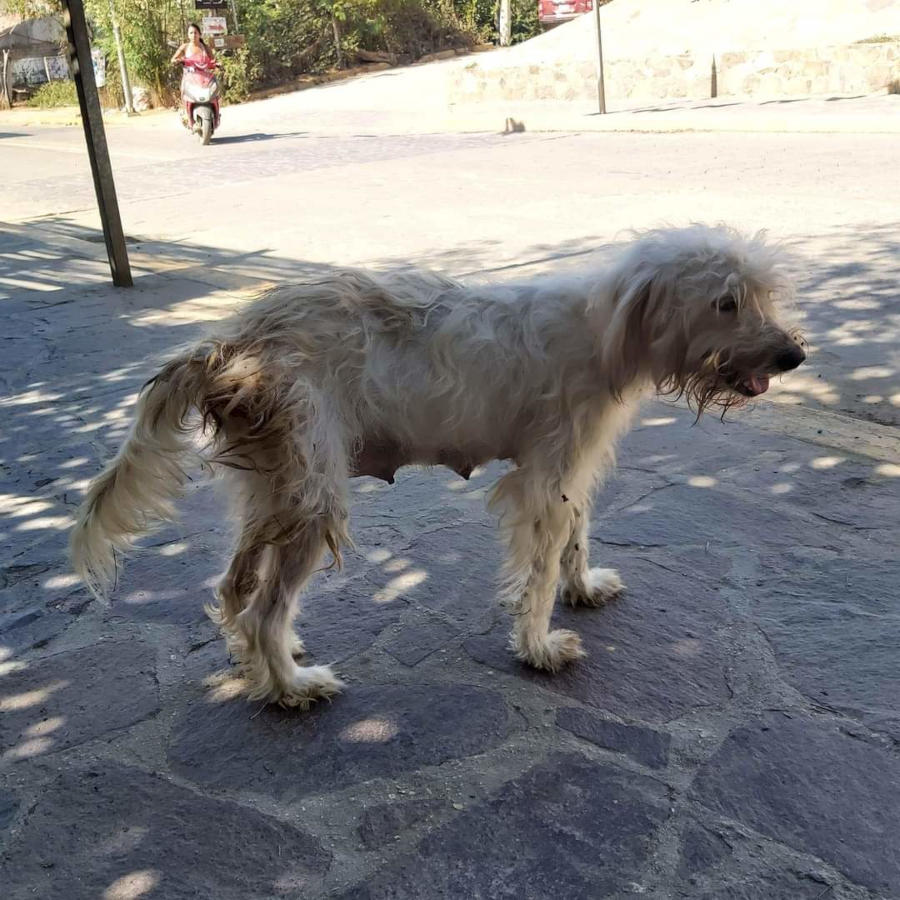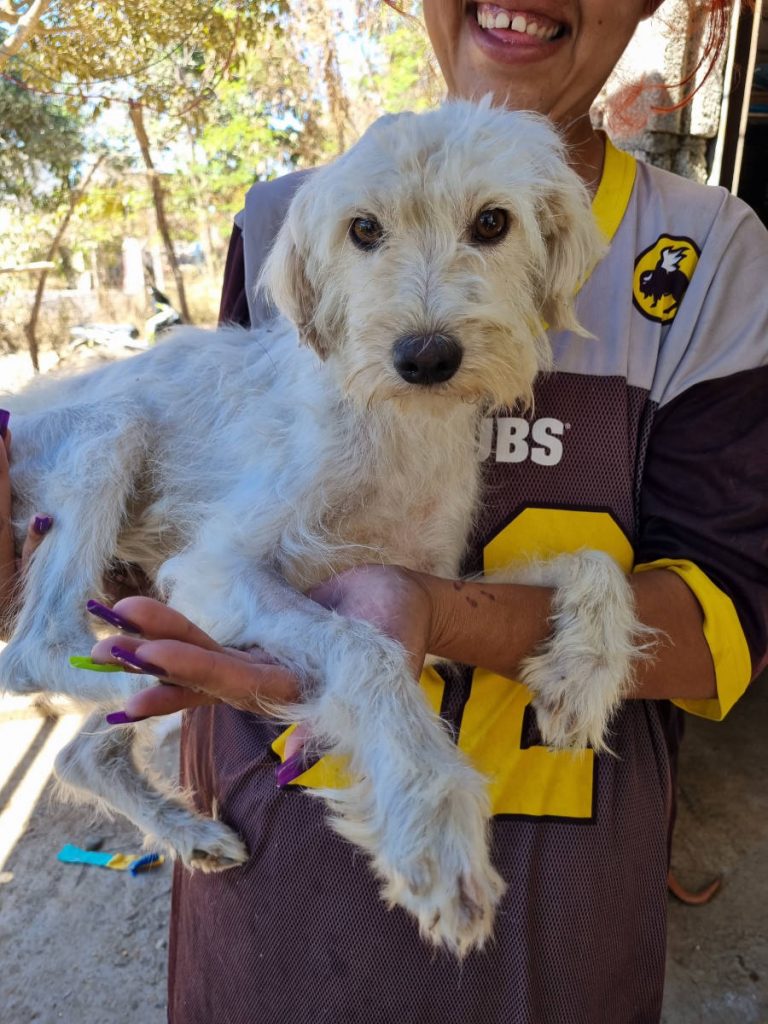 A concerned tourist in Mazunte sent me a photo of a mama dog with three puppies living on the street. Apparently, she was very scared of people, and it was impossible to touch her.
The locals in the area said she had been abandoned by her owner. Two awesome volunteers managed to catch Mama and her three pups and take them to our local vet in Zipolite.
We had all four dogs sterilized and treated for ticks and other parasites. And we bathed Mama and cut the mats out of her hair.
All the puppies have now been adopted (one even went to Canada!). And mama dog is in a safe and caring foster home waiting to be adopted.
---
Millie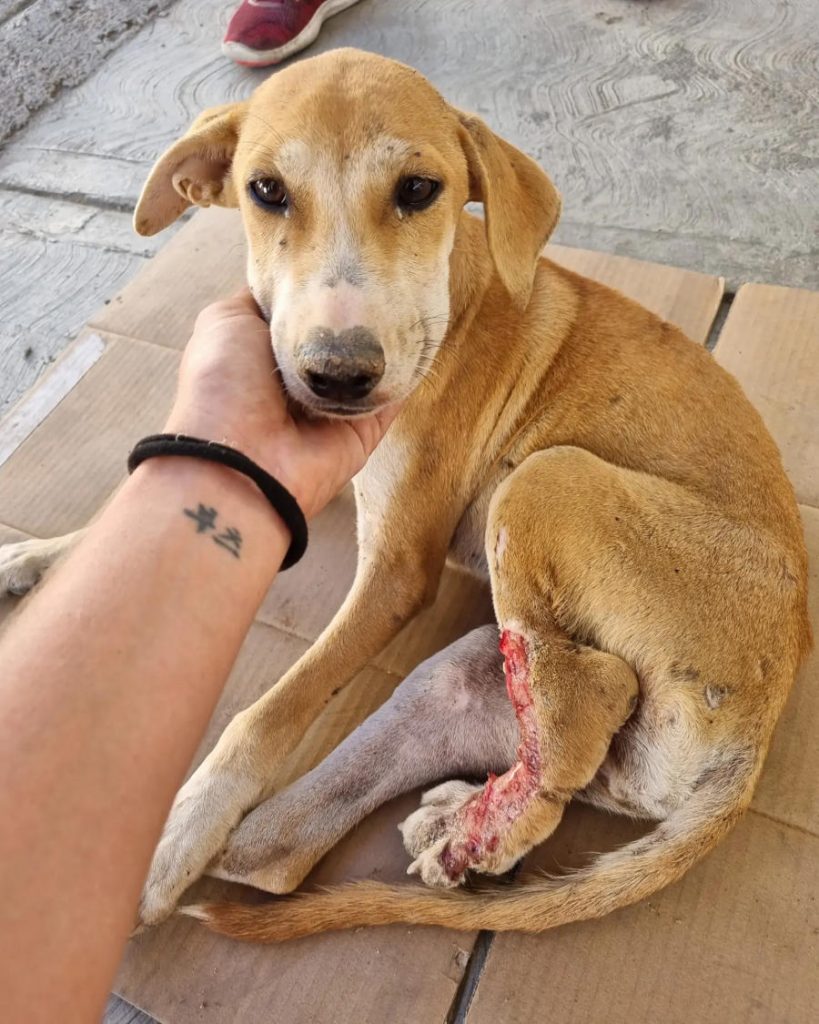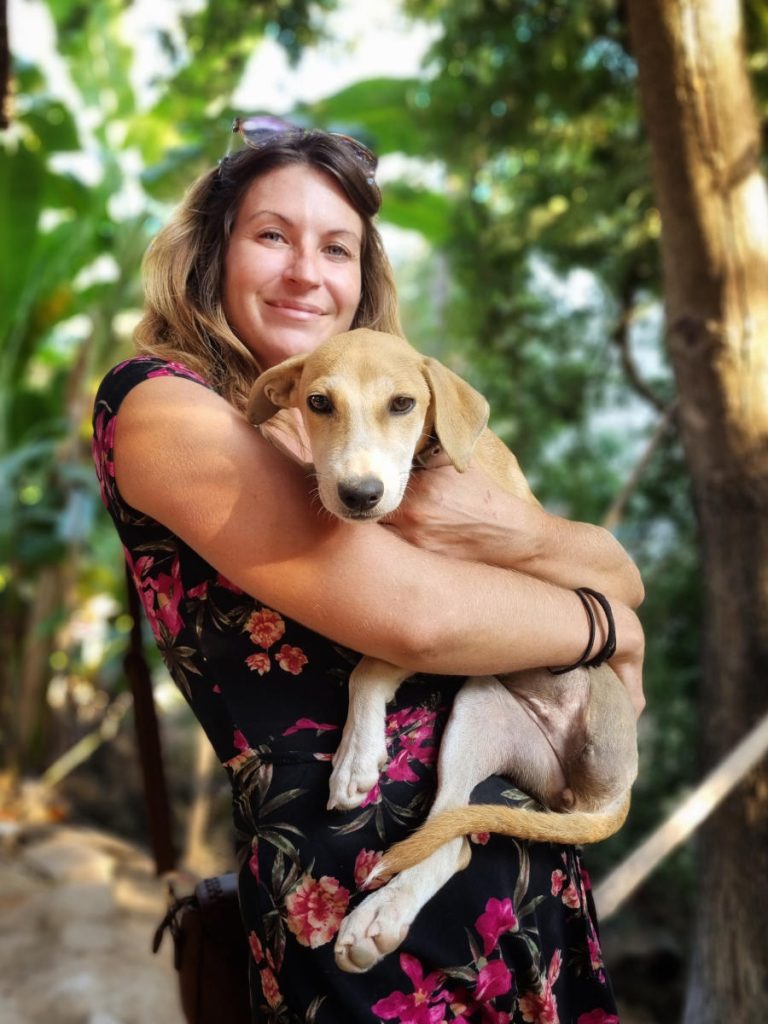 Millie was brought in to one of my spay/neuter campaigns by her highly irresponsible owner. Millie's leg had been badly wounded in an accident, and her owner left her leg like this for one month. Because of this complete neglect, our vets couldn't save her leg and recommended to either amputate the leg or to put Millie down.
At first, I thought we might have to put her down as there was no one responsible that could take good care of her after surgery. However, a wonderful man that had brought a dog in to be spayed that day decided to adopt Millie!
So my vets amputated her leg, and Millie went home with a kind, new owner. Her leg healed beautifully, and she now loves to chase iguanas in her big garden.
---
Shakira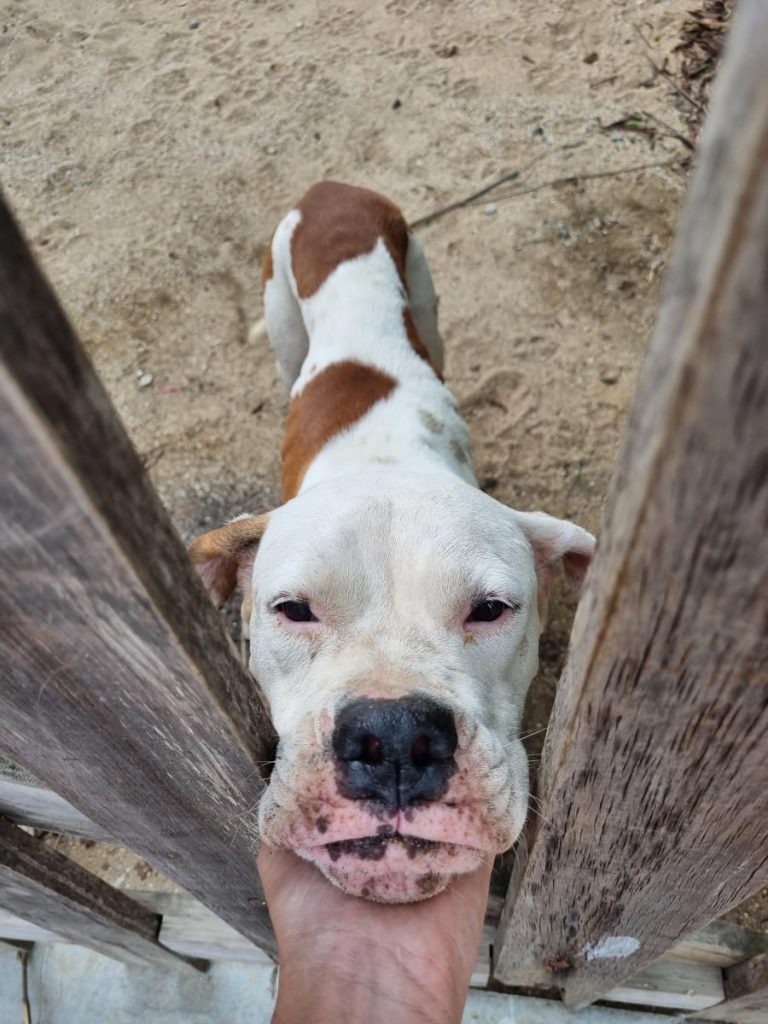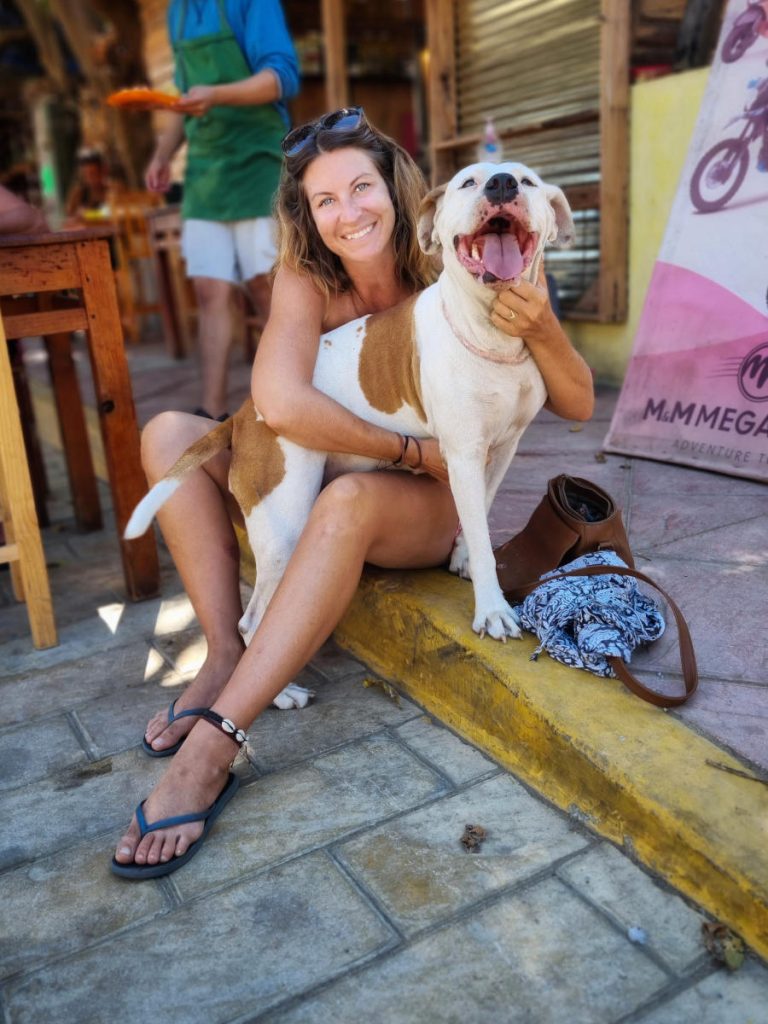 Shakira is so special. She's one of the most affectionate dogs I've ever met. Sadly, she has a massive scar around her neck from being tied with a sharp piece of wire. This scar, along with a nasty ear infection, and signs of having numerous litters of puppies made it clear that her owner was mistreating her.
After getting the owner's permission (which wasn't easy), I had Shakira sterilized and her ear infection treated. And since then, her neighbors have started to give her lots of attention and care.
Even though Shakira still lives with her original owner, he no longer ties her up with wire, and she has several hours free each day to interact with passers-by and eat delicious scraps of chicken from the neighboring chicken shop.
I visit Shakira regularly to give her lots of love and make sure that she's healthy and happy.
---
Sal y Pimienta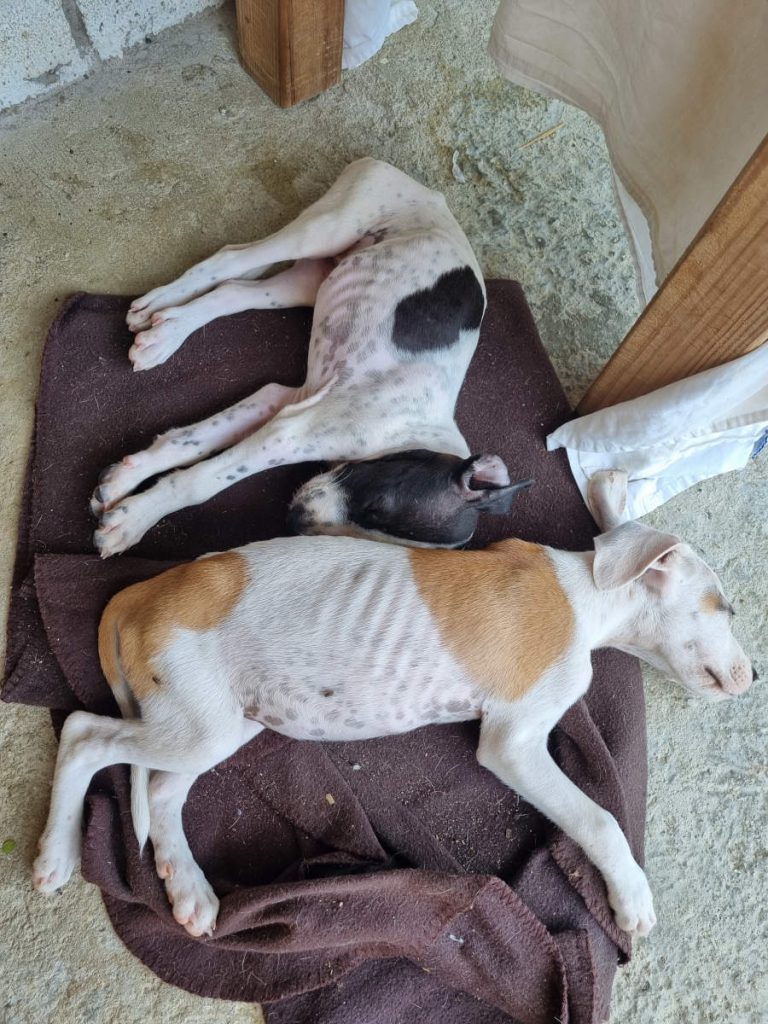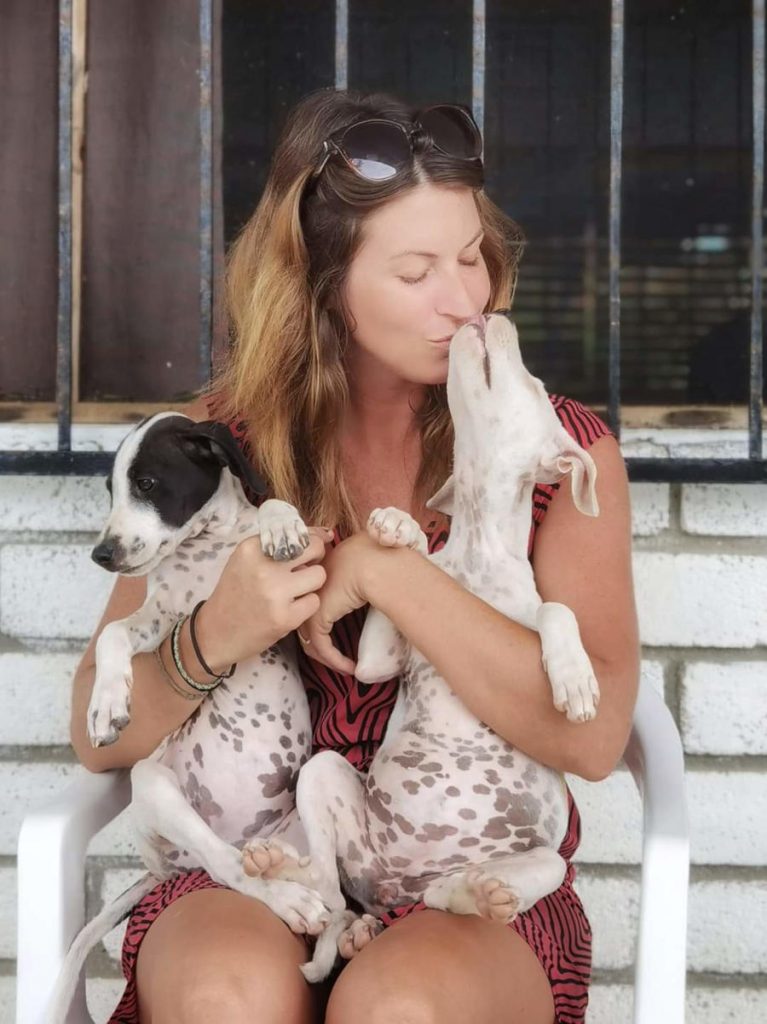 I rescued Sal and Pimienta from an alcoholic in Zipolite that was leaving the mama dog to have puppies every six months. In two years, mama dog gave birth to 32 puppies!!
Luckily, after two years of persistence, the owner finally allowed me to sterilize mama and the last two puppies left in the latest litter.
The puppies were undernourished and full of parasites when I rescued them, so it's no surprise that they fell victim to the deadly and highly contagious parvovirus.
More than 50% of puppies die of this disease if not treated immediately, so with the help of a vet friend, I quickly learned how to give the puppies IV treatment and inject them with vitamins and antibiotics from home.
At one point I was sure they were going to die. But I refused to give up on them, and they finally started getting better.Sal and Pimienta ended up being very healthy, and they've since gone to their forever home together.
---
Spanky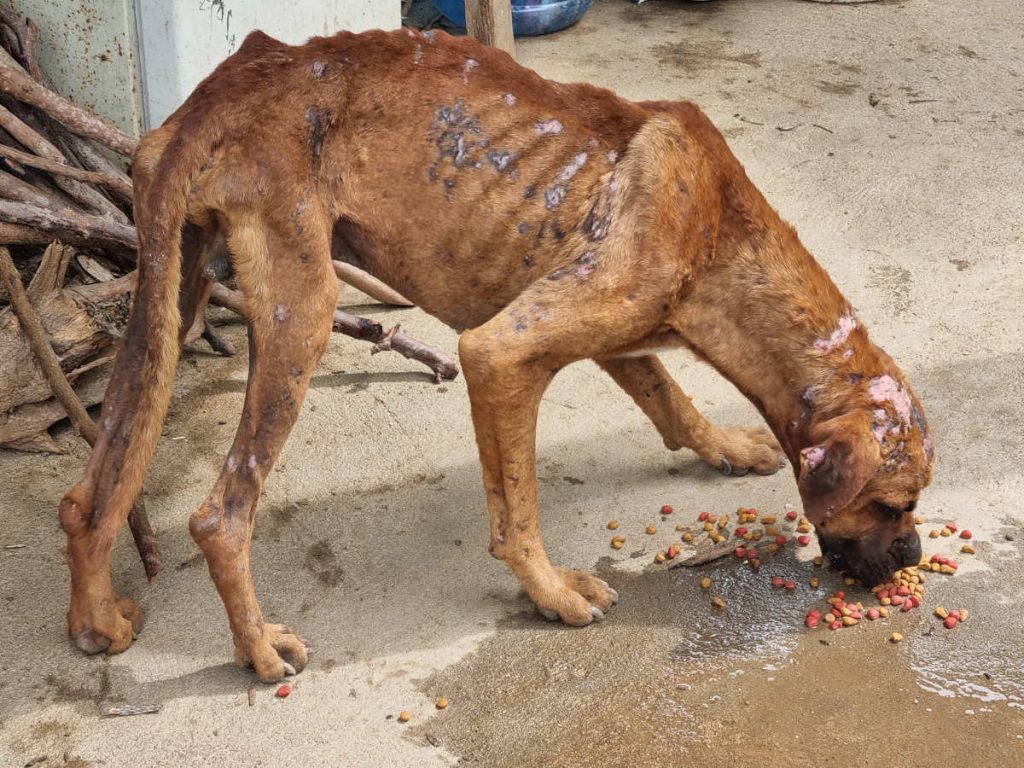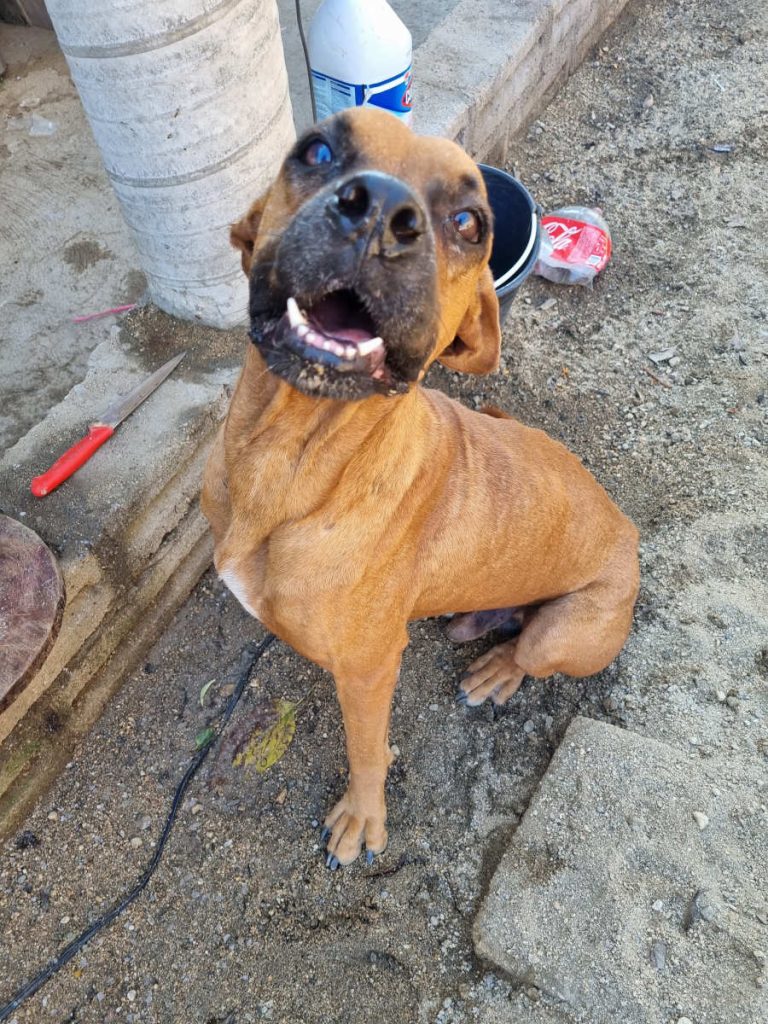 I saw Spanky on the main road between Puerto Angel and Pochutla, and I stopped immediately. How could a beautiful Boxer be reduced to skin and bone and be full of mange?
I soon found the owner who said that Spanky was sick and that his skin problem wasn't mange but was caused by being burnt by sparks from the fire where the family cooks their food.
I took Spanky to the vet who confirmed that Spanky had been starved and did have mange as well as erlikhiosis, a deadly yet curable disease caused by ticks and fleas.
We treated Spanky for ticks and fleas and for erlikhiosis, and a fellow rescuer (Kelly Kindopp) has been visiting him regularly with bags of dog food to ensure that his owner feeds him.
Of course, we'd love to find Spanky a better home, but options are so limited here due to the overpopulation of dogs.
But he's happy and healthy now and it's always so good to see his smiley face when I go visit him.
---
Frida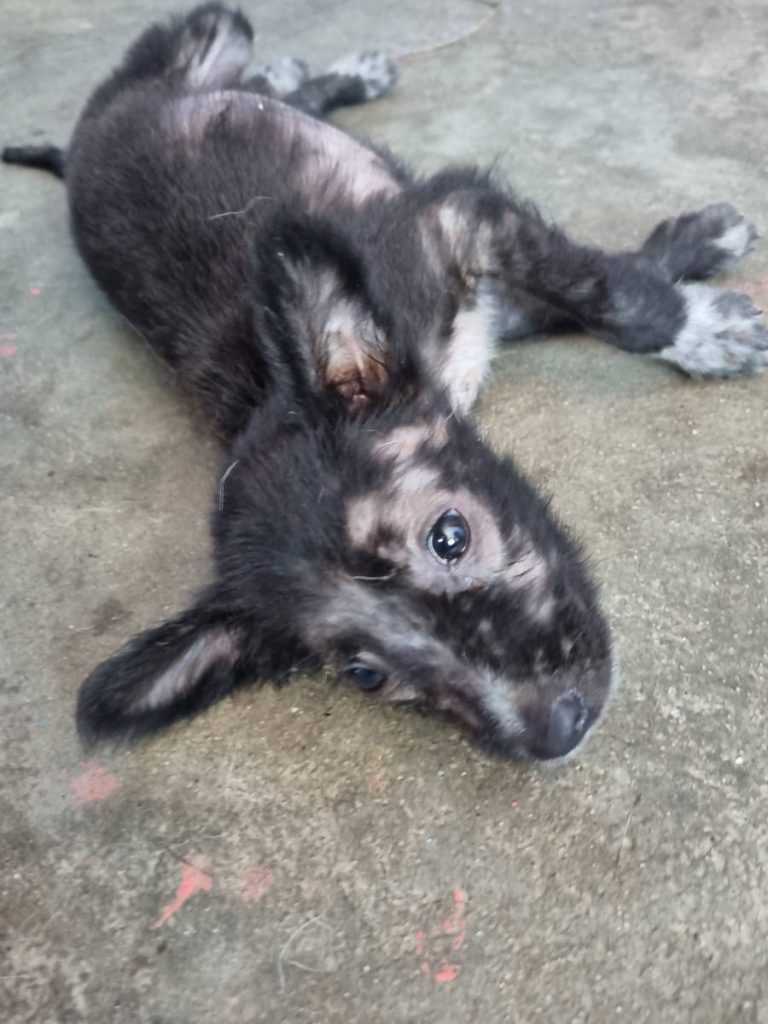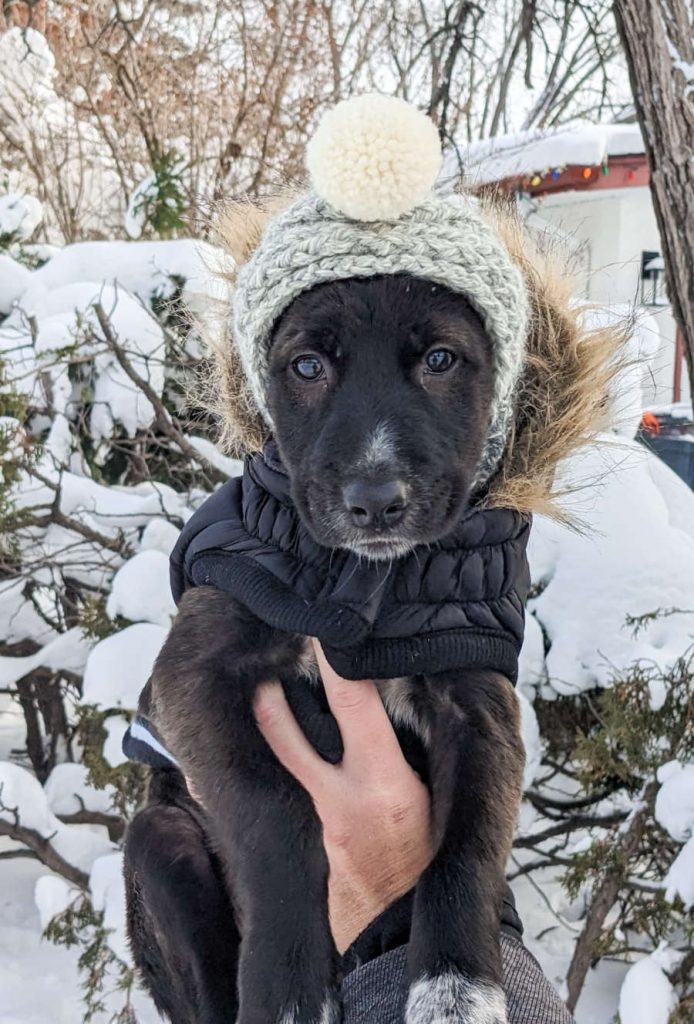 I found Frida dumped on the side of the road in Zipolite. She was skinny, full of internal parasites, and suffering from severe mange. Frida cried as she frantically scratched herself non-stop. After lots of medical treatment and special medicated baths, Frida slowly became stronger. When she was old enough, I had her sterilized and vaccinated. Frida was one of the very few lucky ones because a wonderful woman from Canada decided to adopt her and take her back to Winnipeg. Frida is now living her best life!
---
Ping Pong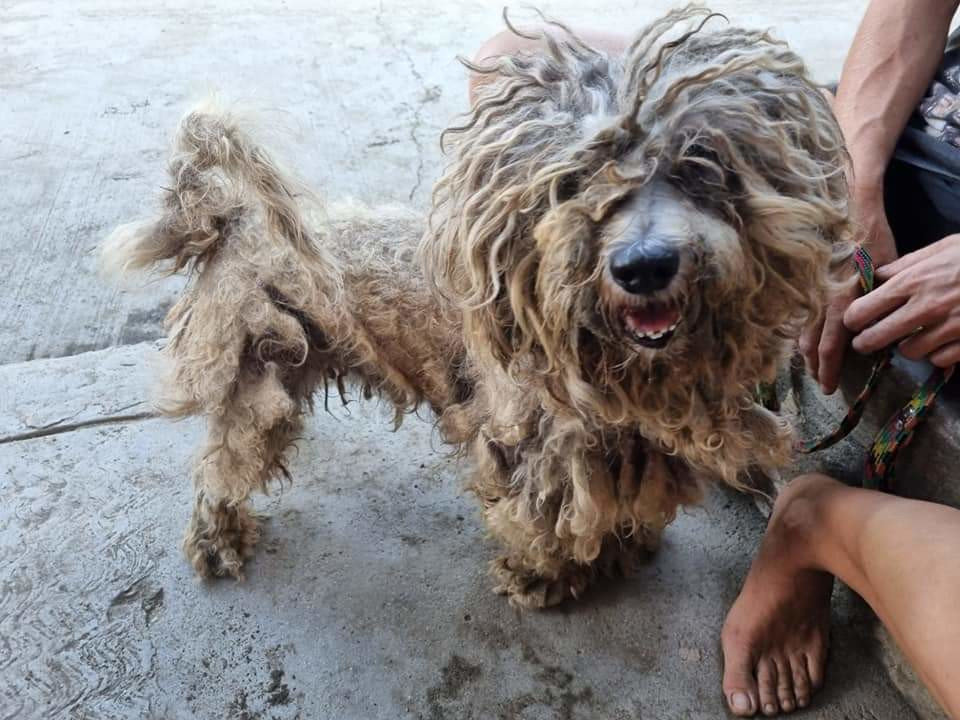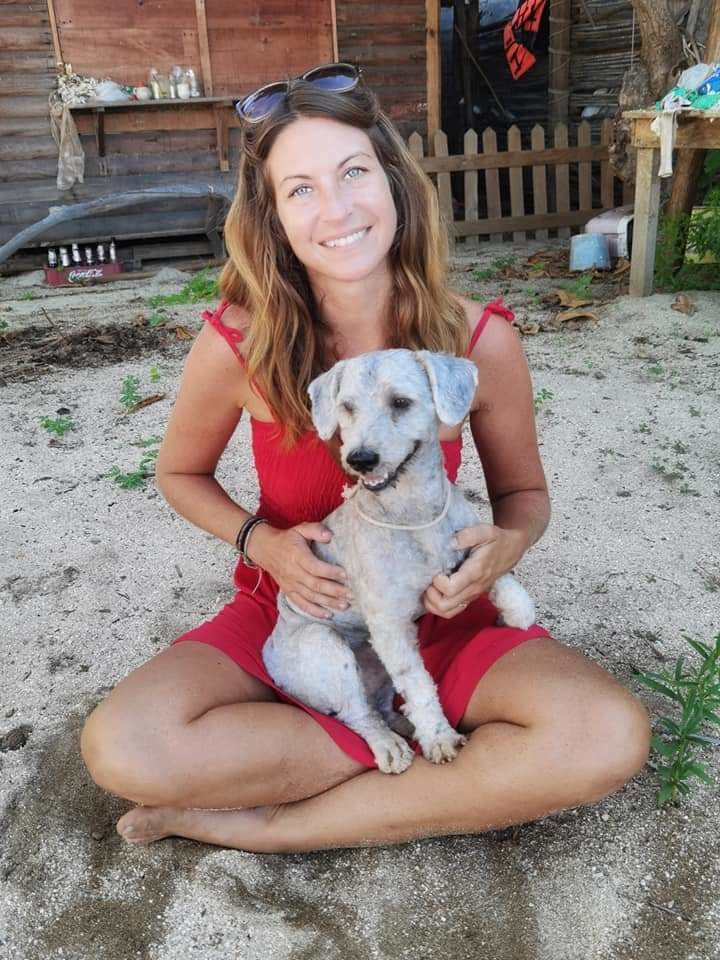 I got a call from a concerned expat to alert me about Ping Pong's badly matted hair. When I went to search for him, it turned out that Ping Pong is well known among the fishing community of Puerto Angel. Everyone knew him for his cool rasta hairstyle.
Unfortunately, no one considered the fact that Ping Pong's hair was a jail cell locking him into an intense heat that caused a nasty skin infection. Ping Pong had been suffering for longer than anyone realized.
I dedicated a Saturday morning to cut Ping Pong's hair. He was so well behaved, but the mats were too thick to cut through so after three hours, I had to give up. Instead, I decided to take Ping Pong to a groomer. Look how handsome he was after that!
---
Cafecito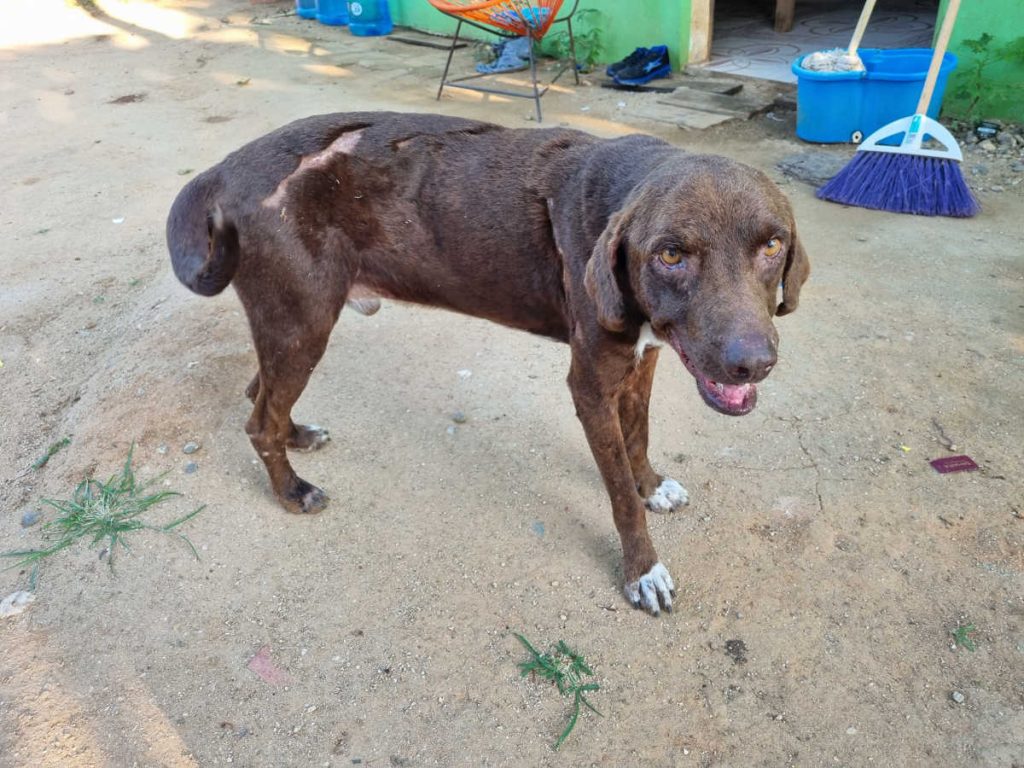 I met Cafecito just before Hurricane Agatha hit us. He was an old dog hanging around some houses in Pochutla looking for food. But the neighbors told me that they didn't want him around because he was "sick".
I wanted to rescue Cafecito, but my house was overflowing with animals, and I knew my landlord would kick me out if I brought in yet another street dog. So instead, I gave him a strong dose of mange medication and a dewormer and hoped for the best.
After the hurricane, I couldn't get Cafectio out of my mind. Had he survived the hurricane? Was there something more I could do for him?
Six weeks passed before I was able to look for him again. And when I finally went back to find him, I found another dog there. Well, that's what I thought at first. But after noticing his unique teeth, I suddenly realized I had found Cafecito! What a transformation in just 6 weeks!
In speaking with the neighbors, I discovered that one of them had adopted Cafecito because his mange had disappeared, and he didn't look "sick" anymore. Cafecito finally got the second chance he so deserved.
---
Shira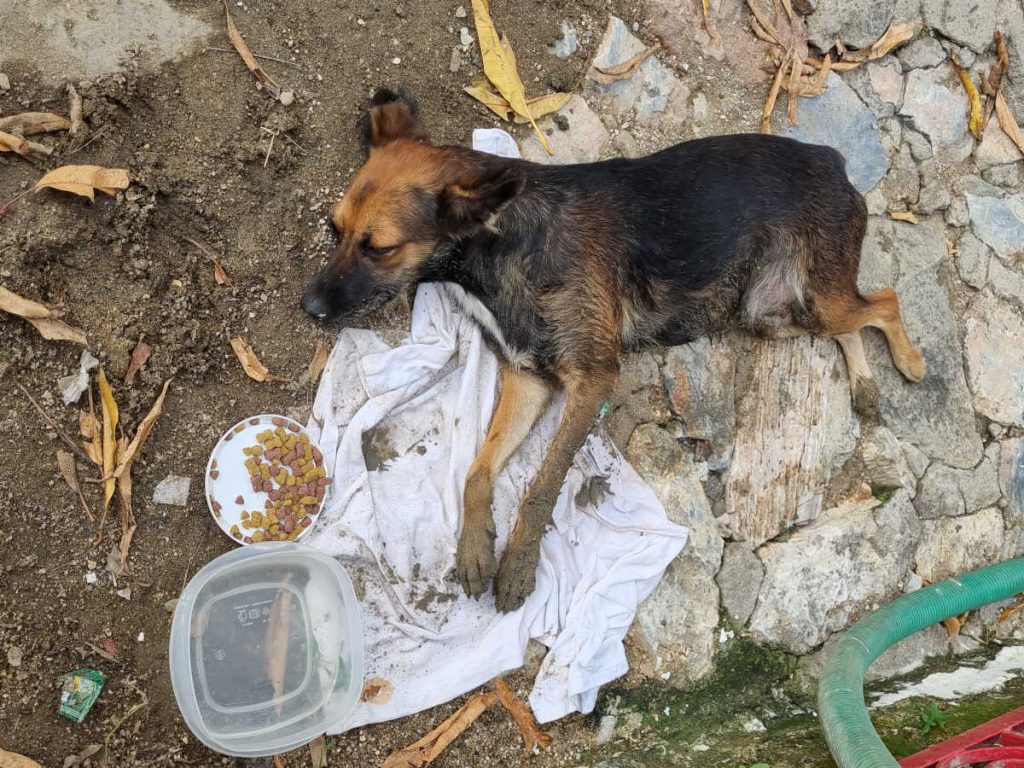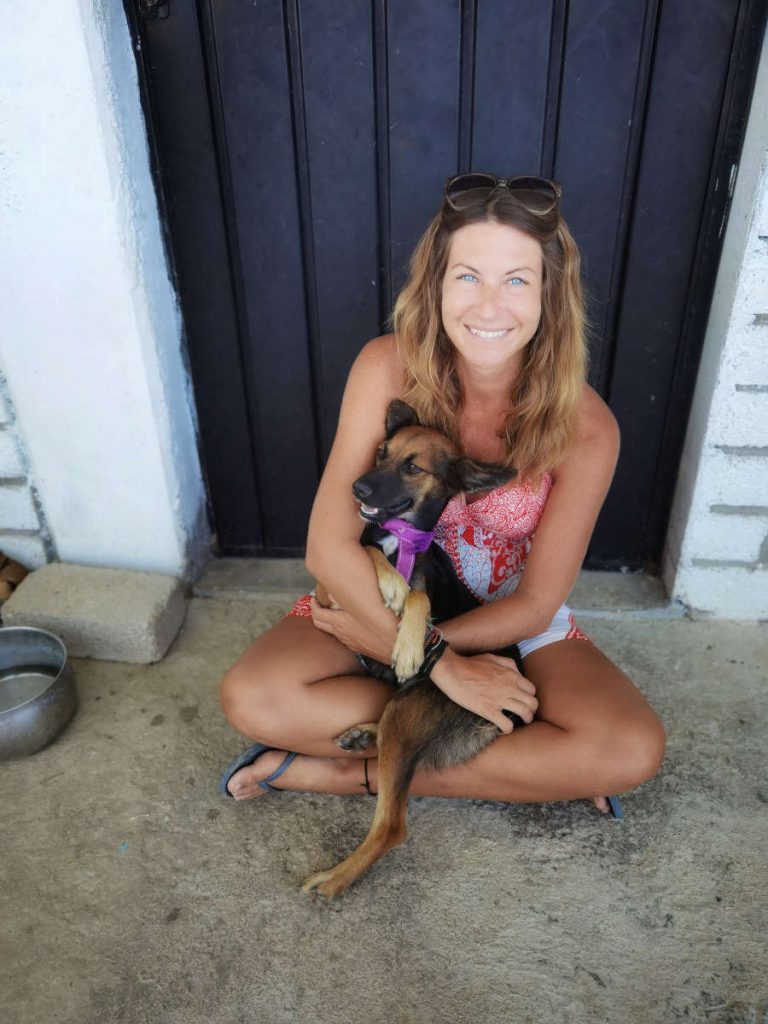 I found Shira howling on the side of the road in Puerto Angel. She was paralyzed and looked scared. According to the people who live in that area, Shira was hit by a passing car. I picked her up without a second thought and took her home.
I soon realized Shira was pregnant, but I wasn't sure if her puppies were still alive. Over the next two days, I did physical therapy with her regularly. It was a difficult time because she often howled in the middle of the night, and I'd have to change her position or lift her up so that she would be more comfortable.
After two days, she suddenly gave birth in my house to one little puppy, but she wasn't interested in removing the placenta or encouraging the pup to keep breathing. I quickly googled how to keep a newborn puppy alive and started giving her CPR, but unfortunately I wasn't able to save the little pup's life.
After a week of continued physical therapy, Shira slowly started to walk again with assistance. And after two weeks, she was finally able to walk on her own.
During this time, I posted all over social media trying to find her owner. And I was eventually successful! Shira had a very worried owner who had been looking for her.
Shira is now sterilized and can walk perfectly fine on her own.
---
Azul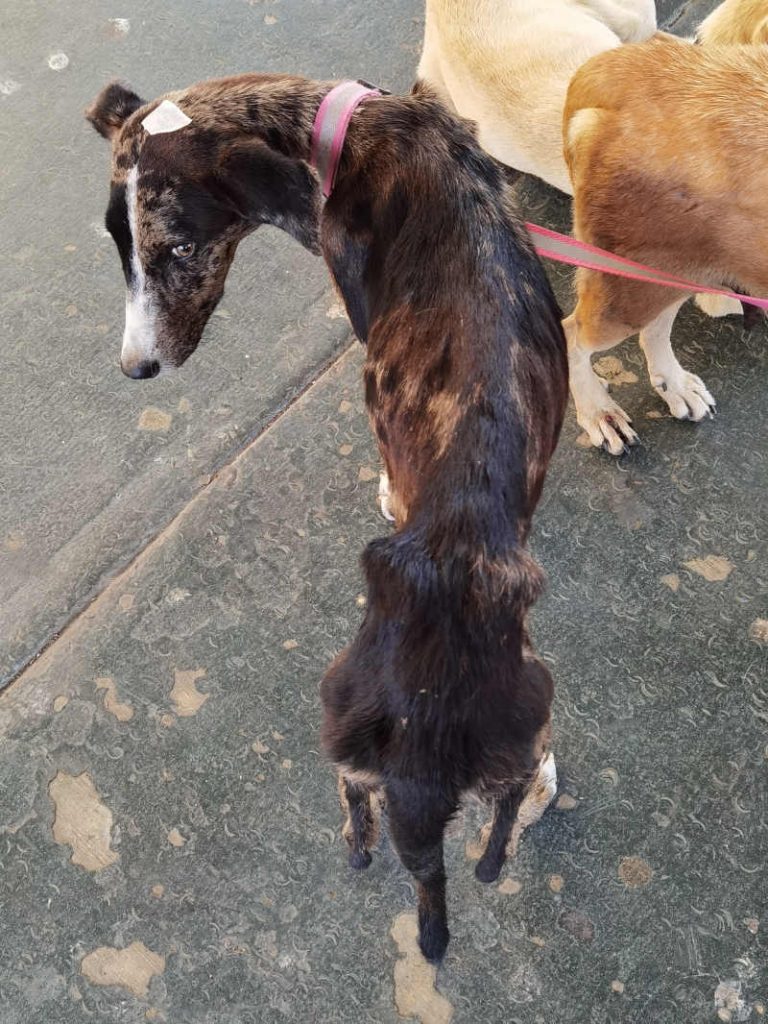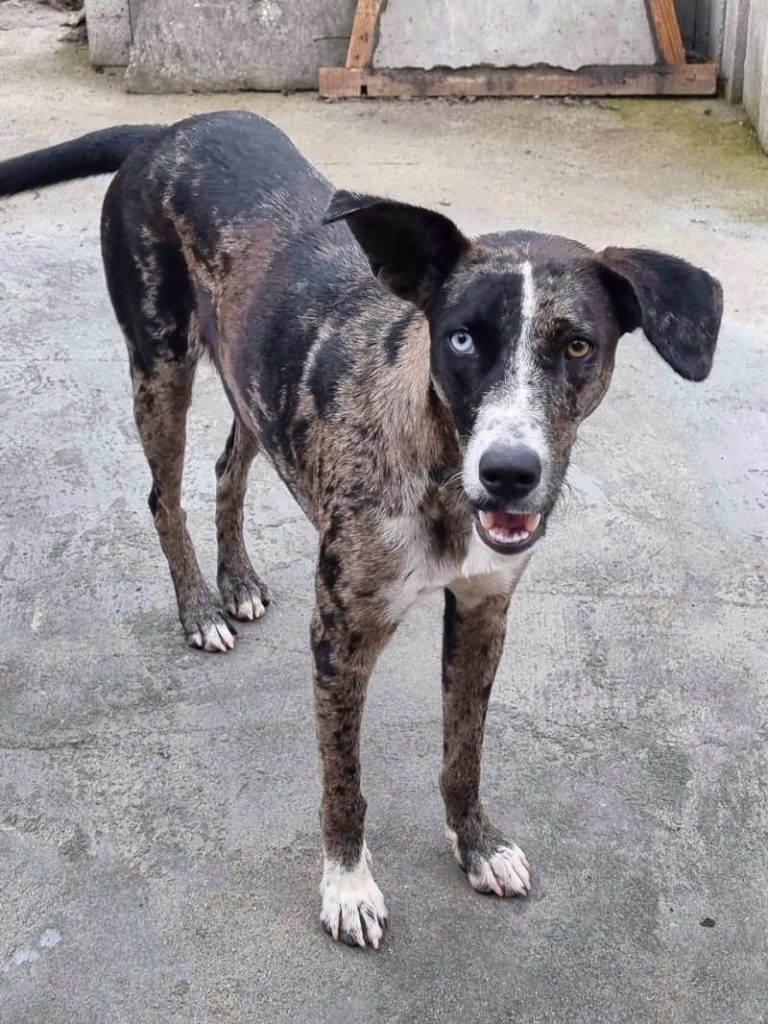 I met Azul for the first time in December 2021 during one of my sterilization campaigns. She had been severely neglected by her owner who let her starve and be eaten alive by ticks. From the moment I met her I made it my mission to get her healthy and into a good home.
She had ehrlichiosis, a fatal yet curable tick-borne disease. After treating her daily for one month, Azul was finally cured. Overall, I spent 7 months trying to find her a good home. And finally, thanks to pure determination and remaining hopeful, Azul has finally been adopted by an incredible woman. Azul's best friend is a kitty in her home who she plays with all day.
---
Luna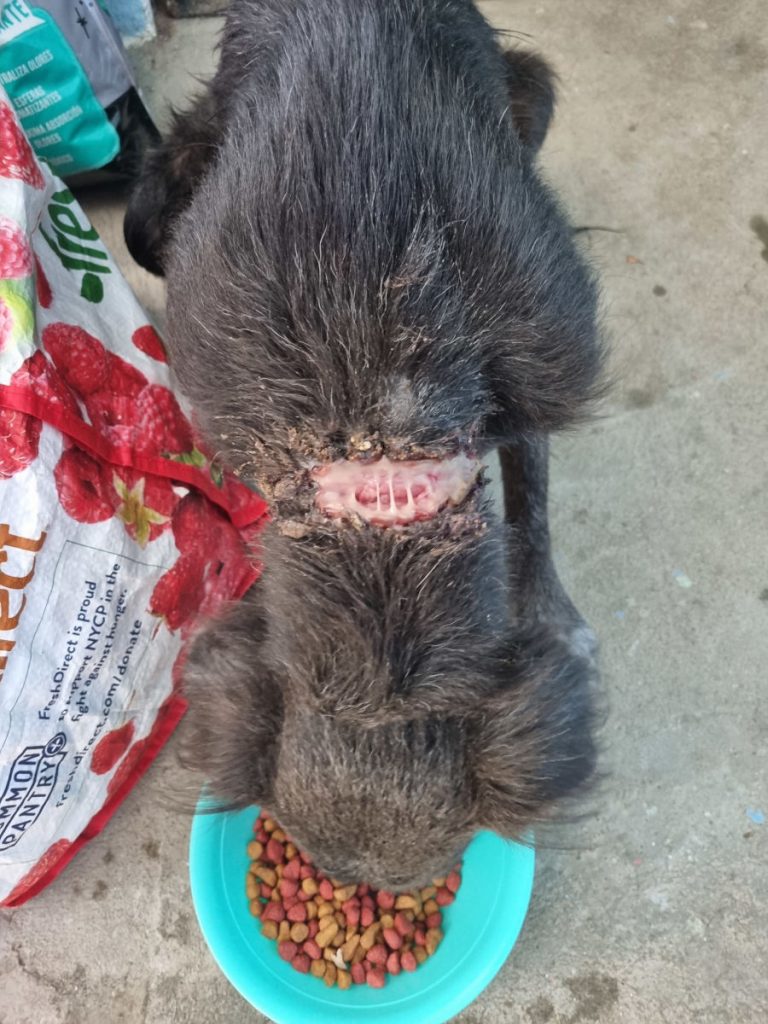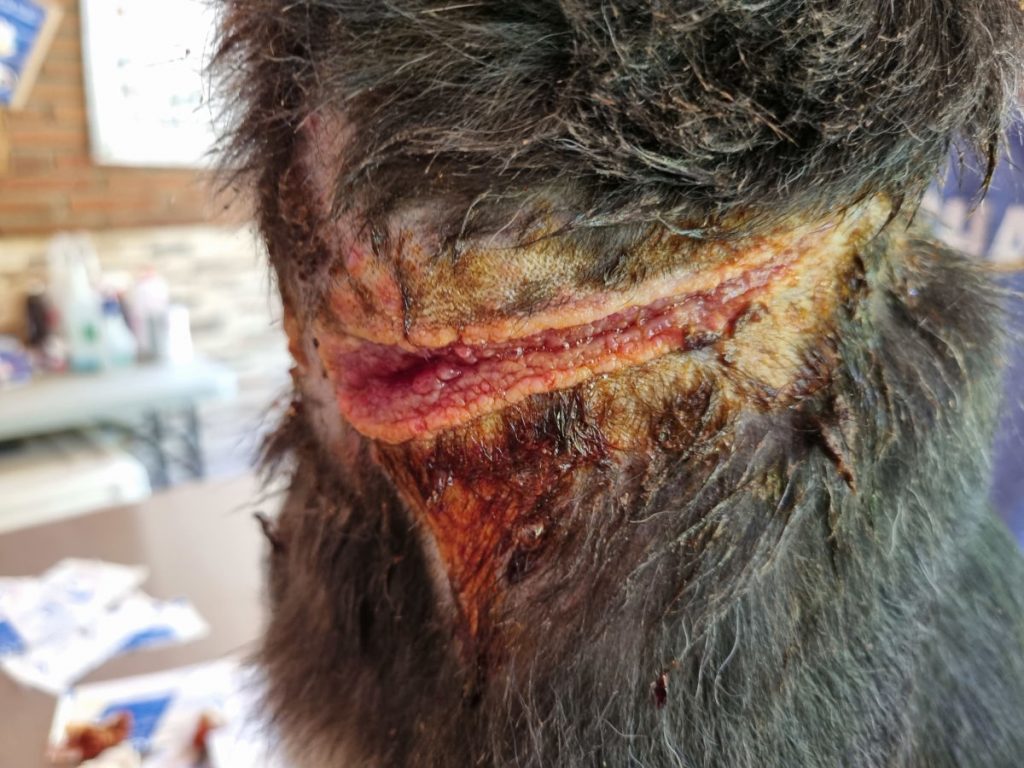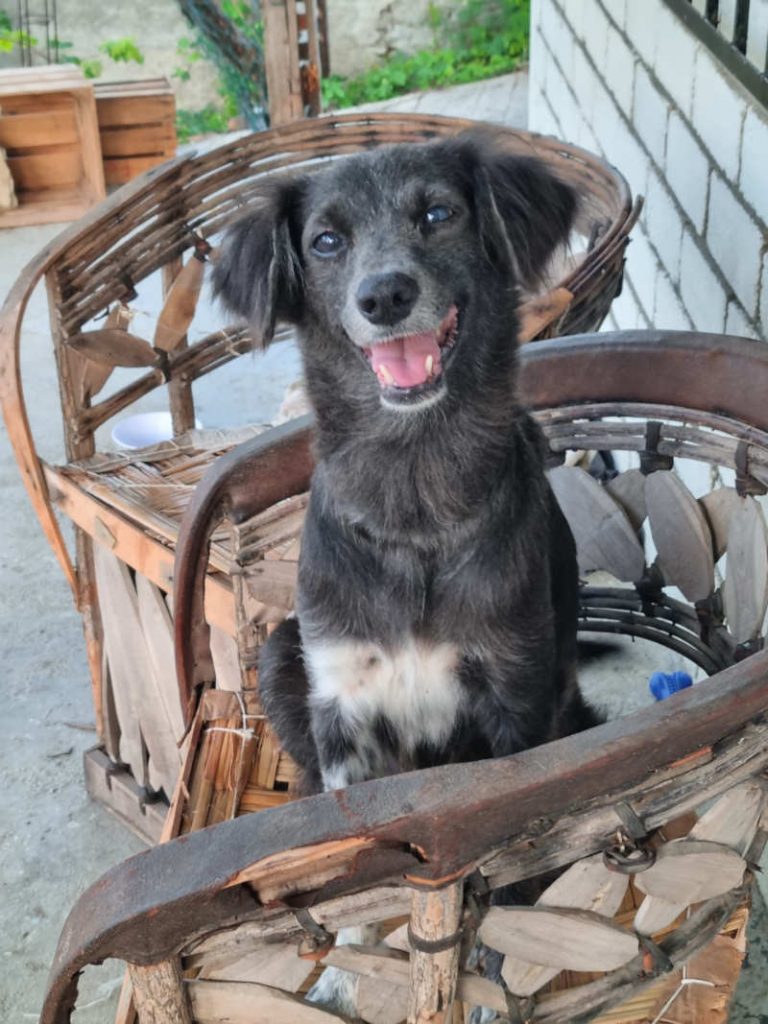 I received a call from a concerned university student of mine to say there was a wounded stray dog in her neighborhood. The dog was afraid of people and impossible to catch.
She had a deep cut around her neck that was badly infected and caused by being tied too tightly to a sharp piece of metal for way too long.
After setting up a dog trap in the area and coaxing her with food, I finally caught Luna and brought her home with me.
Today Luna loves cuddles and enjoys sneaking up onto my bed to take naps when I'm not looking.
---
Sandia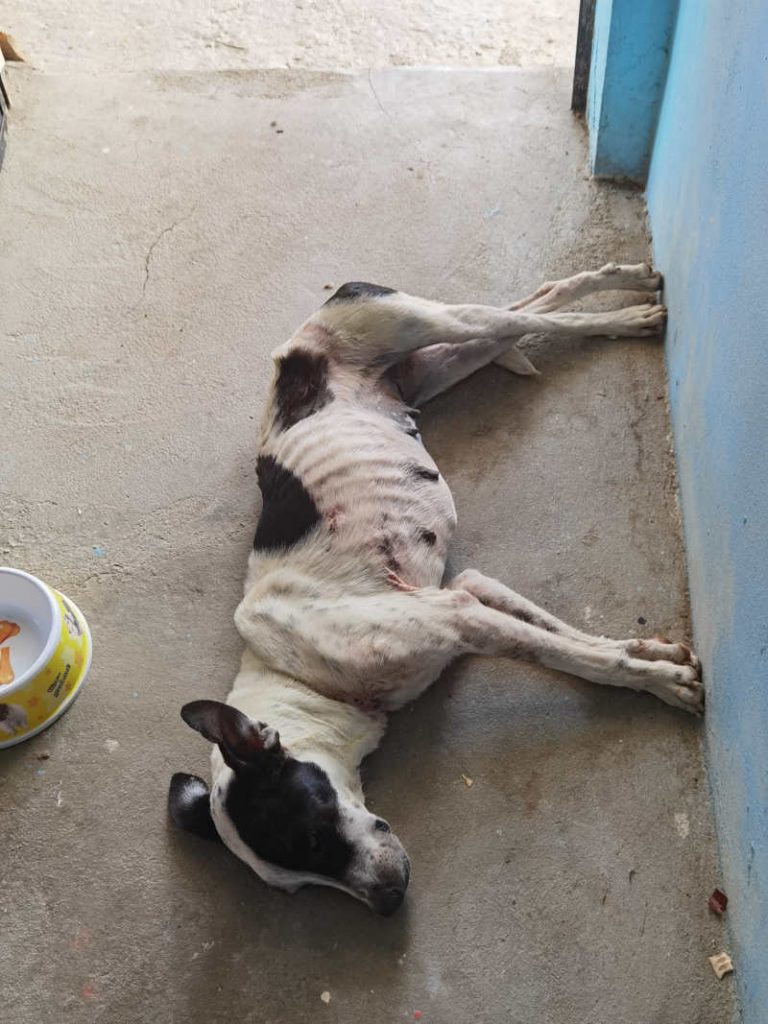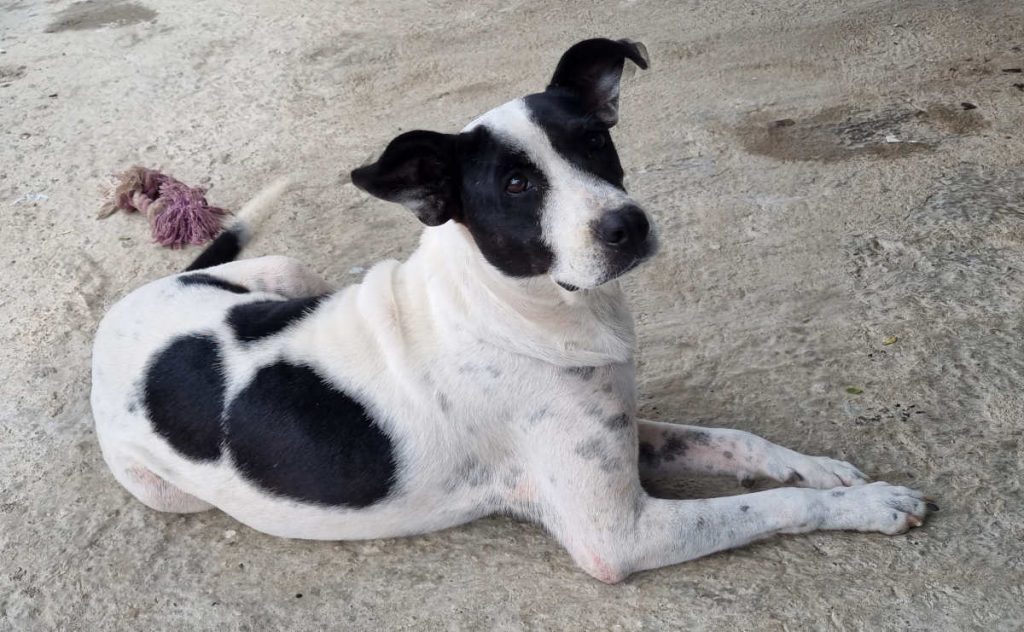 I saw a very skinny dog running through the streets of Pochutla terrified and with her tail between her legs. She had a deep scar around her neck from being tied too tight to a metal chain for several years.
I couldn't not help this scared and starving dog. I spent close to an hour following her through the alleyways of Pochutla until I finally managed to grab her, carry her to my car, and drive her home.
Within one month, Sandia had put on weight and had overcome her past traumas. And within two months, she was cured of both erlikhiosis (a fatal tick-borne disease) and TVT (a sexually transmitted cancerous tumor). She's now a happy, healthy dog ready for adoption.
---
Nube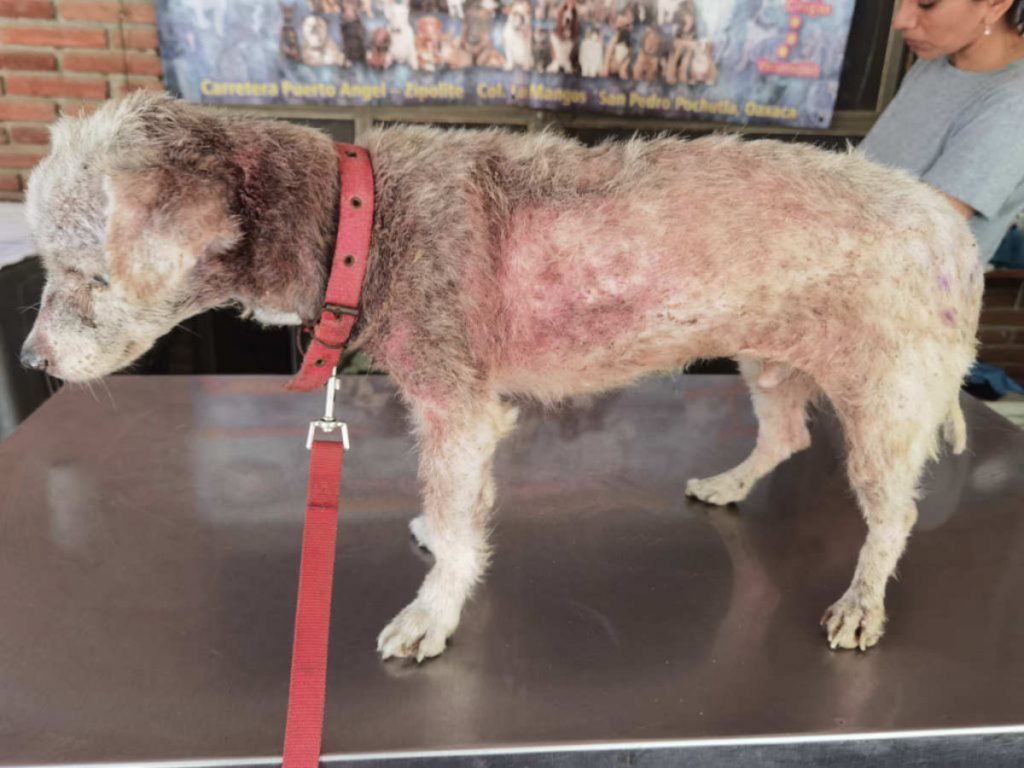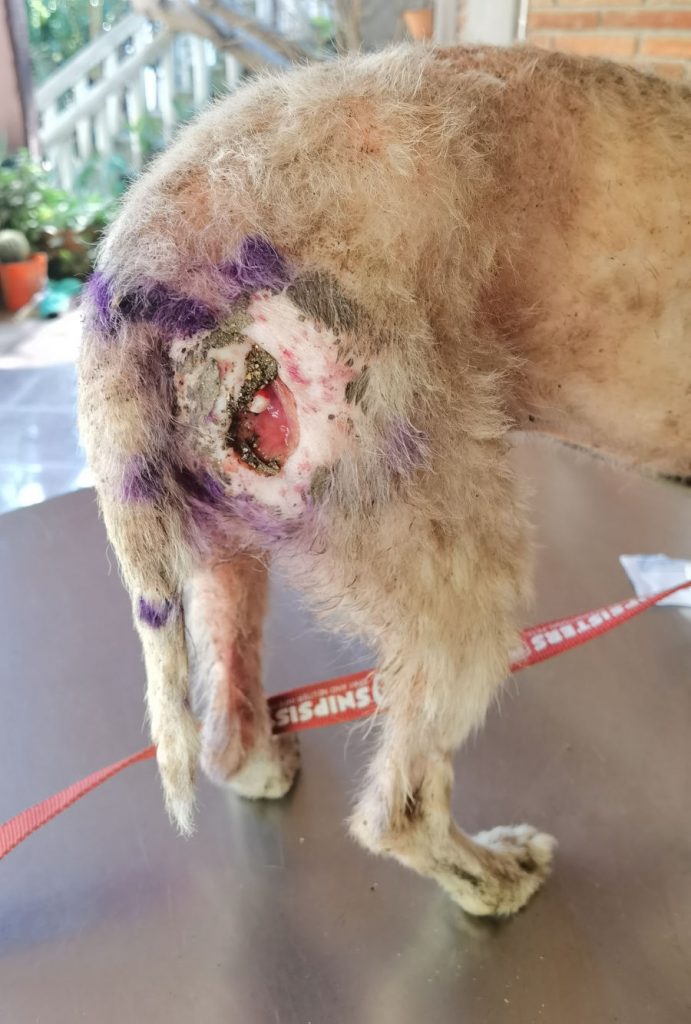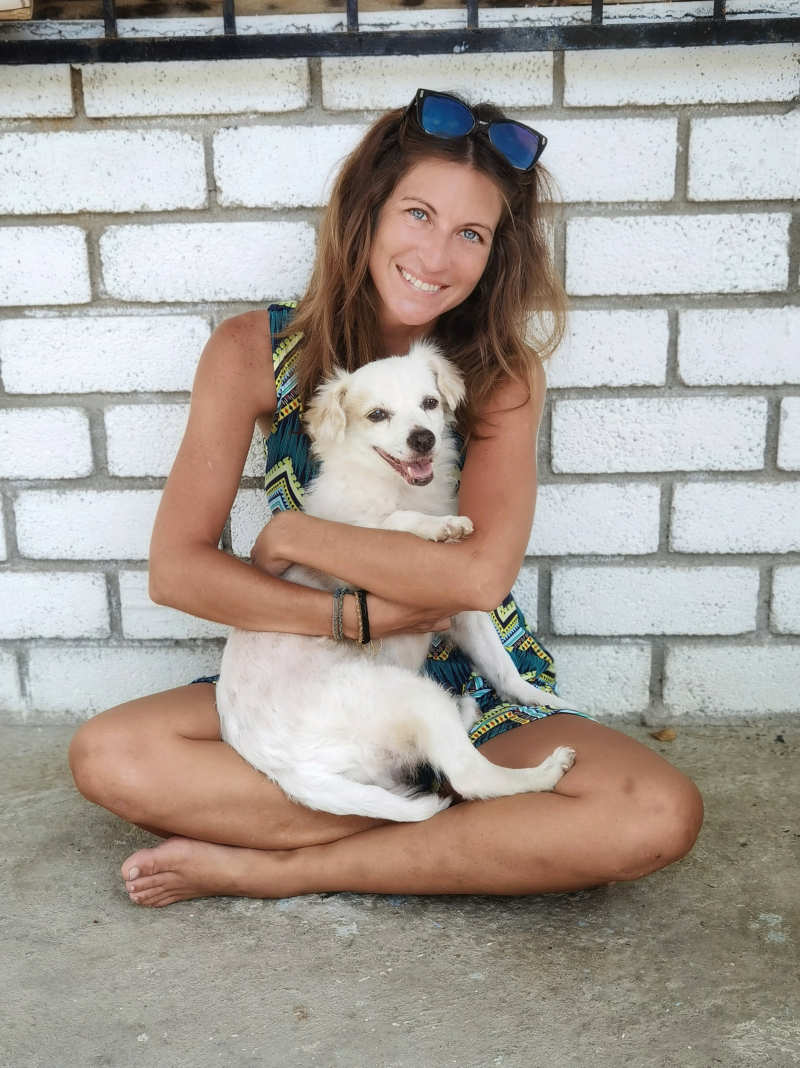 I heard from someone in Puerto Angel that a dog (who had an owner) had been severely neglected. Someone had attacked the dog with a machete, and the leg wound had gotten infected. The wound was so deep that I could see his bone sticking out the skin.
Nube was also suffering from mange, ticks, and fleas. He had ripped out his hair and skin and was full of open skin wounds.
When I met Nube, he wagged his tail and looked relieved when I put him in my car and drove away from his owner's house. After some antibiotics, skin treatment, and a one-month treatment for ehrlichiosis (a fatal tick-borne disease), Nube is 100% healthy and happy, and he has the softest fur!
---
Scrappy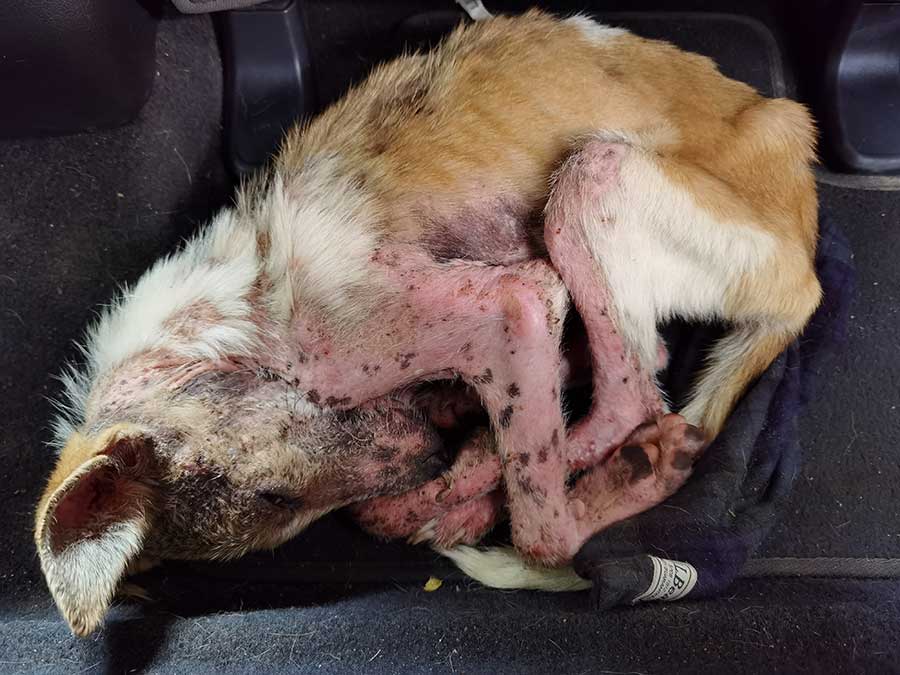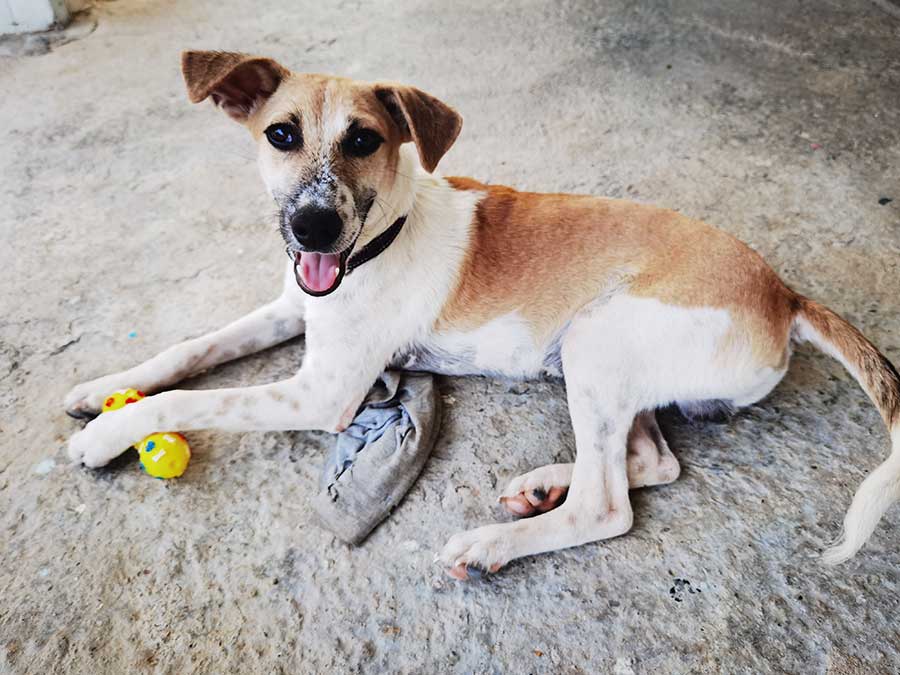 A tourist called me about a dog she found starved and dying on the side of the road between Pochutla and Puerto Angel. She needed my help to rescue him. So I did! Five-month old Scrappy was suffering from serious malnutrition and mange.
In just two months with me as my foster puppy, Scrappy was fully cured. He is still in my foster care, but there is someone in the USA who is planning to adopt him in October 2021. Yay!
---
Bowie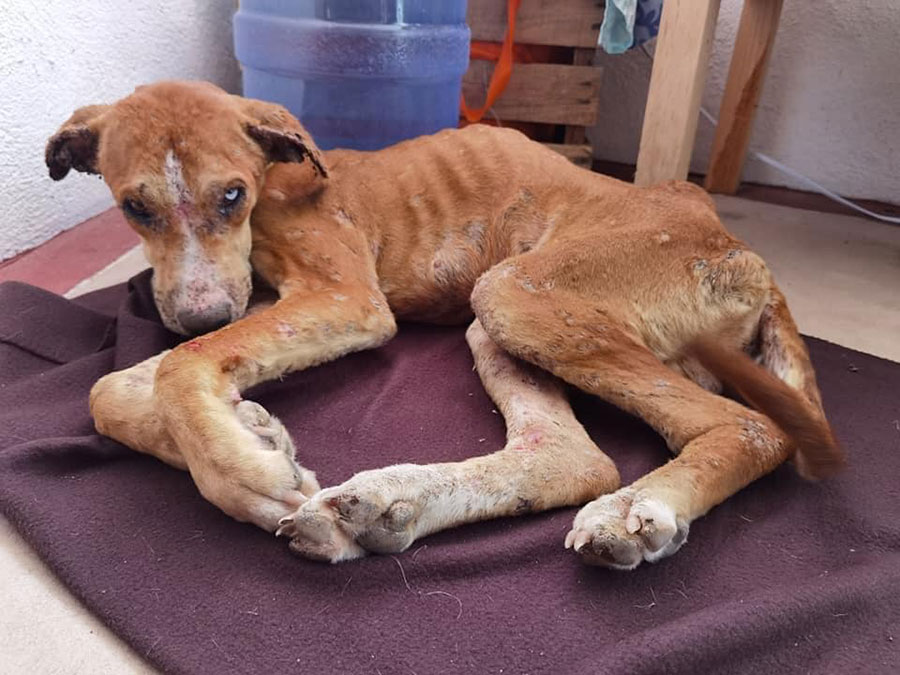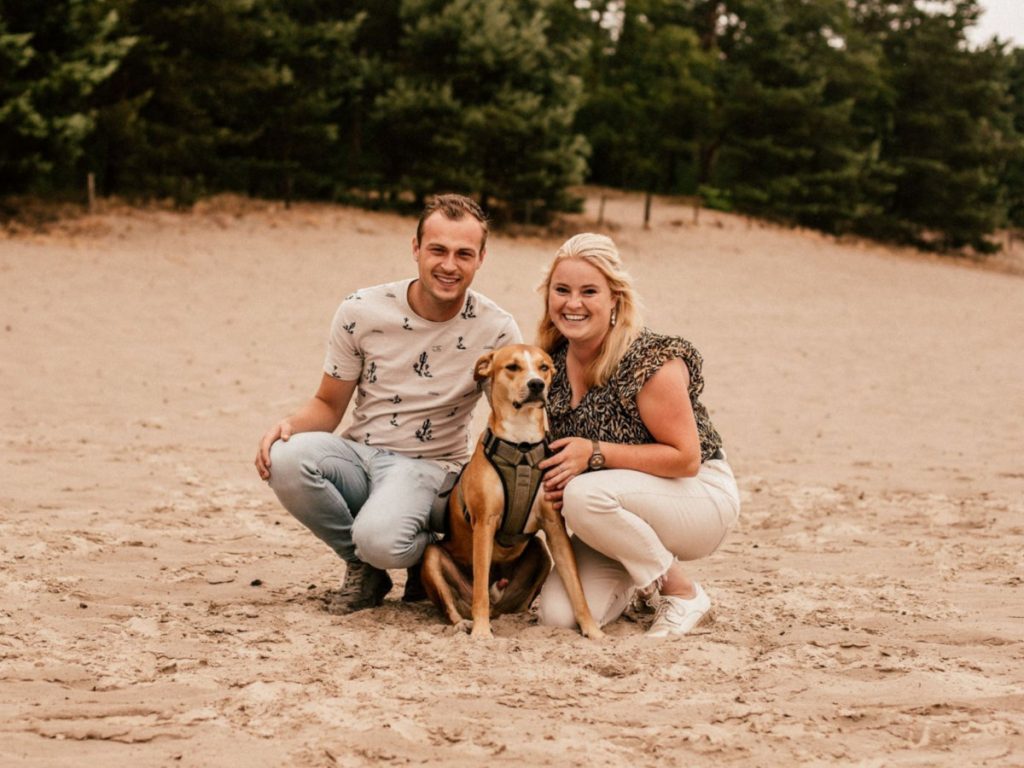 I knew Bowie as a street puppy in Puerto Angel who I used to feed daily. But one day Bowie was taken to work on a farm by a local farmer. He disappeared for two months, and no one could tell me where he was.
Two months later, while I was feeding the street dogs in my neighborhood, I saw Bowie starved and sick on the side of the road. He curled into a little ball at my feet and didn't have enough energy to even eat the food I tried to give him. Bowie became my foster dog and, with a lot of love and patience, today he is healthy, happy, and ready to be adopted!
---
Jack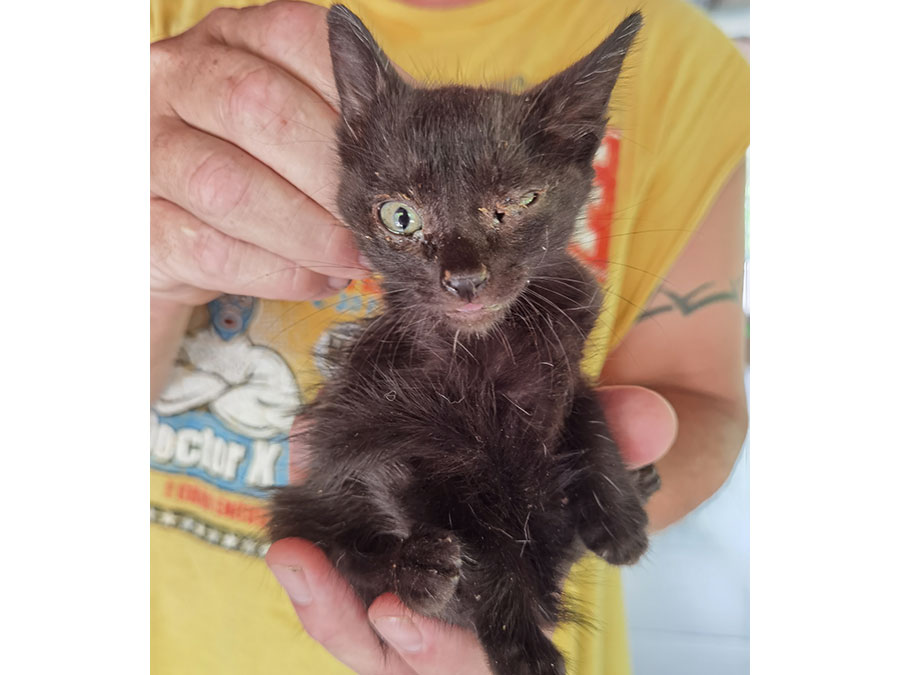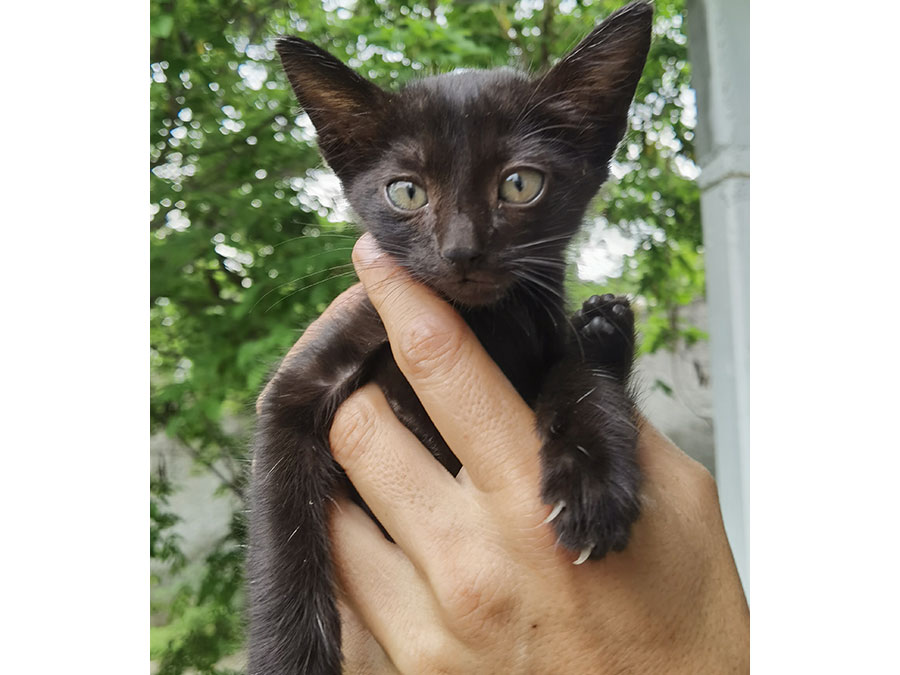 I received a call from a woman in Mazunte to say that she found three one-month-old kittens crying in her garden during a heavy rainstorm. They had fallen down a hill during a mini-mud slide. The mother cat was nowhere in sight, so she put the kittens in a box in her house for the night. However, she wasn't able to keep them and called me for help.
All three kittens had severe eye infections and were full of fleas. I took them in and fostered them for several weeks until they were healthy, sterilized, and ready for adoption. Here is Jack, one of the three cats on the day I found him and again three weeks later. Today Jack has been adopted by a wonderful family who treat him like a little prince.
---
May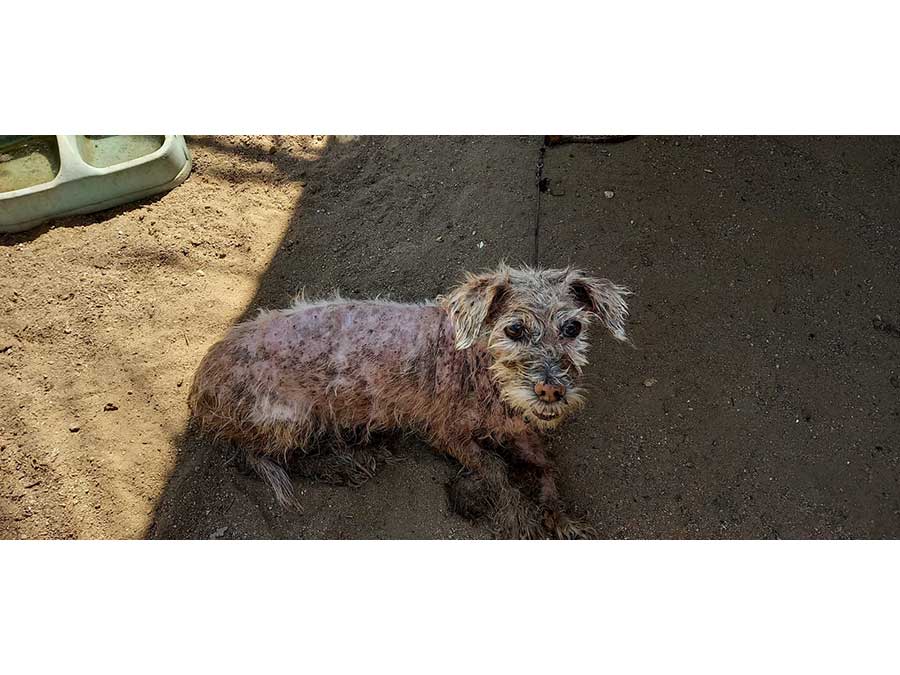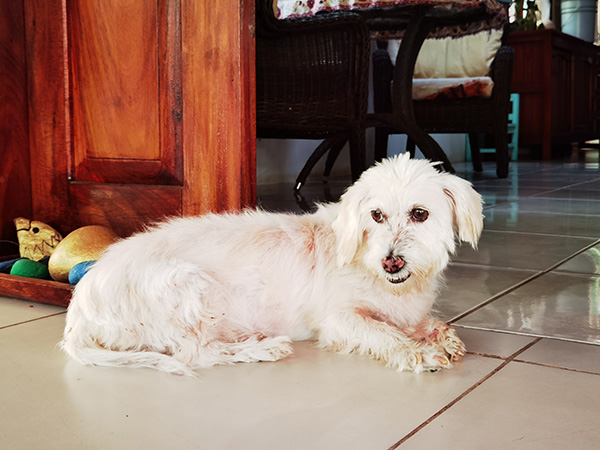 I received an anonymous call about a neglected dog in Mazunte, a beach village just outside of Puerto Angel.
Although she had an owner, the owner had completely neglected her. I found her tied up with a wire. She was so full of ticks and mange that most of her hair had fallen out and her nails had grown so long that they grew into her skin causing a painful foot infection. May could barely walk from the pain. I am currently fostering May and am looking for a perfect forever home for her.
---
Scruffy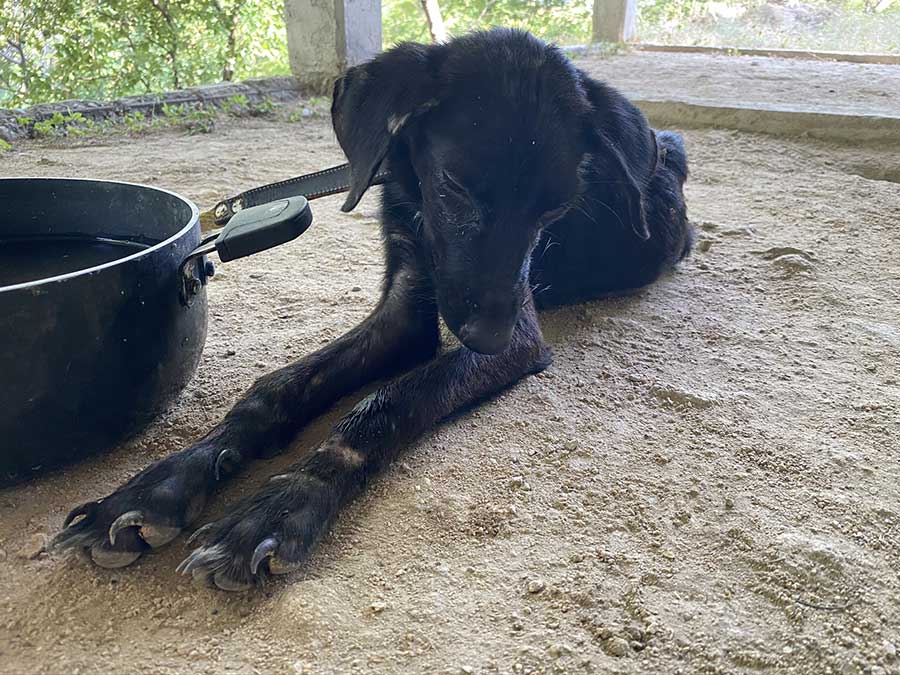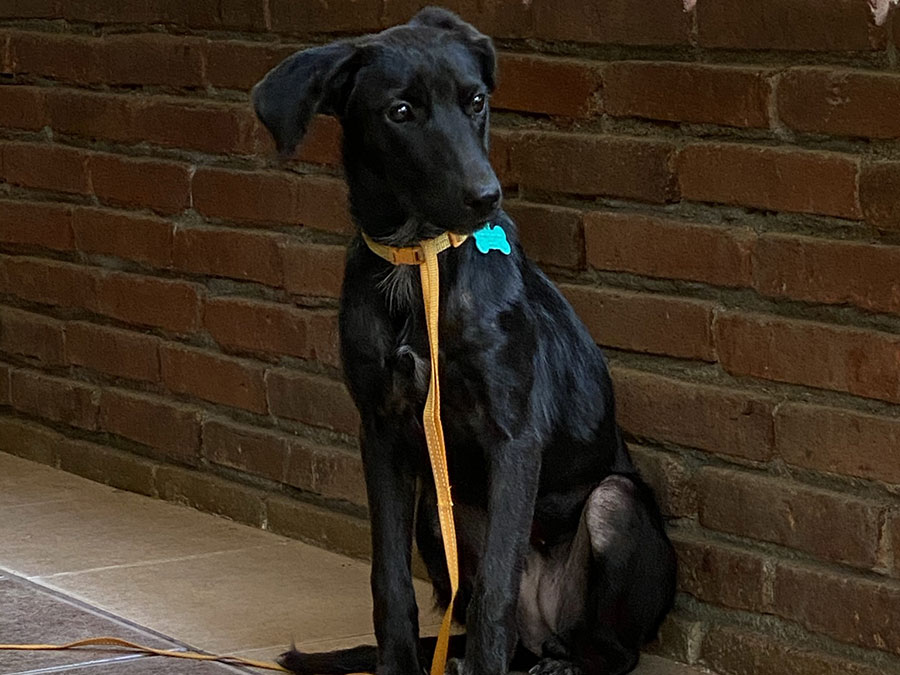 I found six-month-old Scruffy starving on the side of the road in Puerto Angel. Her nails were so long that some had started to grow into her skin. She was full of ticks. People in the local community said she and her two siblings had been abandoned when their owner had moved house. Her siblings had already died when I found her.
Scruffy came to live with me until she was healthy enough to be sterilized and vaccinated. She is now living happily in her forever home.
---
Black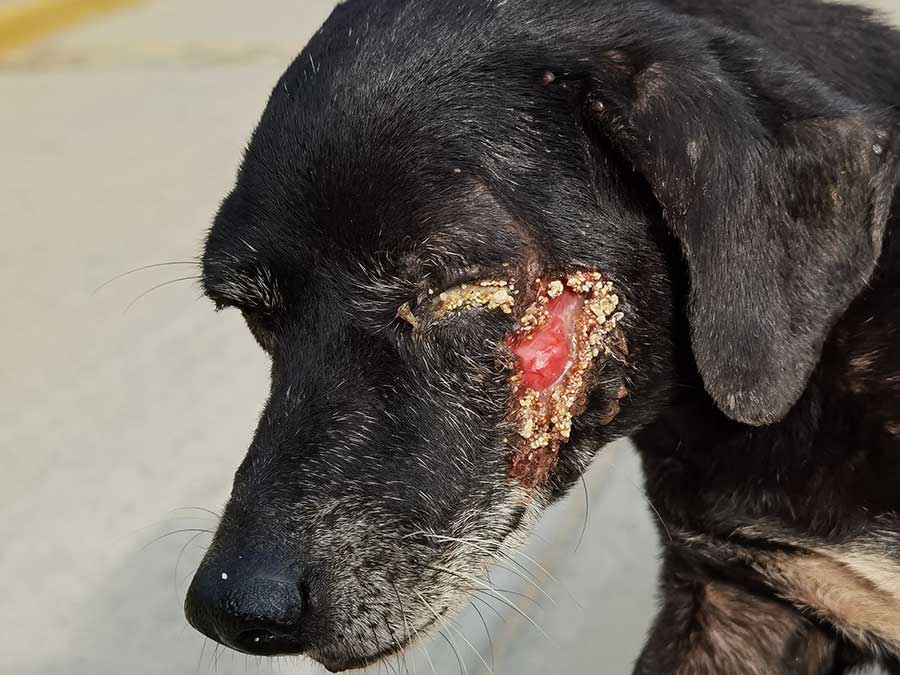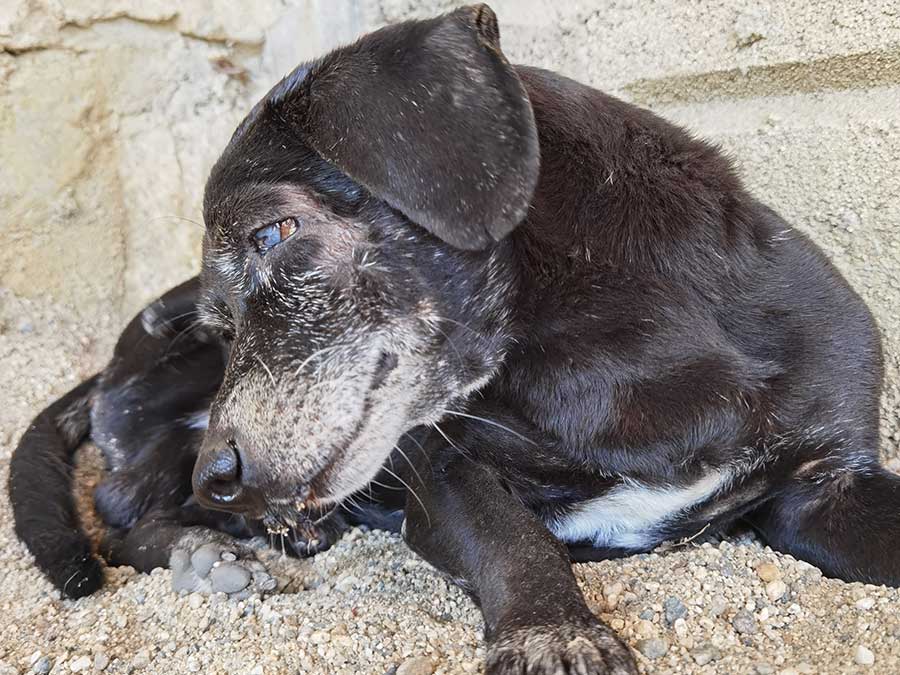 Black's owner approached me in Puerto Angel to say his dog had been hit by a motorcycle three weeks before but that he had done nothing to treat the injury. He asked if I could help his dog because he didn't have the resources to do so. As soon as I saw Black, I took him straight to the local vet. After his wounds were cleaned, I visited Black every day for a month to give him his eye drops and other medication.
Today, Black's wound has completely healed and he can see again.
---
Osso and Lulu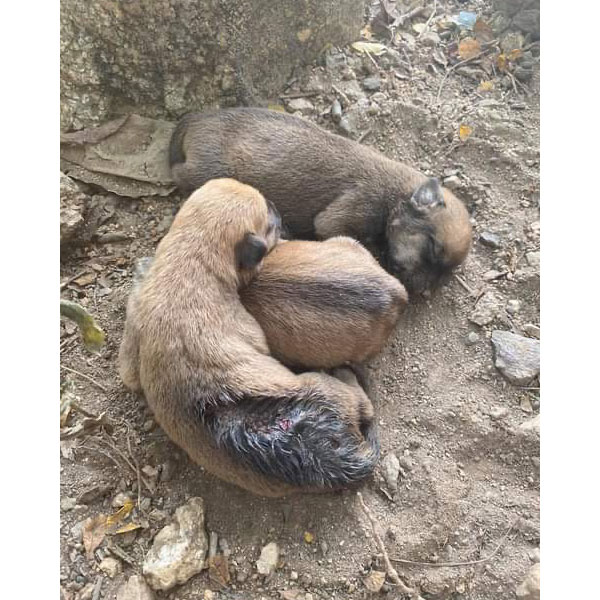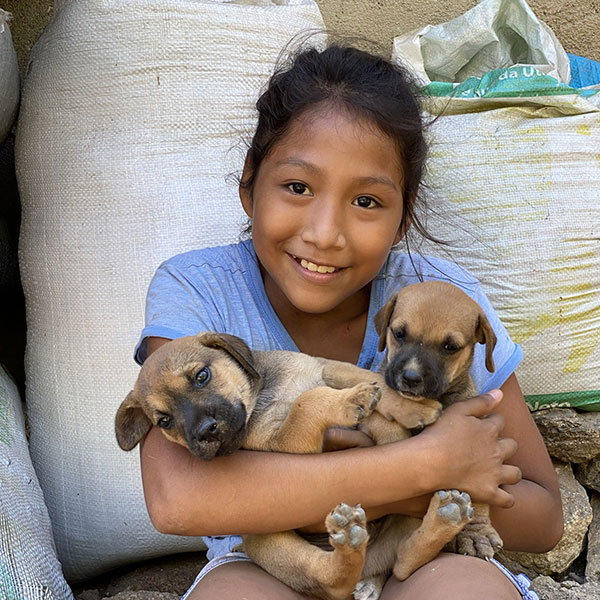 Their mother lived her life tied up on a chain. When I found Osso and Lulu, their siblings had already died. They were covered in sores from flies eating off their skin. Although I wasn't able to take them into my foster care at the time – I had too many foster animals already – I visited them daily and fed their mother healthy meals so that she would be stronger and healthier to be able to take better care of them.
As soon as they were old enough, I had Osso and Lulu sterilized and vaccinated, and I found them a loving forever home together. I also sterilized and vaccinated their mom of course!..
---
Ani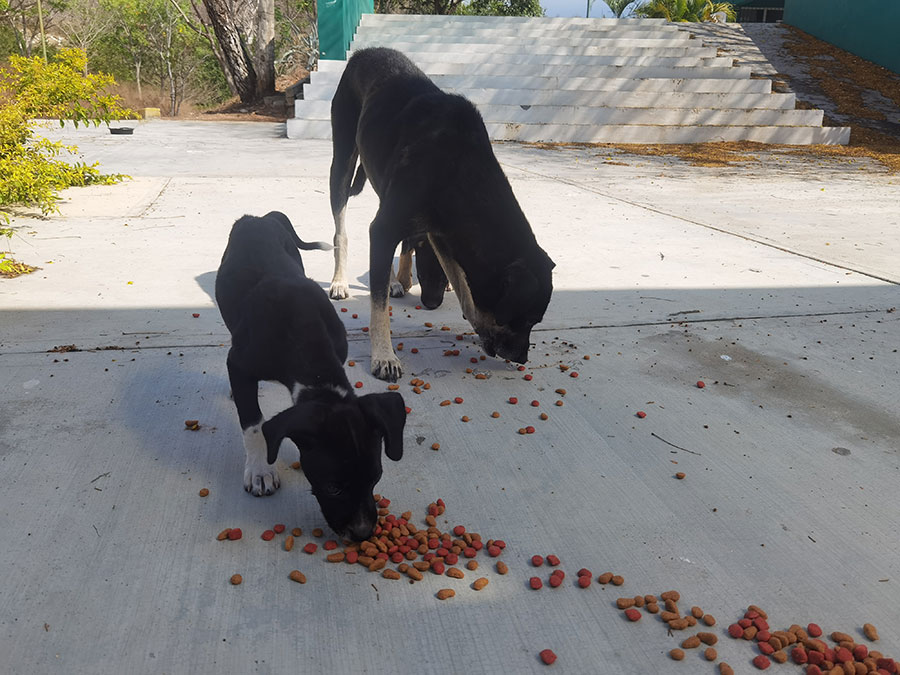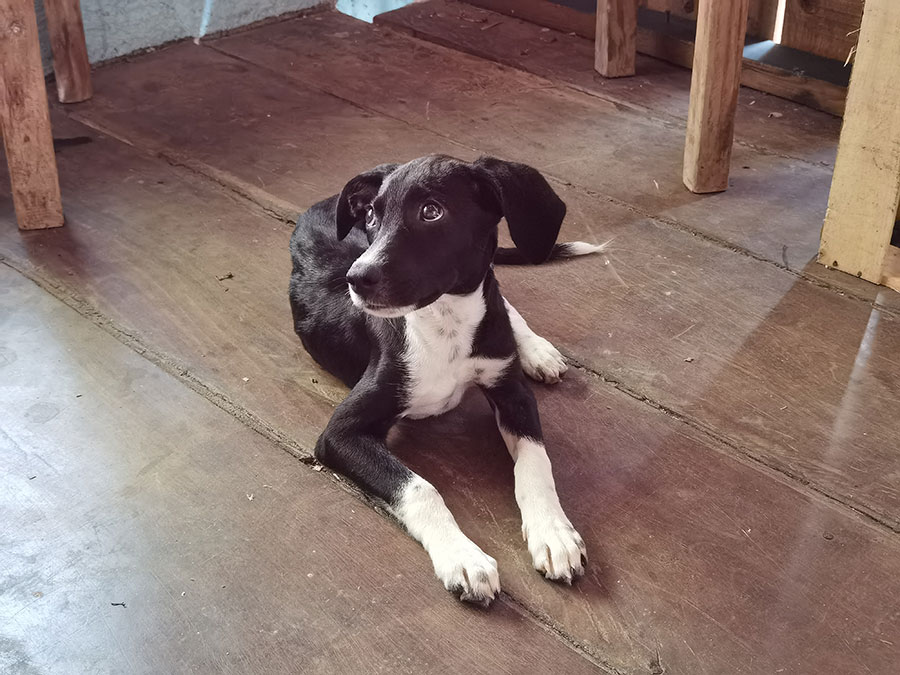 One day I stumbled on Ani, her brother, and her mother hiding out in an abandoned school in Puerto Angel. They were all terrified of people and I could never get close enough to touch them. But for three months I would visit them every day to feed them and get them comfortable with me.
Ani was the bravest and would sometimes come right up to me. One day I managed to quickly grab her and take her with me. I found her a wonderful foster who eventually adopted her, and we had her sterilized and vaccinated. Unfortunately, I have never been able to catch her mother or brother, but I still continue to feed them regularly and hope to one day have them sterilized and vaccinated too.