Unfortunately, we can't save them all. But we do everything in our power to lessen their pain and suffering and to show them unconditional love before they pass over the rainbow bridge.
---
Bicha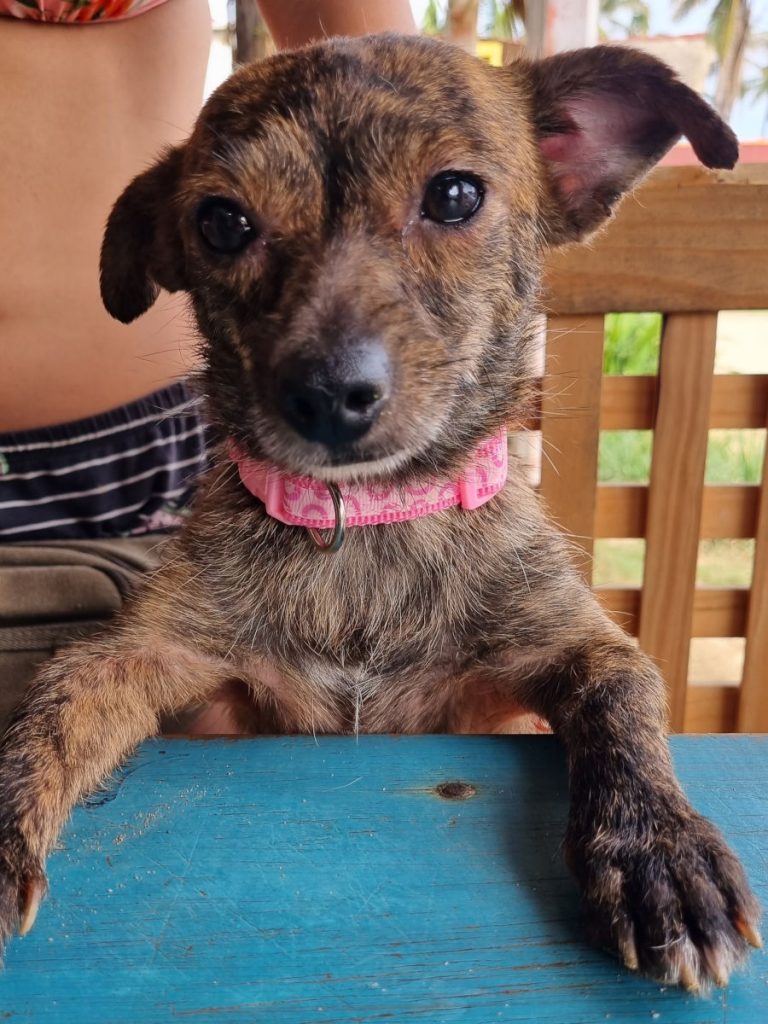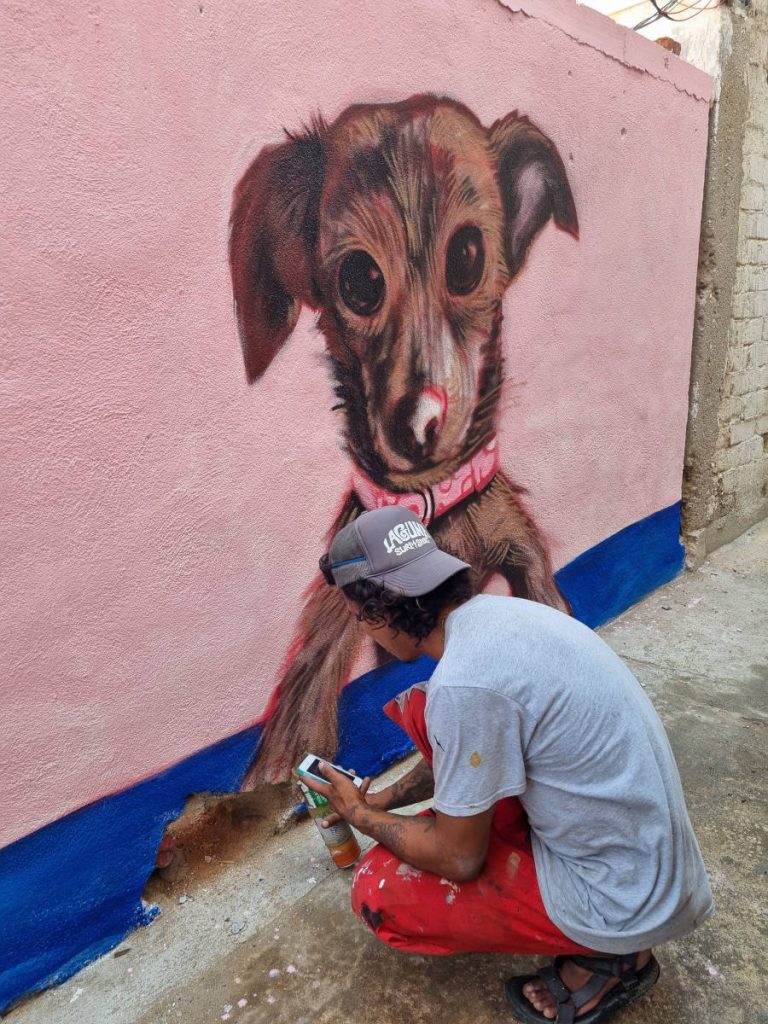 I rescued Bicha during a heavy thunderstorm. I saw this tiny dog running through traffic in Puerto Angel. She looked lost and scared. I managed to get her to come to me, and I took her straight home where I dried her off and gave her tick and flea treatment (her little body was full of ticks).
At first, I thought she was lost, so I posted about her on social media and stuck posters all around town. When I received no response, I realized she had been abandoned.
I had Bicha sterilized, vaccinated, and deparasited, and I found her an amazing forever home in Zipolite. She would follow her owner everywhere, and she quickly became a popular and much-loved dog in the beach community.
Unfortunately, one night Bicha, along with several other dogs and cats, was poisoned to death in Zipolite. Poisoning is common practice here and the people who poison animals are never found nor prosecuted.
Bicha's owner was devastated because she had become her best friend, her family, and her life.
To remember Bicha and bring awareness to the community about poisoning and animal cruelty in general, we made a mural of her in Zipolite. Bicha will continue to live on in our hearts and will be our ongoing inspiration to educate the youth about how to treat animals.
---
Blackie
One night, while I was driving through Puerto Angel, I noticed a dog that had been hit by a car. Of course, no one had bothered to help him. I immediately got out of the car and called passers by to help me carry the heavy dog to my car. He had a head injury and was paralyzed, but at the time I believed his paralysis would be temporary.
For the next three months, Blackie lived with me. I used my free time to do physical therapy with him, clean his wounds caused by dragging himself around, and squeeze his bladder several times a day to help him go to the toilet.
For the three months I had Blackie, he was completely depressed. He whined often, not from pain but from frustration. I bought him a doggy wheelchair thinking that this would be something Blackie would like. Unfortunately, I was wrong. He hated the wheelchair and refused to use it no matter what tactics I used to coax him. He also hated getting himself dirty from not being able to control his bowels. Overall, Blackie didn't have a good quality of life.
When the vets finally confirmed that Blackie would never walk again, I still wanted to keep Blackie alive and potentially send him to Canada or the US where he could get the attention he needed as a special needs dog.
But unlike other paralysed dogs I've rescued in the past who get along just fine despite their physical limitation, Blackie's depression was palpable.
After speaking with family, friends, fellow rescuers, and vets who had met Blackie personally, I decided to take their unanimous advice to free Blackie from his paralyzed state.
This was one of the most difficult decisions I've ever made as an animal rescuer. I loved Blackie with all my heart and would have done anything to give him a second chance at a great life. But all I could do at that point was hold his paw, look deeply into his eyes, and tell him that everything would be okay as he passed over the rainbow bridge.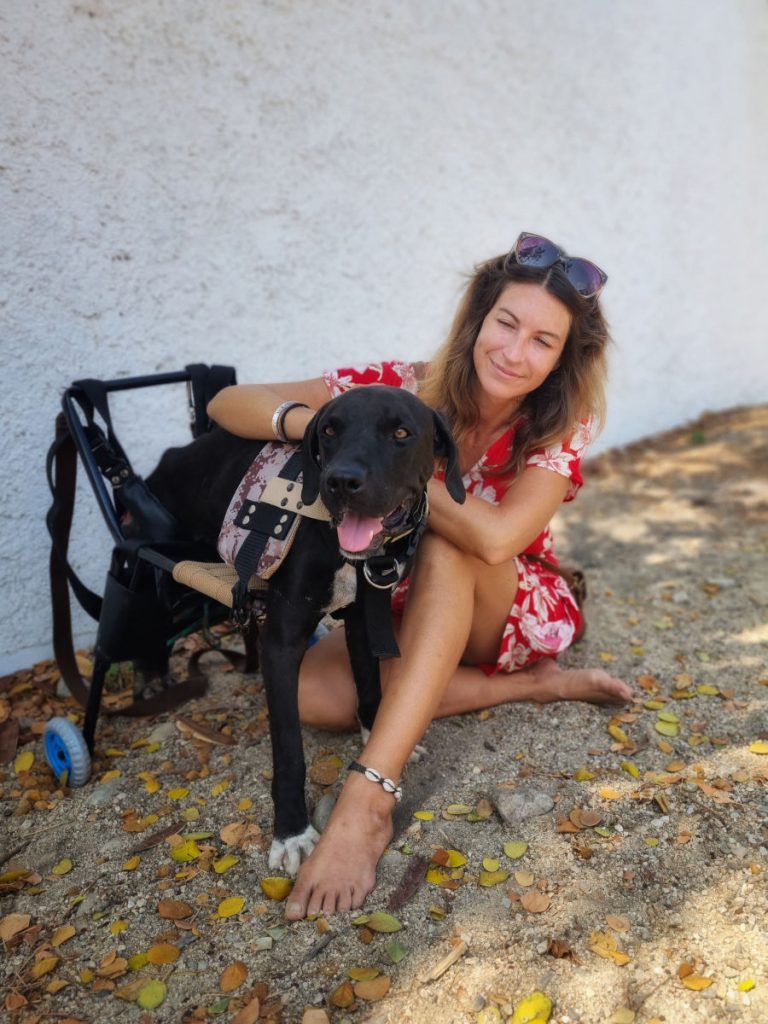 ---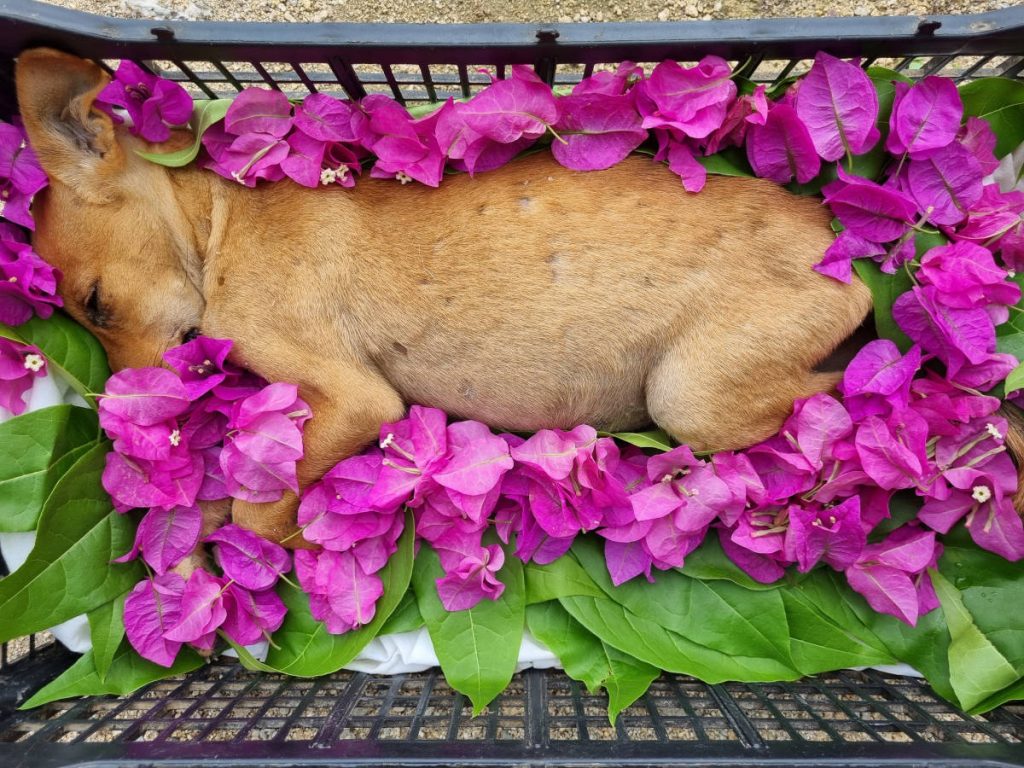 Angelito
Angelito was born in a home with 17 other dogs. His owner had so many dogs because he never sterilized any of the females. He told me that they were all skinny because there were too many dogs for him to feed. Angelito and his siblings were the result of human irresponsibility.
Unfortunately, Angelito was severely attacked by another hungry dog in the neighborhood, and his owner called me for help. I had Angelito with me for 24 hours, treating him with antibiotics and pain killers while the vets decided if he needed to go to Oaxaca City for surgery.
But before any decisions could be made, Angelito died in his sleep. The vets believe that we got to the infection too late, and Angelito's little body gave up.
Angelito is buried in my garden where he's now at peace and free from human danger.
---
Canelito
I received a call about a young dog that looked sick and was trembling on the side of the road in Puerto Angel. As soon as I saw him, I knew I would have to euthanize him. Tears rolled down my face as I petted him and told him he'd be okay.
This dog, who I named Canelito, was less than 5 months old. He was full of ticks and underweight. And now he had distemper, a highly contagious and fatal virus that causes severe pain, suffering, and, ultimately, death. What a cruel life to be born into.
Canelito was euthanized in my arms at my local vet clinic and buried in my garden.
He is just one of hundreds of thousands of dogs that die from distemper each year. Although fatal, it can be so easily avoided if owners just vaccinate their pets.
This is why vaccination is so important.
---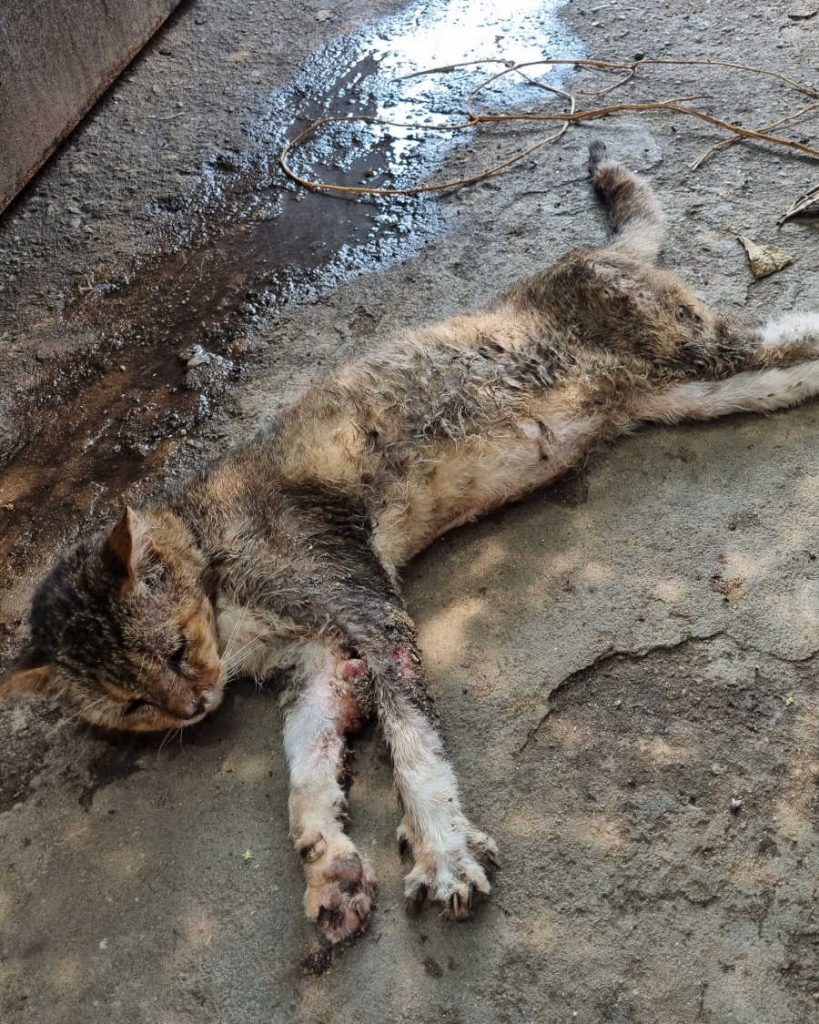 Bicho
I received an anonymous call about Bicho from a concerned resident in Puerto Angel.
Passers-by could see Bicho lying at the entrance of his home for days unable to move. His owner completely ignored Bicho's suffering.
I immediately went to the home to pick up Bicho and take him to the vet. However, we were too late.
Bicho had obviously been suffering from a viral infection for months, and it was too advanced to save him.
The only decision we could make was to put Bicho out of his suffering.
He's buried in my garden and is finally free.
---
Abby
I received a message about Abby from someone in Santa Maria Tonameca. She was spotted walking around with a broken jaw. This had prevented her from being able to eat, so Abby was dying of starvation. I picked up Abby and took her to the vet for x-rays and a diagnosis. Shockingly, Abby's broken jaw was caused by a gunshot wound to her face which had shattered her jaw in several places. Due to her severe malnutrition, Abby likely wouldn't have survived the complicated surgery, so the vet advised that we rather put her down.
After Abby's death, I worked with an investigator in San Pedro Pochutla to track down the person responsible for this crime. Although we now know who committed this heinous crime, the laws in Mexico have not been on our side, and we've been unable to have the person arrested.
People in the community are aware of this person and know that he regularly shoots stray animals that pass by his home looking for food, but everyone is too afraid to make a police report.
Here is the news story about Abby: https://www.nvinoticias.com/vida/mascotas/justicia-para-abby-lomita-de-oaxaca-que-murio-por-disparo-en-la-cara/144786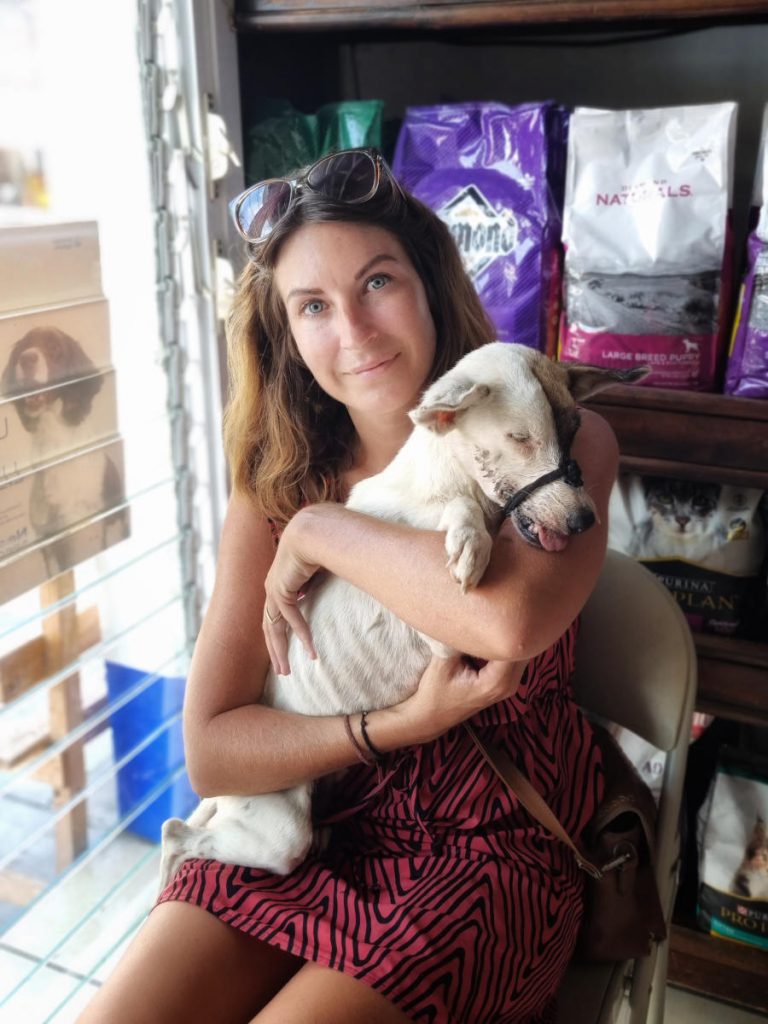 ---
Morena
Morena was burned alive with gasoline on 16 December 2023 outside her owner's home in Zipolite. This was an act of revenge by an angry neighbor who knew that Morena's owner loved her dearly.
For three days, I helped search for Morena with no luck. But finally, I received a call from a beach hotel stating that they had found the body of a burned dog outside their establishment.
I had to identify Morena's body and alert her devastated owner. It was more than tragic. Morena had been in hiding for three days suffering in excruciating pain before she died.
After Morena's death, I did everything I could to demand justice for Morena and punish the person responsible. However, the Mexican laws here didn't work in our favor, and the guilty man is still freely walking the streets.
To put pressure on the authorities, I organized a peaceful march in Zipolite demanding #justiciaparamorena. But, to this day, justice has still not been served.
You can sign my petition demanding Justice for Morena here: https://www.change.org/p/fiscalia-goboax-justicia-para-morena-la-perra-torturada-quemada-y-asesinada-en-zipolite-m%C3%A9xico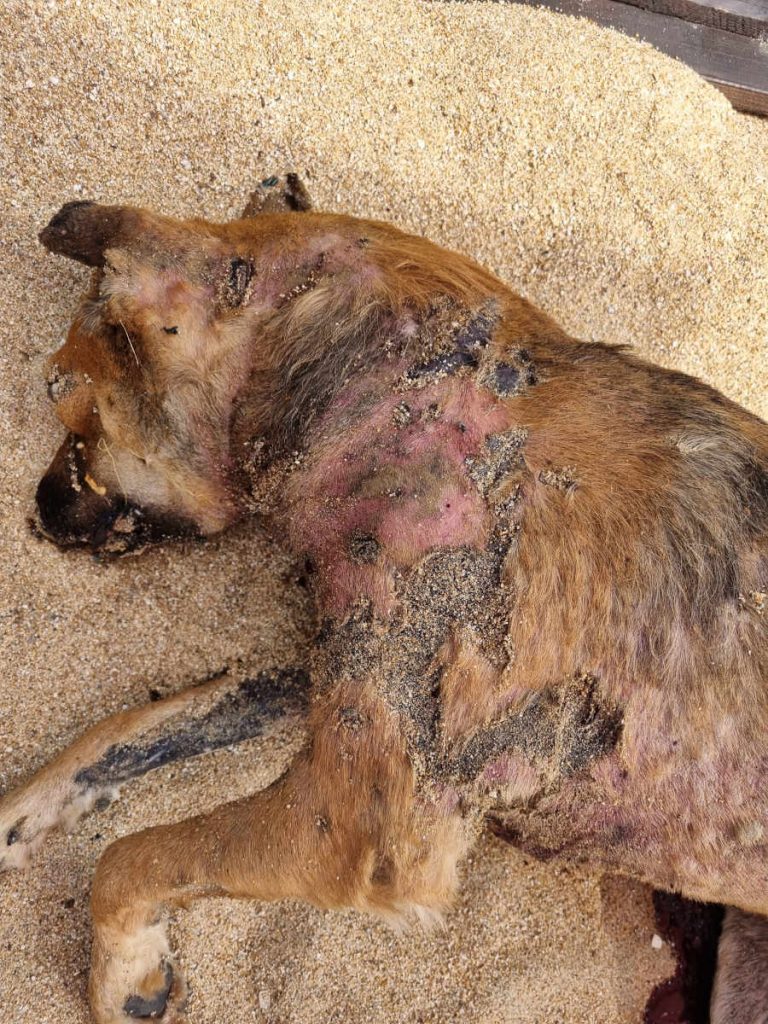 ---
Timida
My baby girl. I rescued Timida when she was just two months old. I had to trap her in a dog trap because she was completely feral. We sterilized her, and I decided to take her home to rehabilitate her, socialize her, and eventually try to find her a forever home.
At first, Timida was very depressed being with me and my dog pack. She was very scared, and she preferred to sleep in the bushes alone than to sleep with us in the house. I couldn't touch her at all for the first month, and I thought I may never be able to.
But after one month, she started gaining confidence with me and my dogs. She started to play with us, and she let me pet her. I began her vaccination regime and believed she was almost ready to go to a forever home.
Unfortunately, while Timida was with me, I unknowingly rescued a dog that had distemper before I could give her her last vaccine.
Timida quickly became sick, and despite my efforts to save her, she passed away. This has been one of the hardest losses for me in animal rescue.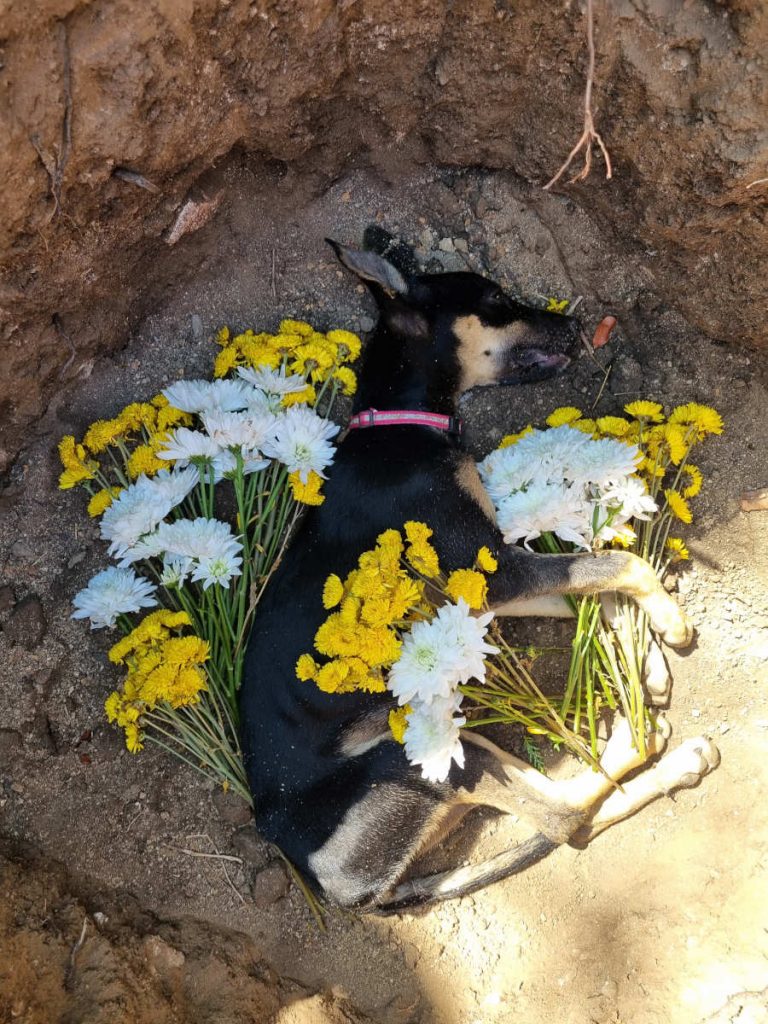 ---
Charlie
My Charlie boy. Oh, how I wish I could have saved him.
I received a call about a dog with a "weird face" that had been dumped on a deserted football field. People in the community were throwing rocks at him because they were afraid that he would infect their own dogs with whatever strange disease he had.
I went to the football field three times but could never find him. He was so afraid of people that he would hide deep in the surrounding bushes. Luckily, on the third try I saw some movement in a bush and soon spotted him. He was terrified at first, and he didn't want to leave his hide out.
I slowly crawled under the bush with him and gave him some food which he lapped up. He was skin and bones. Then I gently pulled him out with me and carried him to my car.
Over the next month, Charlie became my bestie. He would wag his tail like crazy and make a singing noise whenever I came back from work. He became my friend, my family.
I took Charlie for numerous vet checks, but none of the vets could figure out what was wrong with him. Eventually, we discovered that Charlie had a rare and highly aggressive autoimmune disease that would only get worse.
Although Charlie loved me and I loved him, I could see that he was suffering tremendously to eat and breathe; his condition only worsened.
So with a very heavy heart, I asked a vet friend to please come to my home and let Charlie pass over the rainbow bridge in the most dignified and comfortable way possible.
Rest easy my Charlie. Thank you for all the joy you brought to my life in such a short time.
---
Spencer
Gorgeous Spencer. He was the most affectionate, relaxed cat. He was about five years old and unfortunately had an owner that neglected him for way too long. By the time I found out about Spencer's condition, it was too late.
Spencer had a very rare auto-immune disease which caused raw open sores to develop above his eyes. With the correct diet and medication, Spencer's condition could be treated. But his irresponsible owner did nothing to help him, and his condition worsened to the point that he lost his eyesight.
From the moment I took Spencer home with me, we started treatment. But at that point, his condition was so bad that his immune system was chronically compromised.
Spencer's condition continued to worsen, and eventually, the only thing left to do was to help him over the rainbow bridge. He's resting peacefully in my garden now.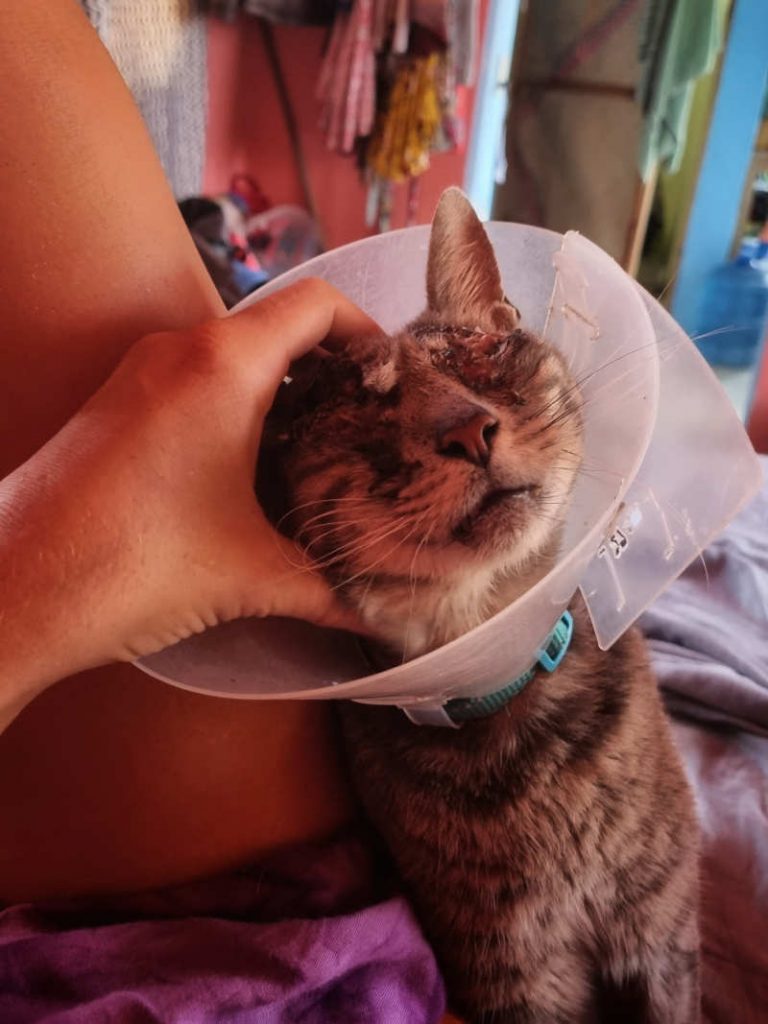 ---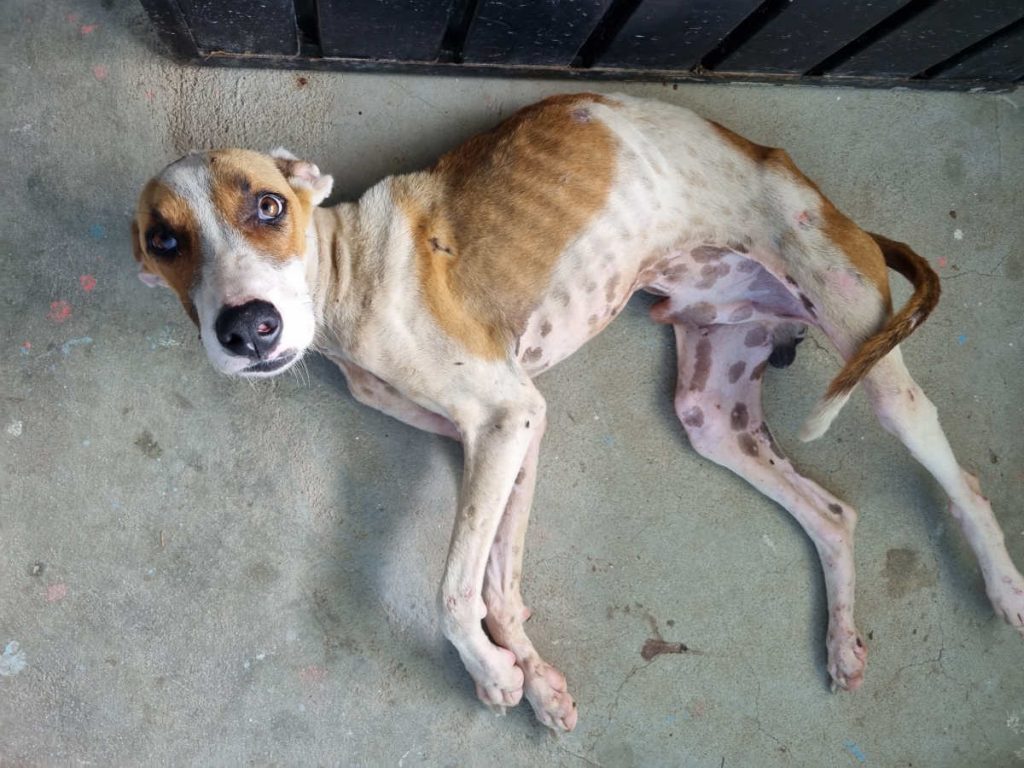 Frankie
My biggest heartbreak is Frankie. I found him in Pochutla while at the gas station. He was limping and full of ticks. Of course, I couldn't leave him there. I called him and he casually jumped into the front seat of my car no questions asked. He trusted me instantly.
He was such an affectionate dog and got along with people and other animals. I was treating him for a bad foot infection and was about to start his treatment for TVT, a highly contagious sexually transmitted tumor that can only be cured with chemotherapy.
He was a young two-year-old dog with so much potential, and I was determined to give him a second chance at an amazing life.
But just after one week of living with me, someone purposely poisoned Frankie. This is how people deal with animals that they don't want walking around their neighborhood. Frankie died a very cruel and painful death, and I will unfortunately never forget his suffering.
Frankie is buried in my garden. At least he is free from human cruelty now. I'll never forget his beautiful big eyes and his gentle spirit.
---
Lala
I rescued Lala from an irresponsible pet owner who had 28 unsterilized dogs on their property. When I found Lala, she was suffering from mange and malnutrition. Although she was weak, I was sure she would become another miracle story and have a second chance at living a healthy, happy life.
However, after two months of treatment in foster care, Lala wasn't getting better. Tests suggested that Lala had distemper, and all we could do was treat the symptoms and hope that her immune system could overcome the deadly disease. Unfortunately, Lala died in her sleep in her foster's home.
This was a tragic day for all who had grown to love her. Our only consolation is that she died having experienced unconditional love.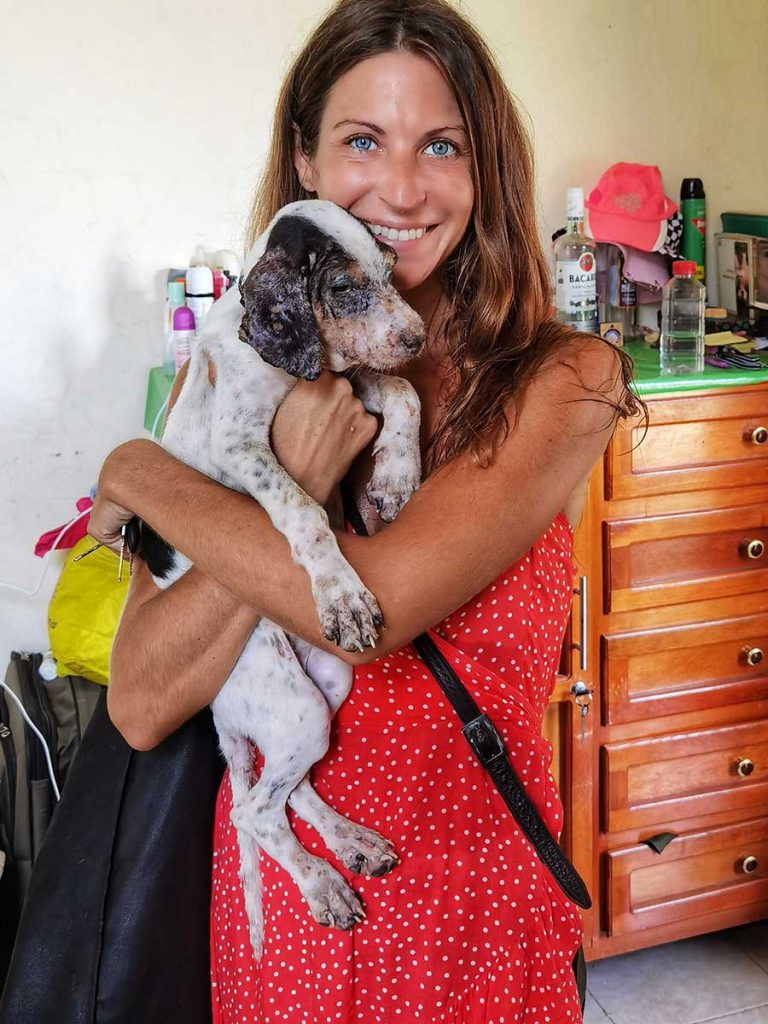 ---
Anjo
I'm sorry for sharing this heart-breaking photo of Anjo with you, but it's important to highlight the severe abuse so many dogs experience in this part of the Oaxaca coast.
I received a call about a starving dog tied up in a garden. I went to the house concerned that the owner might get aggressive with me for wanting to help his dog. Luckily, he wasn't home. I found Anjo tied to a tree with a piece of metal wire around his neck.
I could see instantly that Anjo was in severe pain. I removed the wire and took him to the local vet. Although I was prepared to do anything to save Anjo, the vet explained that he had been starved so long that it was too late to save him. His organs were shutting down.
So, I did the best thing I could at the time to ease his suffering. I put Anjo to sleep and buried him in a quiet spot where he could finally rest. Be free little Anjo. No one can hurt you now.
---
Porchie
I was on a road trip with a friend in Playa Salchi just outside of Puerto Angel when I spotted Porchie in the distance. I made my friend stop the car, and that was the end of our road trip. It turned out that Porchie had an owner who I spoke to. The owner insisted that Porchie didn't want to eat, but when I gave him food he didn't stop eating. He was hungry!
From the situation, it was clear that Porchie's owner didn't want him anymore. I took Porchie home and tried to save him. I wanted to give him a second chance at living an amazing life that he deserved.
Unfortunately, Porchie had been neglected for way too long and he passed away peacefully in my friend's home a few days later.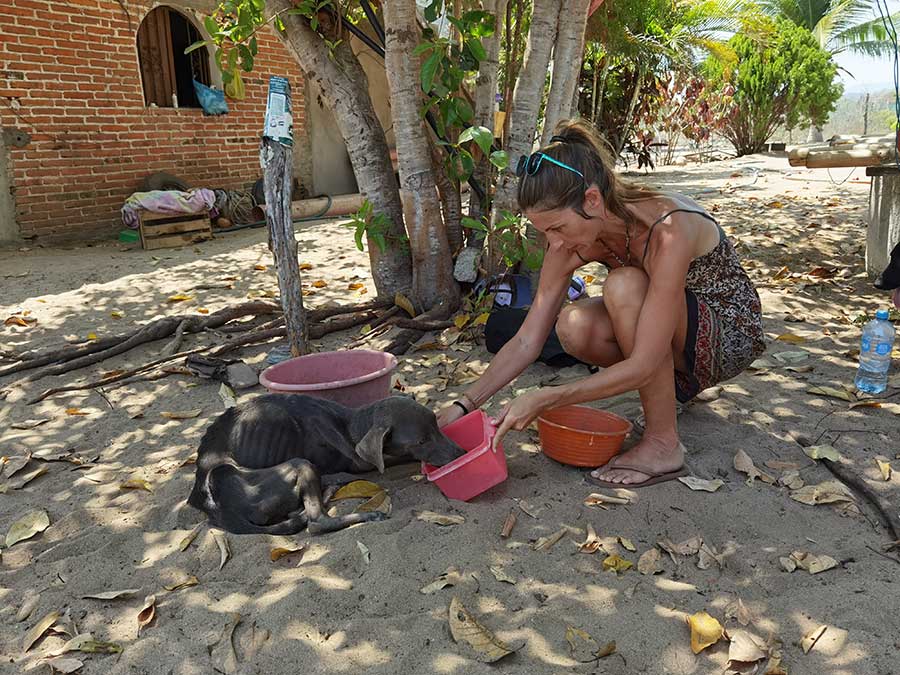 ---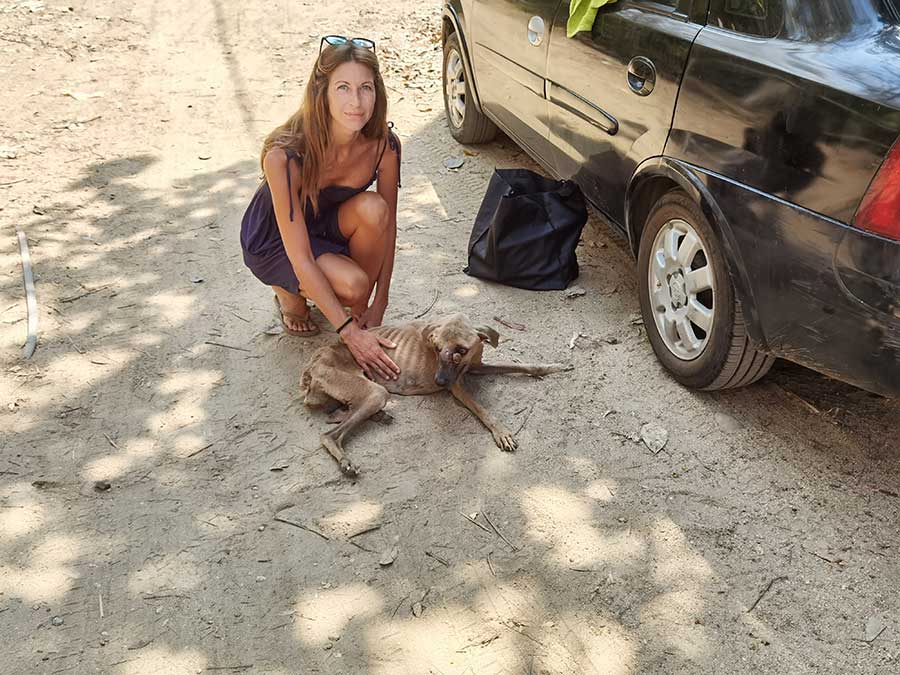 Tobacco
I got a call about a dog in Barrio 20 de noviembre, Huatulco that needed urgent help. The local community had completely shunned him because he had a large growth on his nose.
When I arrived, I saw people shooing him away while he was trying to drink from another dog's water bowl. I grabbed Tobacco without thinking twice and took him back with me to Puerto Angel.
Unfortunately, the local vet said Tobacco had a serious tumour on his nose and other health issues that were causing him a lot of pain and discomfort. The kindest thing would be to help him over the rainbow bridge, so that is what we did.
---
Whiskey
On the same day that I rescued Tobacco, I also rescued Whiskey. He was standing listlessly on a pavement full of mange. He was so small and cute, and I knew that after getting a good bath and mange treatment that it would be easy to find him a home. And I was right!
Soon after I rescued him, he was adopted by a wonderful family who treated him like a little prince. However, Whiskey had contracted distemper in the village where I found him, and he passed away as a result.
He is buried in a special spot under a tree near the beach where he will always have shade and hear the sound of the ocean.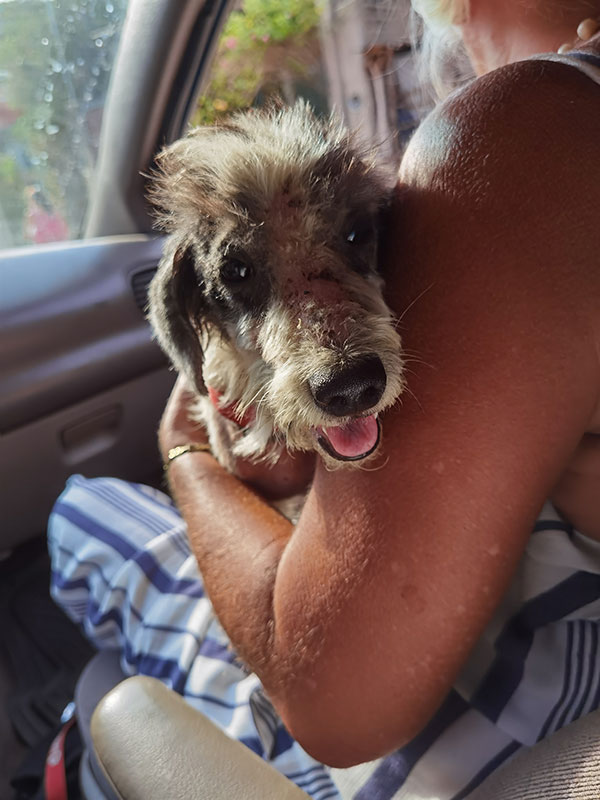 ---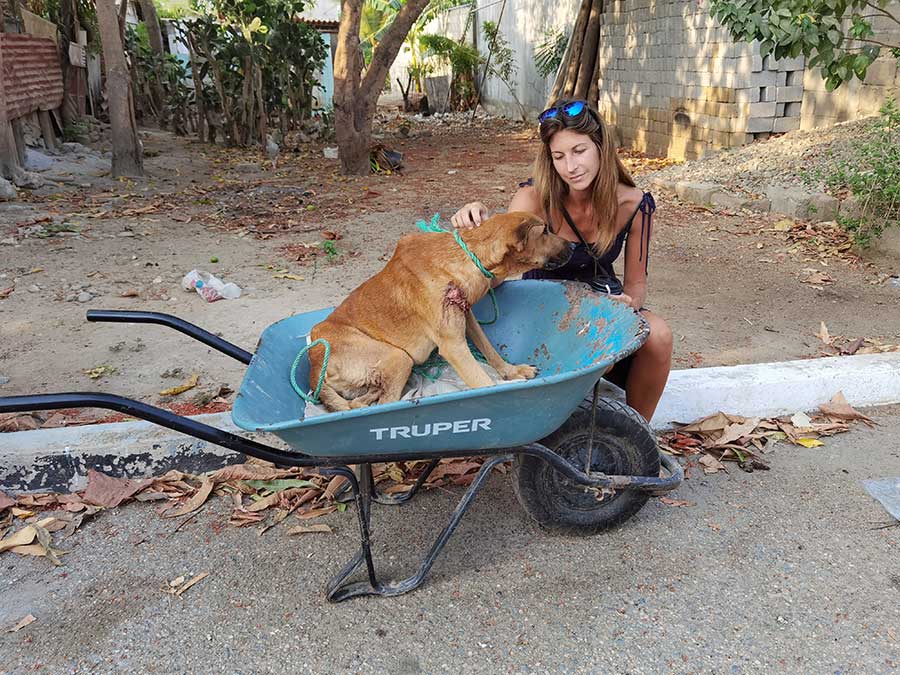 Baloo
During a spay/neuter campaign in Barrio 20 de noviembre, Huatulco a child walked up pushing Baloo in a wheel barrow.
He was seeking medical assistance for his beloved dog. Baloo had apparently been in a dog fight two weeks before and his bites had not been treated. They became so infected that the infection had affected his heart.
We decided that the kindest thing we could do for beautiful Baloo was to help him over the rainbow bridge.
---
Rusty
I received a call about a dog lying on the side of the road in Puerto Angel. When I arrived at the scene, I could see that Rusty was severely starved and full of mange. I heard that he had an owner that had completely neglected him, so I took Rusty to my friend's home where he would receive foster care.
I truly believed that I could help Rusty, but when we went to the vet we discovered that Rusty had no teeth and was riddled with ailments including severe Ehrlichiosis.
Rusty's organs would likely not be able to handle the intense treatment he required, and so, based on the vet's recommendations, we decided to put Rusty to sleep. Rest easy Rusty boy.