I'm happy to announce that we will have our next spay/neuter campaign for cats and dogs on 30 and 31 July 2022.
If you would like to sponsor a dog or cat in this campaign, we would be very grateful.
The vets charge me 300 pesos / 15 USD to sterilize one animal. I'm hoping to sterilize a minimum of 60 – 80 animals in this campaign.
However, I currently have just enough funds to cover 40 animals. We're 20 animals or 300 USD short of our goal, but I'm staying positive that we'll get there!
Your donation will go a long way to sterilize these dogs and cats and ensure that hundreds (if not thousands) of animals will not be born on the streets of Mexico.
Thank you for your support always.
Love from me and the gorgeous Cats and Dogs of Puerto Angel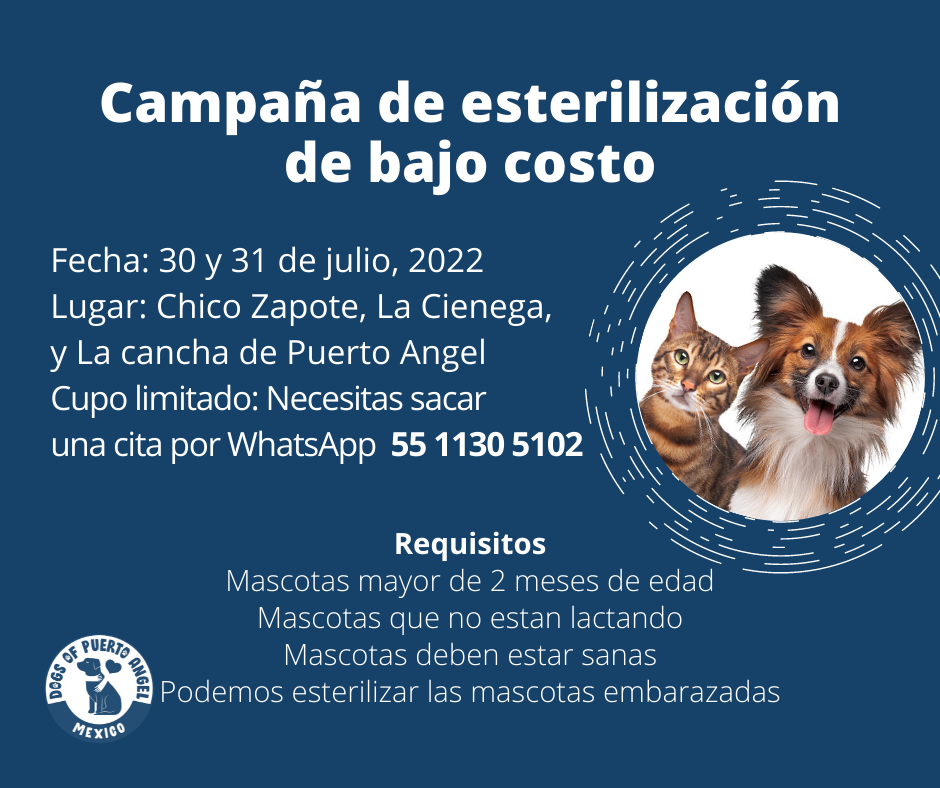 Please spread the word to friends and family who might like to help us combat the overpopulation and suffering of stray animals here.
Thank you from me and the Cats and Dogs of Puerto Angel
How to donate ?
Wise Bank transfer
More info

Wise (ex Transferwise)
This has the lowest charges for online transfer service. The website for Transferwise is https://wise.com
My Mexican bank details for Transferwise are:
CLAUDIA MAMET
BANCO SANTANDER (MEXICO)
ACCOUNT NUMBER 56785936377
SWIFT CODE BMSXMXMMXXX
SPECIAL 18 DIGIT CODE 014626567859363775


If you have any problem please contact-me.
Deposit OXXO
More info

Card number for Oxxo: 5579100270233735
Cash
More info


I can meet you in Puerto Ángel or Zipolite or pick up your donation from the vet
in Zipolite (Christian and Tin Tin)